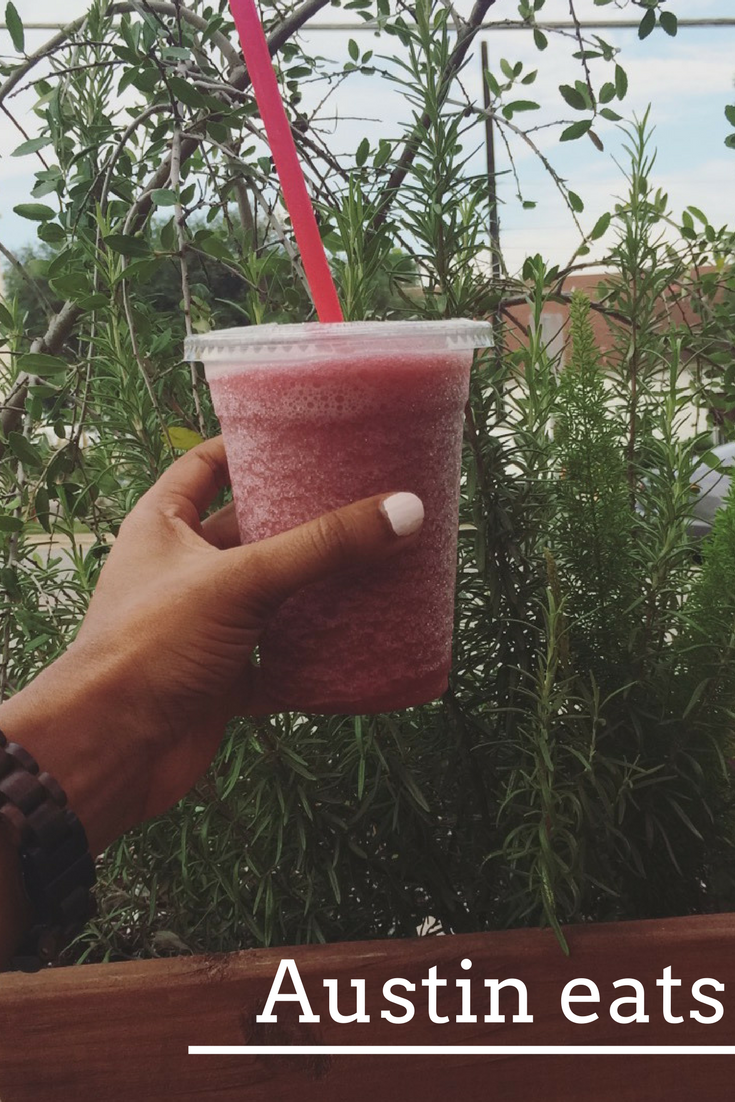 Besides our weekend trip to Austin, I'd been to Texas only once. I went for a conference in Dallas and the little that I saw of Dallas, I thought it was nice. I went in January and the weather was definitely really pleasant. Besides the millions of food options in Austin, I've been wanting to visit to attend South by Southwest. I haven't had a chance to attend SXSW yet but with this recent trip to Austin, I tried my best to eat all the things. So today I finally present to you my Austin travel guide.
With a lot of travel guides you read online, they include lots of things to do. From sightseeing to food options, most guides include everything. My travel guides are typically centered around food. Let's be honest here. My motivation for traveling is usually based on food anyway. That's how John and I choose our vacations. In fact, we don't call them vacations – we call them 'eatcations'. Clever, I know. Did I tell you that John launched a new Instagram account while we were in Austin? It's called MeatDrinkFrolic. I don't even know where to begin with that.
Unless you've been living under a rock, you know that Austin boasts tons of amazing bars and restaurants. What's even more exciting about Austin is the food truck scene. You can find delicious food trucks on nearly every corner or parking lot. That's the same thing I loved about Portland too. The food truck community was really robust and I wish it was like that here in Chattanooga. Enough of me rambling, let's get to the good stuff.
Be sure to keep scrolling for a list of places that we didn't get to visit but were highly recommended. Have you visited Austin? What are some of your favorite places?
Austin travel guide: what we ate
DAY 1
Our flight was delayed a bit so we arrived in Austin a little later than planned. I thought a delayed flight wouldn't matter and I'd still be ready to party. Not the case.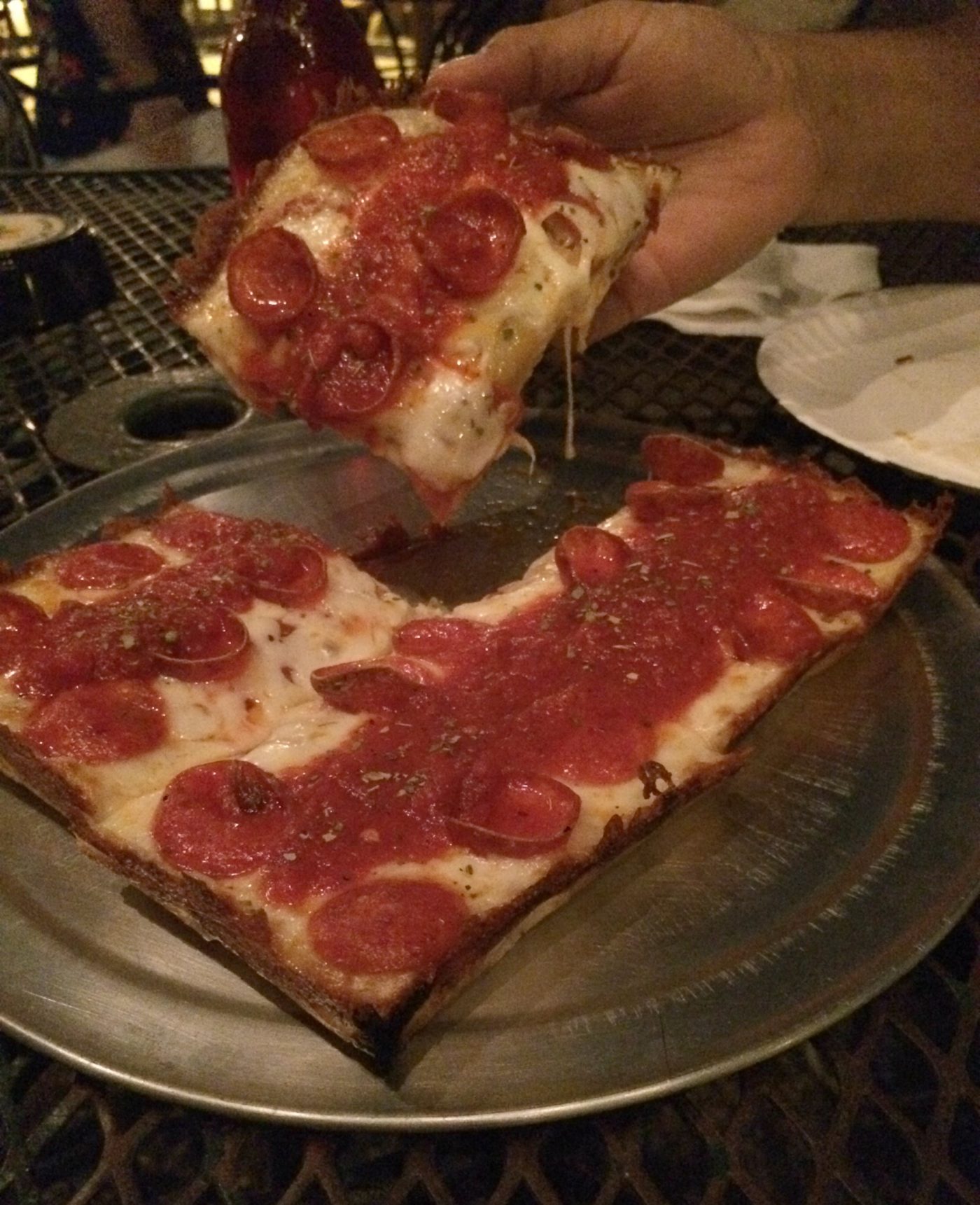 Via313 (multiple locations) – Three words: Detroit style pizza. I didn't know that was a thing but it is. Detroit style pizza is square and it's delicious. Full disclosure: we ate here twice. They're open late so we got a pizza late night and took it back to our hotel. We visited the location on East 6th Street location.
Ah Sing Den – This place is in walking distance from Via313 and it's beautiful. It was named after the owner of one of London's most famous opium dens – so, yeah. We stopped in for drinks but they have food too.
DAY 2
Jo's Coffee (multiple locations) – Jo's is well-known for their turbo coffee. The turbo is a cold coffee beverage blended with chocolate, hazelnut, coffee and cream then served over crushed ice. They have a less sweet option too called the Belgium bomber, which is what I tried. That's half turbo and half cold brew. TIP: go for breakfast tacos and try the migas taco. One of the locations has frosé and it was perfect for the 100 degree weather.
Modcloth – Yes, the clothing website. They have a really nice store on West 2nd street. The staff is nice and the store is beautiful. You can try on things and they'll ship it to your home.
Vintage Heart Coffee – Sounds lame but even though we were on vacation, I still needed to pop into a coffee shop to get some work done. Ya know…I had an ebook to get finished. In addition to coffee, they have a variety of syrups that are perfect for their tasty tea.
Prohibition Creamery – An ice cream shop with boozy ice cream AND cocktails. Yes, that sounds like heaven. They have a great playlist too.
Mission Dogs – You know I've never really written about hot dogs on the blog so obviously, this was a stop requested by John. Mission Dogs has bacon wrapped hot dogs so that was enough of a selling point for John; I was too full to eat one.
La Gordita Loca – This was a food truck that was perched in a gas station parking lot near our hotel. We were told the tacos were delicious and no Austin travel guide is complete without a taco taste test, right? The tacos were perfectly priced and the seasoned really well.
Fresa's (multiple locations) – Margaritas, tacos and an awesome outdoor patio – you can't ask for much more. All of the tacos were great (the El Rey taco was spicy). TIP: Get the charro beans with rice.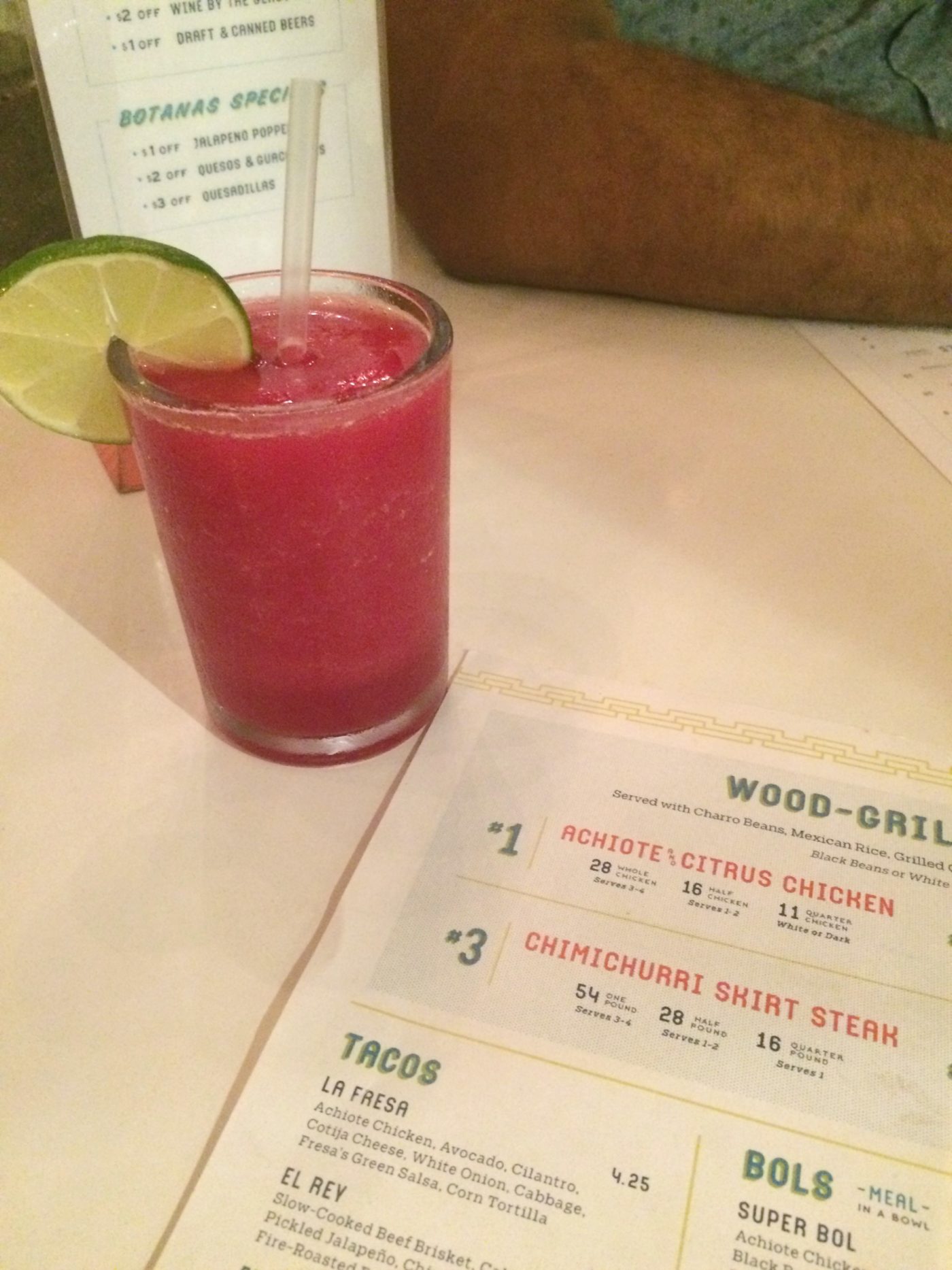 Vinyl Bar (located inside of Tellers Austin) – Small bar inside of a bar. Once you're inside of Teller's look for the secret door with a Johnny Cash poster and you've found the entrance. Great DJ's – the night we went it was old school night. The DJ's won me over when they played a few TLC songs. Loved this place!
DAY 3
Apana's Coffee & Beer – As the name states, you can get coffee and beer from here. We stopped in for a couple of hours to get some work done. Don't stay too long with your laptop though: the wi-fi shuts off at 6pm. I like that.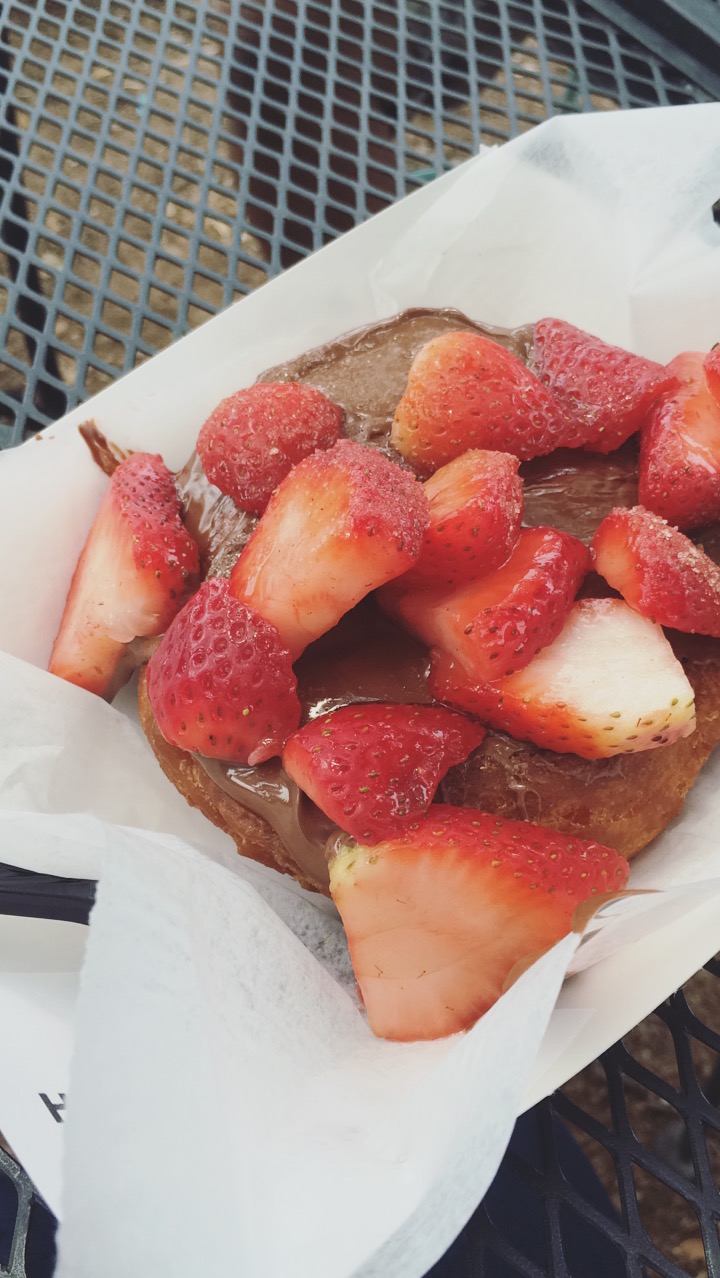 Gordough's (multiple locations) – This was the ultimate indulgence. Gourmet doughnuts topped and stuffed with sugary (or savory) goodness. I tried one that was filled with Nutella and topped with fresh strawberries. It was way better than I even expected. I dream about that doughnut.
El Chilito (multiple locations) – Tacos. They have breakfast tacos too and on Saturday's (I forget what time) the frozen sangria is only $2.
Hot Mess – John walked over to this truck while we were waiting for our tacos from El Chilito. I didn't try anything from there but everyone we were with raved about it. You should add it to your list.
DAY 4
This was the last day of our Austin trip and we saved the best for last: BBQ. An Austin travel guide can't be complete without barbecue.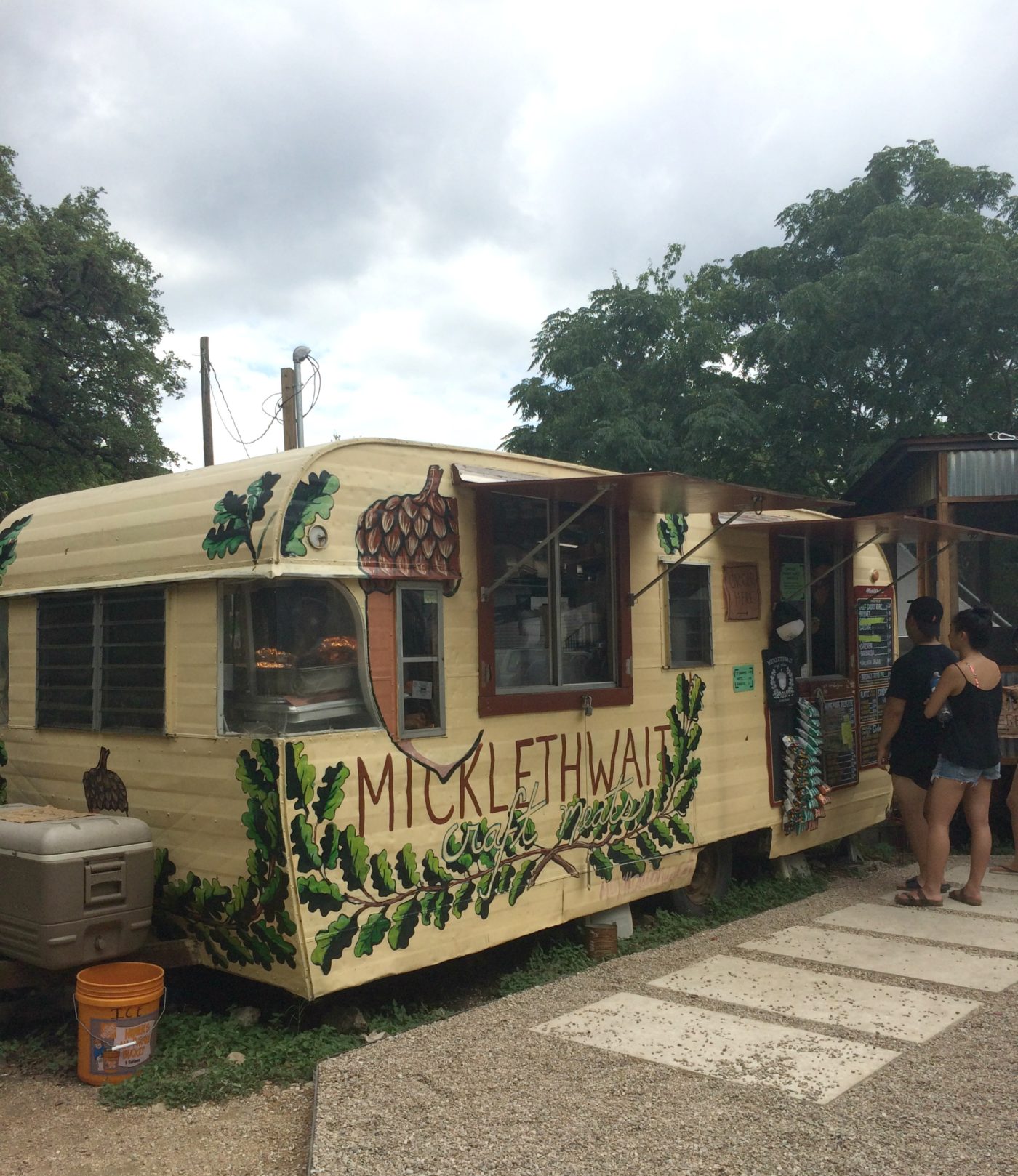 Micklethwait Craft Meats – There's probably going to be a line if you go but it moved pretty quickly. There's plenty of outdoor seating and they're open until the meat is gone. I enjoyed everything I ate. TIP: get the cheddar jalapeño grits.
Hillside Farmacy – Talk about gorgeous – this place is beautiful inside. We stopped in for drinks (which were perfect) so I'm sure the food is just as delicious.
Graffiti Park at Castle Hill – Huge park with tons of graffiti. Artists can sign up to get permission to tag stuff. We thought it was really cool to see all of the different styles and messages of graffiti.

Other places to try in Austin
EAT
DRINK
Midnight Cowboy (you must make a reservation)
FROLIC