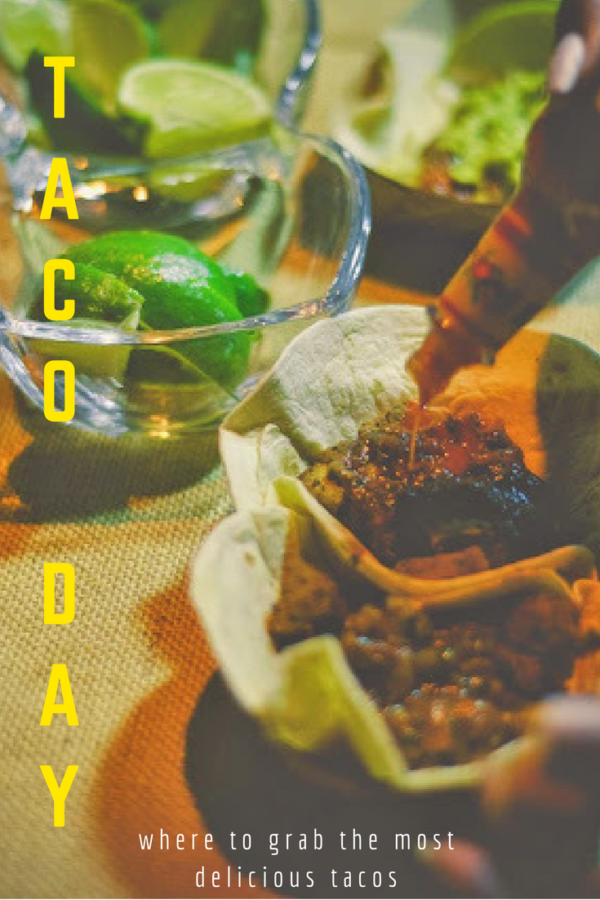 Listen, tacos are my thing. Believe it or not, there are people out here who aren't that fond of tacos. Can you believe that? I can't. Tacos are easy and they're versatile; you can pretty much have any food you want in taco form. In fact, John and I love tacos so much, we had them at our wedding. Anyway, the important thing about this post is that it's National Taco Day and that needs to be recognized.
I've talked about these food holidays here before and in the same breath, I've said how ridiculous they are yet how much I love celebrating them. Confusing, right? Not too long ago, I "celebrated" National Coffee Day. National Coffee Day is really close to taco day and I think the timing is just perfect. Coffee and tacos are two of my favorite things.
I haven't traveled the world quite yet but the few places I have been, I've made sure to find a place where I could get tacos. I thought for today's post, I'd share a few of the places I consider some of my favorite taco joints.

Where to eat for National Taco Day
Bajo Sexto Taco Lounge (Nashville) – Flavorful tacos, cool atmosphere and kicking margaritas. The duck tacos were amazing (so were the chicken tacos and the nachos – wow).
Bar Taco (Atlanta) – Bar Taco's atmosphere is very beachy and makes you feel like you're on vacation. The tacos are delicious – the duck tacos are by far my favorite. Check their website for more locations and be sure to get the churros (so good).
La Capital Tacos (Montreal) – This was the first place John and I ate while we were in Montreal. It stuck out because it's a taco restaurant in the middle of Chinatown. Delicious tacos. So good we went there twice.
TacoNooga (Chattanooga) – John and I used to eat here at least twice a week. Don't get me wrong, we still love our neighborhood taco spot but we try to limit how much we eat out. The fish tacos are one of my favorites…ever.
Taqueria Jalisco (Chattanooga) – When I first moved here, everyone kept asking had I been to Taqueria Jalisco yet. Finally, I stopped into their original location and had some of the most flavorful chicken tacos of my life. Everything is fresh and homemade. It's really the best.
Tex's Tacos (Atlanta) – Tex's Tacos is a taco food truck I used to visit all the time when I lived in Atlanta. I loved it so much that we decided to hire them for our wedding. Words can't describe the goodness that comes from this truck – it's one of my favorites.
Mas Tacos Por Favor (Nashville) – I love this place. Delicious tacos but if we're being honest, the elote (Mexican street corn) truly has my heart. Words won't do it justice. Bring cash – no cards.
Minero (Charleston & Atlanta) – We've eaten at both locations (multiple times). I love the chicken tacos and the fried catfish. And please get the churros. They're just heavenly.
BONUS LOCATION:
Bodega Taqueria y Tequila (Miami) – Talk about good tacos! Not only is the food great but it's served out of an Airstream and in the back of the restaurant there's a tequila lounge. Yes.
Happy National Taco Day, folks!
Save
Save