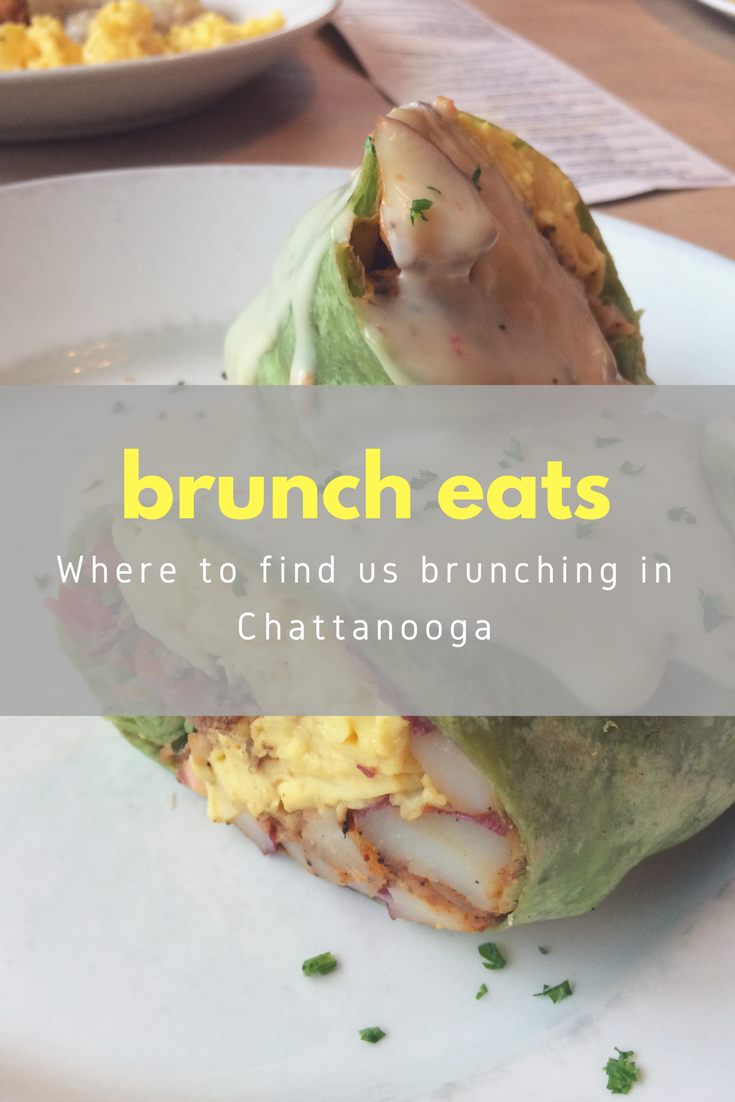 I've written about brunch many, many times but I've never actually shared a list of where I enjoy brunch. How crazy is that? Now before you read any further, I must always preface these lists by saying (1) this is not a full, comprehensive list of all places for Chattanooga brunch. And (2) this is simply a list of the places where John and I frequent very often.
I love trying new places but I also really like revisiting the same places over and over again. What can I say, I'm boring (sometimes). If it ain't broke, don't fix it, right?
When I was thinking of putting this list together, I thought I'd have trouble because there are so many places in town that I love. I quickly got over that and narrowed down the list by including restaurants where we usually post up for brunch on Saturday's and Sunday's. Easy.
So today, I'm sharing a list of six places. One day I'll share a full guide to Chattanooga brunch (one that you can download) but until then, I hope these recommendations will help you with your next brunch adventure.

Chattanooga Brunch: 6 places where I always go
Flying Squirrel – "the Squirrel", as I affectionately call it, is one of my favorite boozy brunches in town. The cocktails are great and their mimosa carafe is one of the best in town. I included them on my summer happy hour guide too for their daily happy hour specials. TIP – get the fried chicken biscuit.
The Bitter Alibi – This place is one of our weekly stops and when they added brunch to their menu, we were ecstatic to add another Chattanooga brunch spot to our list. Bitter has great coffee and a variety of carafe cocktails. TIP – get the cumberbatch.
Easy Bistro – I LOVE Easy Bistro. Their sister restaurant, Main Street Meats, is another favorite of ours. Easy Bistro is the perfect brunch choice when you're looking to step your brunch game up a bit. TIP – get the disco fries (you'll regret it if you don't).
FoodWorks – Before I event moved to Chattanooga, I'd eaten at FoodWorks quite a few times. I was obsessed with the fact that they had $1 mimosas (something that I hadn't experienced in Atlanta quite yet). This is one of those places where, though I'm sure everything is delicious, I always stick to the same order. TIP – get the breakfast burrito (because it's topped with queso).
Blue Plate/Local 191 – Blue Plate and Local 191 are one in the same. Local 191 is the bar area of Blue Plate but you can still get the same yummy food over at the bar. For some reason we always eat on the bar side – probably because it's closer to the alcohol. They have great drinks and the happy hour is wonderful. TIP – get the burger or French toast.
Bluegrass Grill – OK so technically, this isn't a "brunch" restaurant but they have Saturday breakfast (which you can also get during 'brunch time'). Bluegrass Grill will always have a special place in my heart. They're family owned and operated and the food is tastes like its been made with lots of love; you really can't go wrong. TIP – everything is delicious (and it's worth the wait).
For more brunch chat visit my friend Jenna's blog, Chattanooga Brunches.
Save