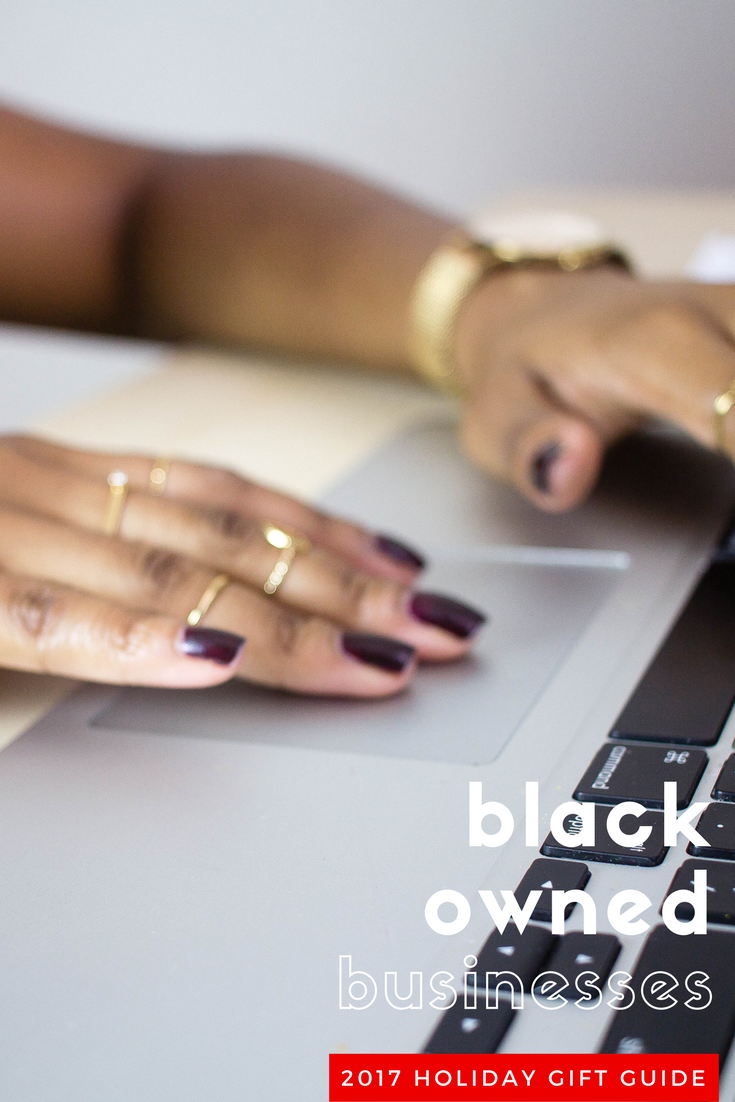 Buying gifts for friends and loved ones shouldn't be stressful. I know it's easier said than done but really, it doesn't have to be. I've put together a couple of gifts guides here on the blog; one that features women owned businesses and another for those who love cookbooks. Anyway, the gift guide I've put together today, is one that's dear to me: black owned businesses.
It's no surprise but 2017 has been quite a year. I've been looking forward to the end of the year and sharing my gift guides – specifically a guide focused on black owned business. I love meaningful gift guides not ones that are put together thoughtlessly.
There are tons of black owned businesses that exist and a lot of us aren't aware of them. So I love this time of the year to learn and research about businesses that are new to me. As usual, I hope you find something from one of these black owned businesses, that you can buy for someone in your life (or yourself). Ready to shop?
Unique gifts from black owned businesses
Subscription to Ujamaa Box – Subscription boxes are the gift that gives on giving, right? Ujamaa Box is a beautifully packaged box delivered straight to your door. Bonus: they feature all black owned businesses inside. It's pretty cool and it makes the perfect gift for your woke friend.
Clothing from Mess In a Bottle – I love graphic tees and Mess In a Bottle has tees, sweatshirts mugs – you name it. If you're looking to make a statement this holiday season, definitely try this online store.
Chocolate from Phillip Ashley Chocolate – I love chocolate and these chocolates are GORGEOUS. Truffles from chocolatier Phillip Ashley will certainly be a gift to impress.
Inspirational necklace from No Real Jewelry – My friend Jessica runs the blog, No Real Jewelry and earlier this year, she launched a line of tees, prints and necklaces. The Dreamer + Doer necklace (or any product in the line) is a constant reminder for the the 'doer' in your life.
Statement sweatshirt from My Pride Apparel – Again, if you want to make a statement this holiday season yourself or for someone you love, please check out My Pride Apparel. They have cute sweatshirts and tees that are bound to turn heads with their statements.
Sweets from Cami Cakes – I used to eat cupcakes from Cami Cakes all of the time when I lived in Atlanta. I often crave their products and now you can order treats online!
Happy holidays and happy shopping!
Save
Save