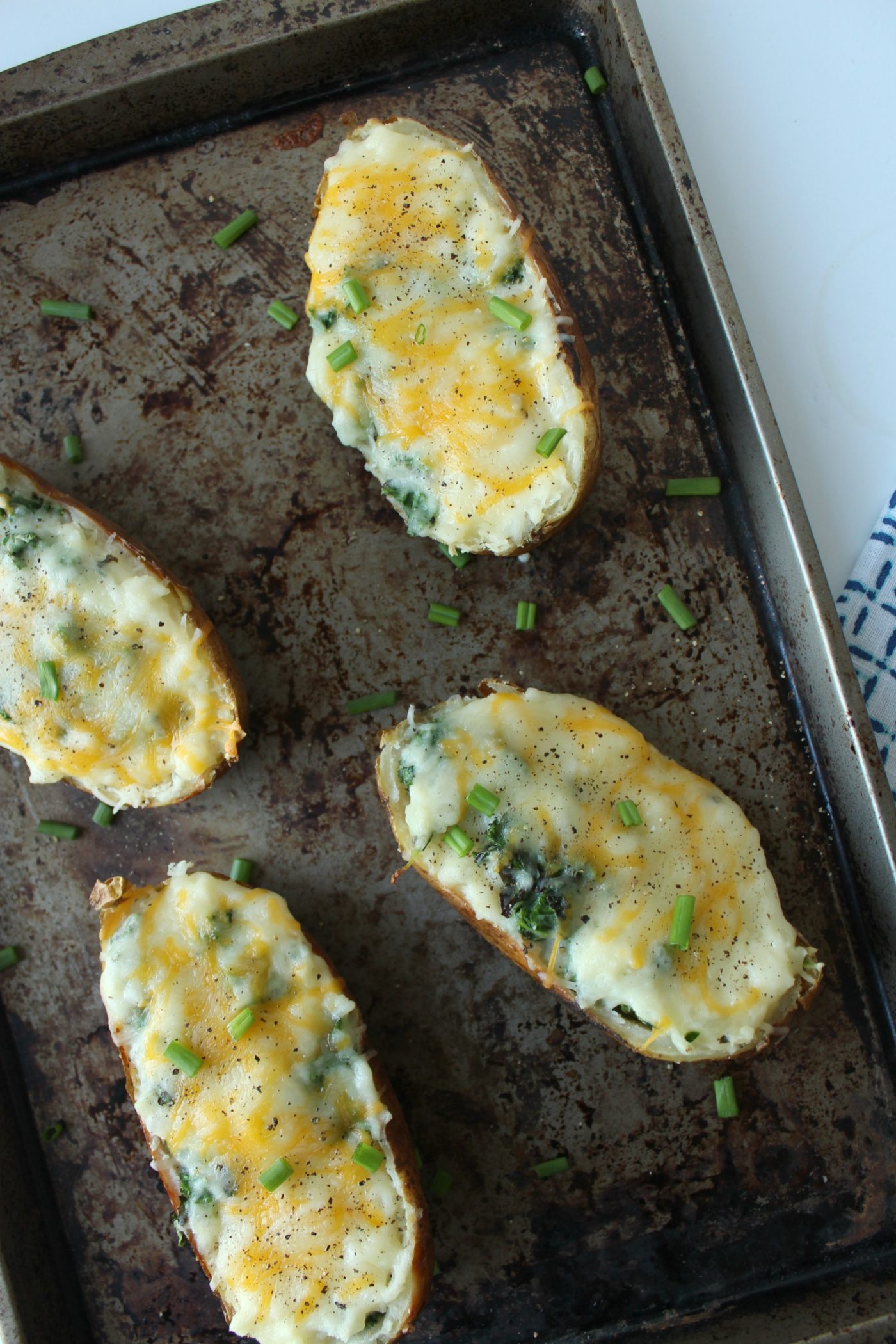 This isn't my first try with twice baked potatoes. I've made them several times and shared it here on the blog. I was first introduced to twice baked potatoes when John and I were in Destin, Florida. We had dinner at a lovely restaurant and on a whim, we ordered a twice baked potato. I'm embarrassed to say, I'd actually never had a twice baked potato before that moment. After my first bite, I was hooked. Let's be honest, I love anything starchy but that twice baked potato was phenomenal.
Fast forward to today and not only have I continued my love for twice baked potatoes but I've even toyed around with making different variations of them. I once made a broccoli and cheese twice baked potato and today we have a garlic and kale twice baked potato. YUM!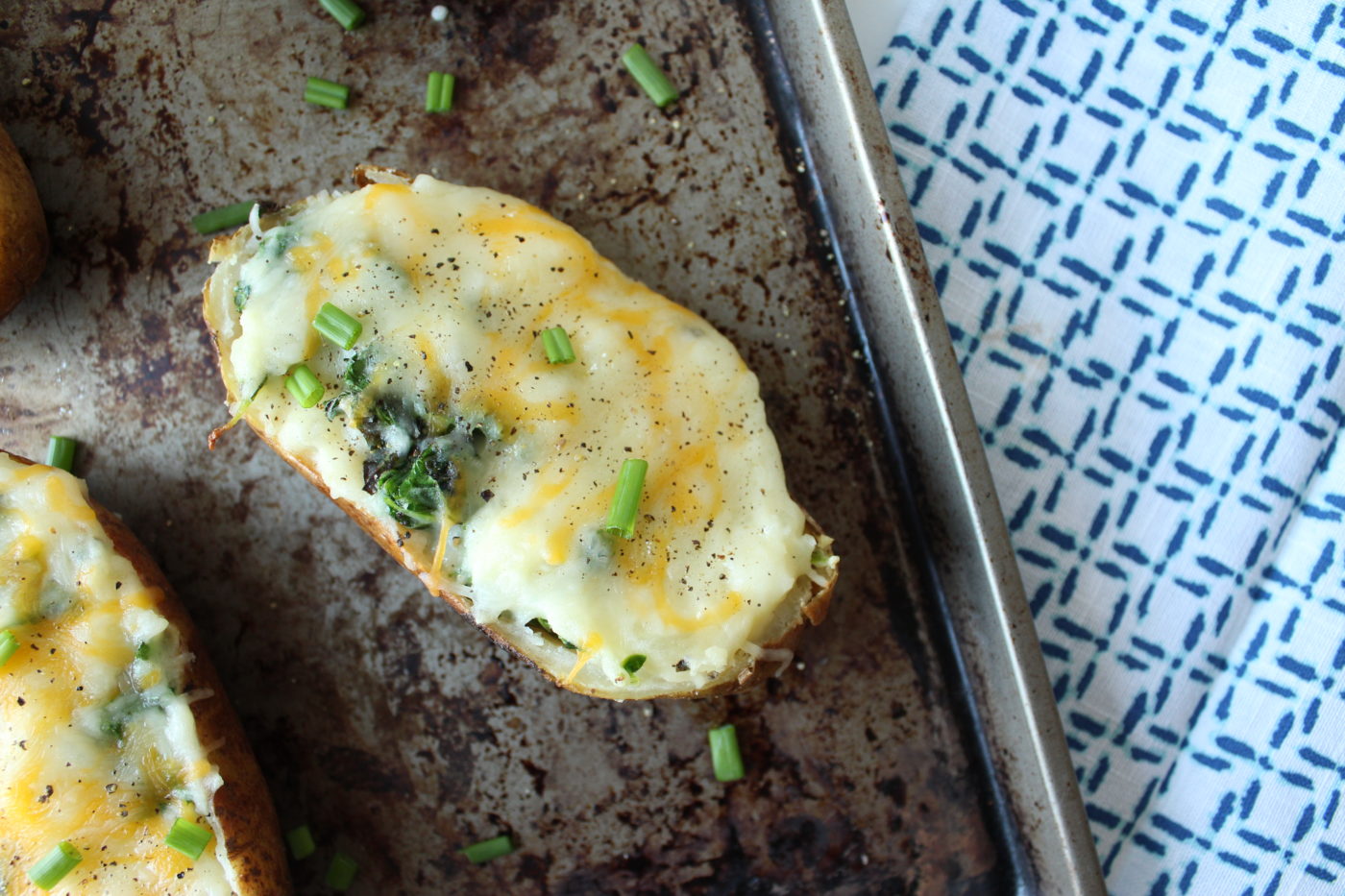 Twice baked potatoes are fairly easy to make but you must have a little patience. The first step takes about an hour. I'd suggest getting it done while working on something else. Multitasking, right? So let me tell you a little about this kale twice baked potato.
It's the same foundation as my "traditional" potato but this one has a bit of added flavor with the kale and roasted garlic. Have you ever roasted garlic? It is so delicious and it goes perfect in vinaigrettes and sauces. Roasted garlic is so soft that you can spread it on a piece of toast and call it a day. You probably won't be kissing anyone after that piece of toast but it will be an enjoyable snack. Another thing with garlic is that once it's roasted, it makes it a little more mild in flavor – not as tangy. Anyway, I hope you'll make this simple side dish. It'll elevate any boring protein any day.

How to make kale twice baked potatoes
Garlic & Kale Twice Baked Potatoes
Ingredients
2 large baking potatoes, washed
3 tbsp canola or vegetable oil
1 head of garlic
1/2 stick butter, sliced
1/2 cup sour cream
1 bunch of kale, chopped
1/2 cup whole milk
2 tsp seasoned salt
Freshly ground black pepper
Cheddar cheese, shredded
Instructions
Heat oven to 400 degrees.
Rub the potatoes with oil and place on a baking sheet.
Cut the top of the head of garlic so that the cloves are exposed. Place it in aluminum foil, drizzle with a bit of olive oil and wrap it up.
Place the the garlic on the baking sheet with the potatoes and bake for an hour.
Wash and chop your kale and saute in olive oil. Add salt and pepper.
Remove the potatoes from the oven and allow to cool until you can handle it.
Reduce oven heat to 350 degrees.
Carefully slice the potatoes in half lengthwise and scoop out the insides and place in a bowl. Be careful not to tear the potato skin.
In the same bowl as the potatoes, add the garlic (they should easily pop out of the skin), butter, sour cream, kale, milk, seasoned salt and pepper.
Smash and mix the potatoes really well, should resemble mashed potatoes.
Spoon the potato mixture into the potato skins and top with cheese.
Bake for 15 more minutes or until cheese is gooey and melted.
http://eatdrinkfrolic.com/2017/04/garlic-kale-twice-baked-potatoes.html

Shop this post