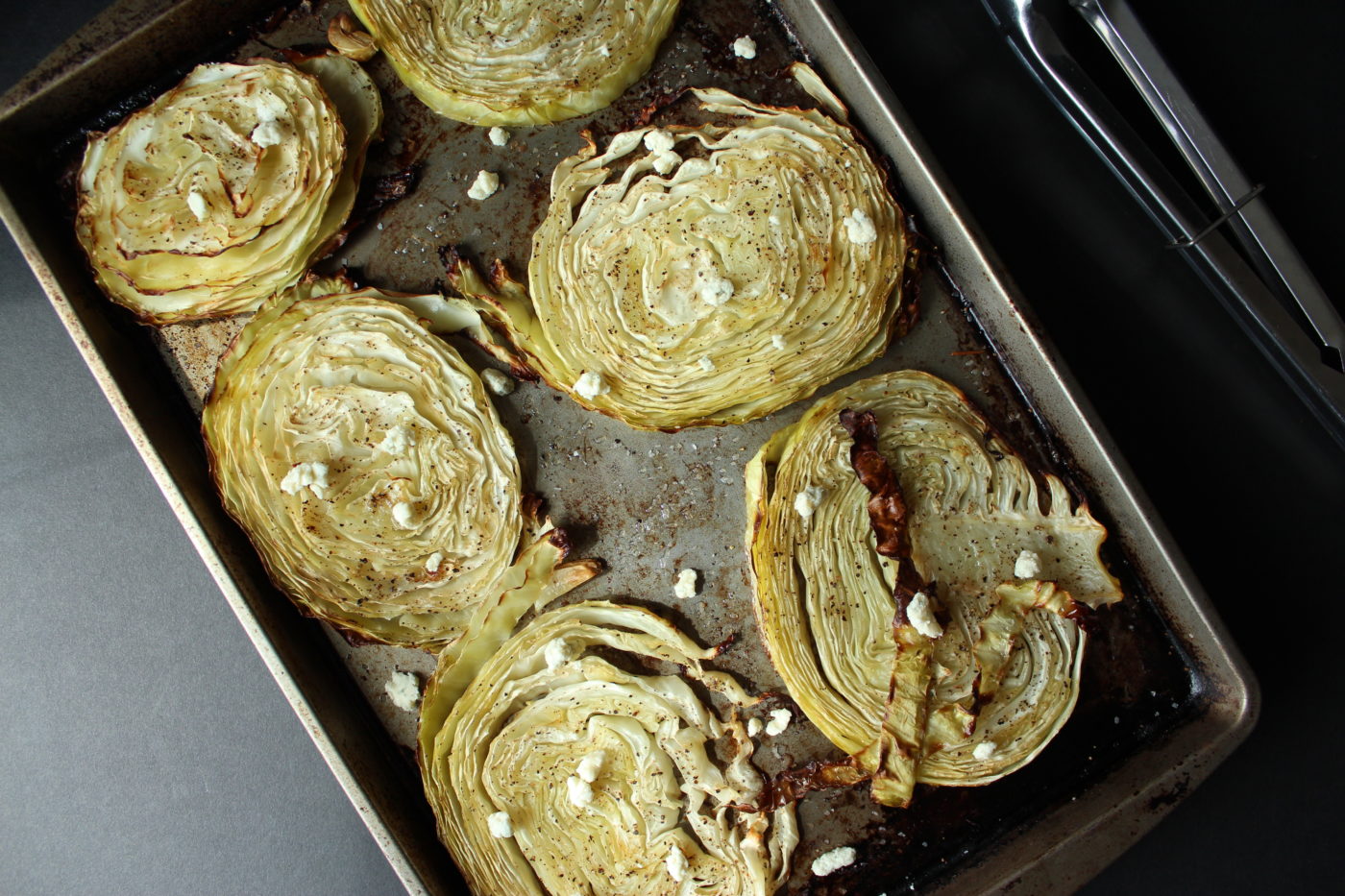 I remember growing up and cabbage was part of our vegetable consumption. My parents made it, my grandparents always had cabbage and even my aunts and uncles did too. For some reason the love for serving cabbage didn't translate to me as an adult. I don't know why because I love it. In fact, I don't believe I'd ever made cabbage until this braised chicken and cabbage dish. After making that dish, I was intrigued. John enjoyed it too so I knew I would be mapping out my next experiment with cabbage. Enter: oven roasted cabbage.
Until now, I'd never had roasted cabbage before. Every time I've been served cabbage it was always out of a big pot. To be completely honest, I wasn't even sure if roasted cabbage was a thing but it is. I figured, if you can roast Brussels sprouts and other types of veggies, roasted cabbage could also be roasted, right?
Right.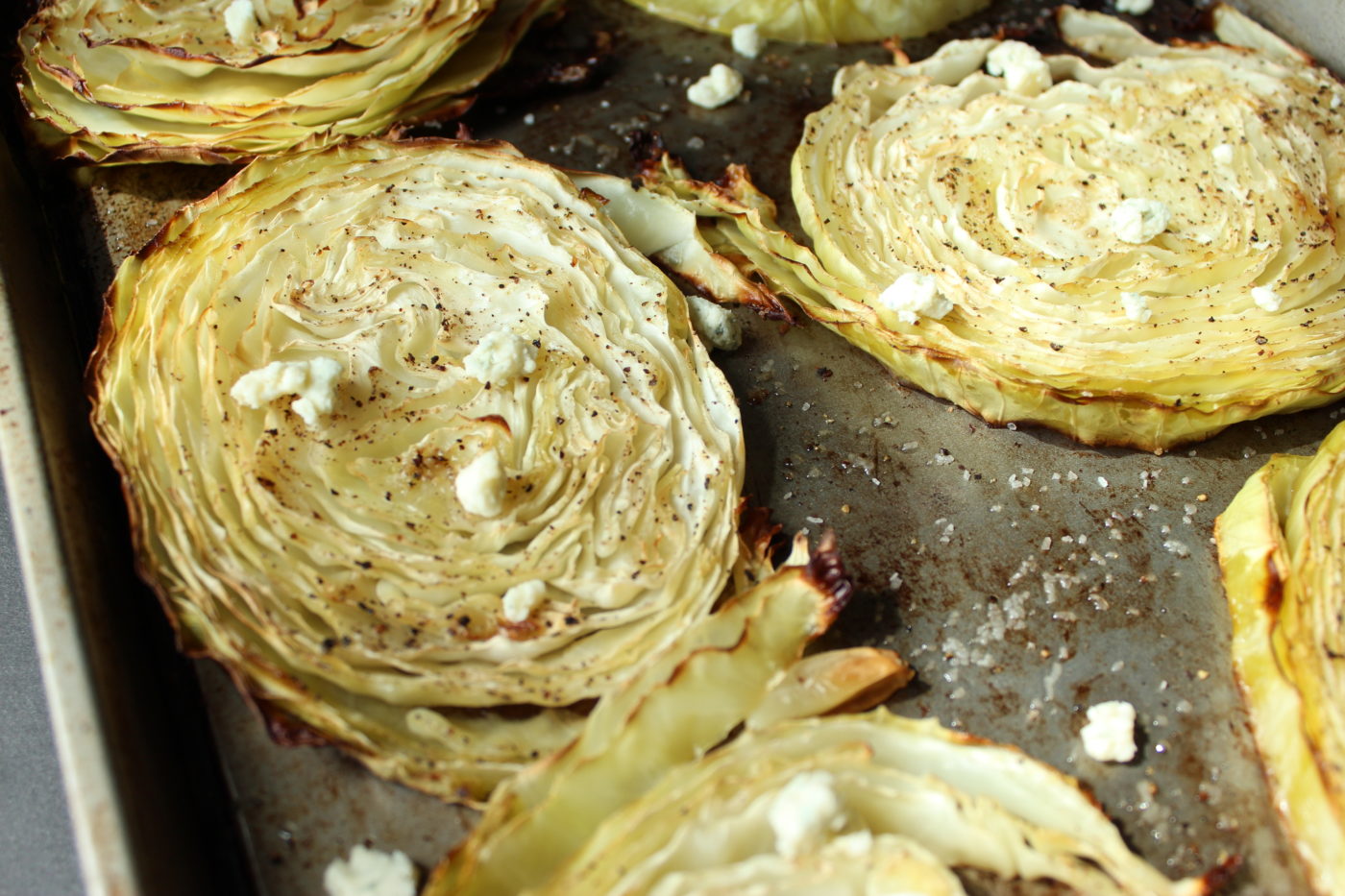 The outcome…the outcome was delicious. I was trying to hurry up and take photos of the cabbage so I could jump in and start eating it. The smell, as it was roasting, was very reminiscent of Brussels sprouts. For a moment there, I almost forgot what I was roasting. The similar smell to Brussels sprouts isn't surprising since sprouts and cabbage are from the same plant family. Totally makes sense. This may be my new method of preparing cabbage. Not that I'm completely giving up on the traditional way of enjoying it but this was just so delicious and easy – I can't let it go.
In fact, I may be making these roasted cabbage wedges again this week.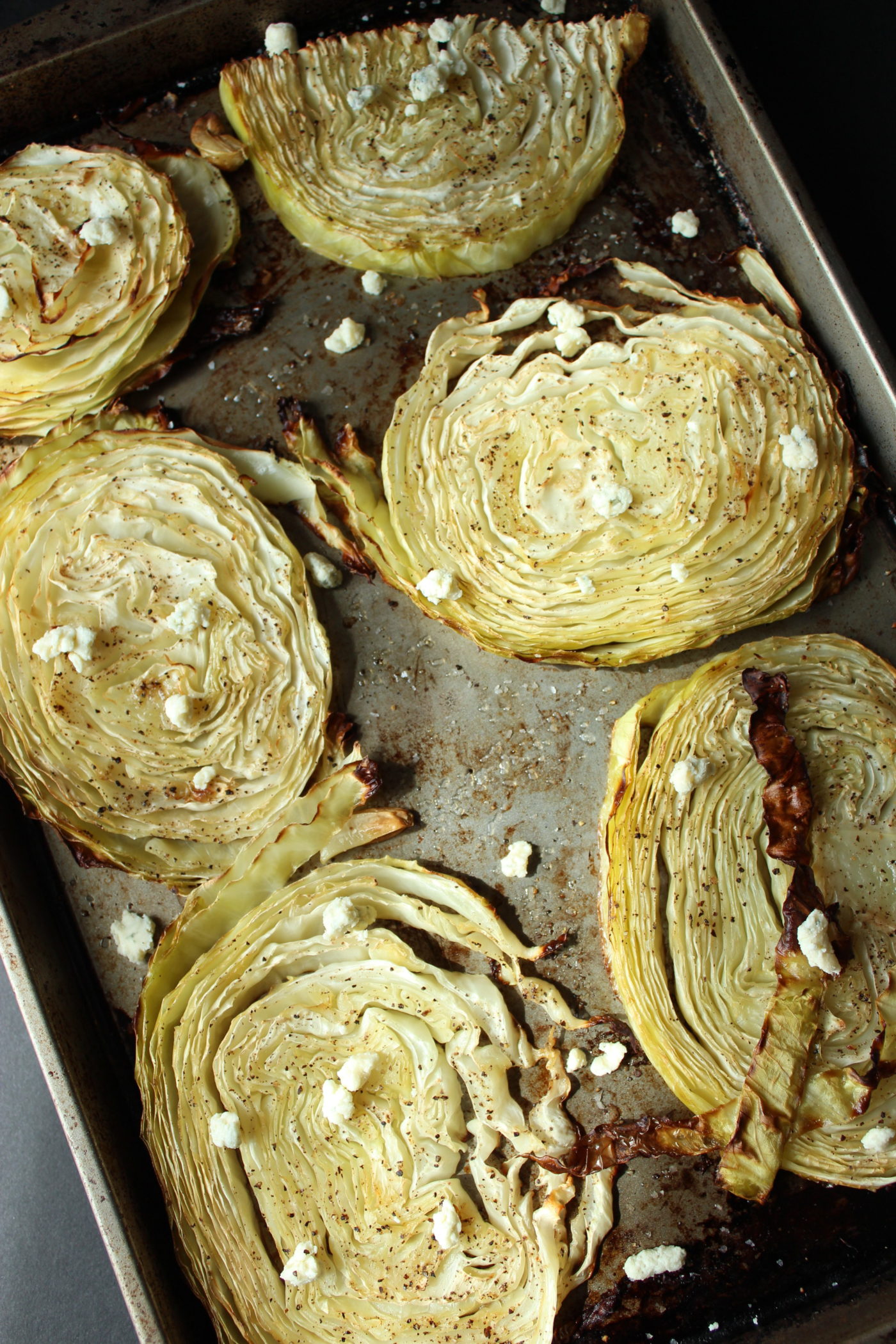 The wonderful thing about roasting anything (especially vegetables) is that you don't really have to follow a specific recipe. Whatever spices and seasonings you like, add it! It's really that simple. I decided to add a few blue cheese crumbles on top and that really intensified the flavors. Feta cheese would be equally as delightful.
Now that I'm thinking about it – wouldn't a Greek version of this be yummy? Maybe I'll try this again with feta, oregano, dill and fennel. Those are Greek flavors, aren't they? Anyway, I think its safe to say, I'm obsessed with roasted cabbage. Let's be honest, I'm obsessed with anything I can just throw in the oven and forget about it. But seriously though, this is delicious.

Make roasted cabbage your next side dish
I only used half of a head of lettuce to make these wedges. You can save the rest of the cabbage to make this dish again or use the entire head if you're feeding more folks.
Ingredients
Olive oil
6 cabbage wedges
1 garlic clove
1 tsp kosher salt
Freshly ground black pepper
Blue cheese or feta crumbles
Instructions
Heat your oven to 400 degrees.
Brush a baking dish with olive oil.
Place the cabbage wedges on the baking sheet then rub the garlic clove on each of the wedges.
Drizzle each wedge with additional olive oil then season with salt and pepper.
Place the cabbage in the oven for 40 minutes. Halfway through the roasting process, check on the cabbage and make sure its browning properly. It's normal to have some dark, charred spots.
When it's done, top with cheese crumbles and serve while warm.
http://eatdrinkfrolic.com/2017/03/roasted-cabbage.html
Shop this post