OK, Brussels sprouts were never a part of my childhood but I'm so happy they're part of my adult life. Whoah, that's something I never thought I'd say. In the last year or so, I've experimented with roasted Brussels sprouts (here and here) and I thought those sprout adventures went pretty well. Today's recipe, however, may top them both.
You know how much I love Chrissy Teigen, right? I wrote about her cookbook, Cravings, a while ago and have made several of her recipes since getting the book. If you don't have this book, please get it. I'm making a promise to you, publicly on this blog, you will not regret it. The recipes are easy and the food is so tasty. It's by far my favorite cookbook of the year.
So I'm flipping through the book not too long ago wondering what delicious recipe I'll make next. I stumbled upon a side dish of balsamic glazed Brussels sprouts. Having made roasted Brussels sprouts before, I knew these were going to be delicious but I didn't know I would fall in love the way that I did. Whew.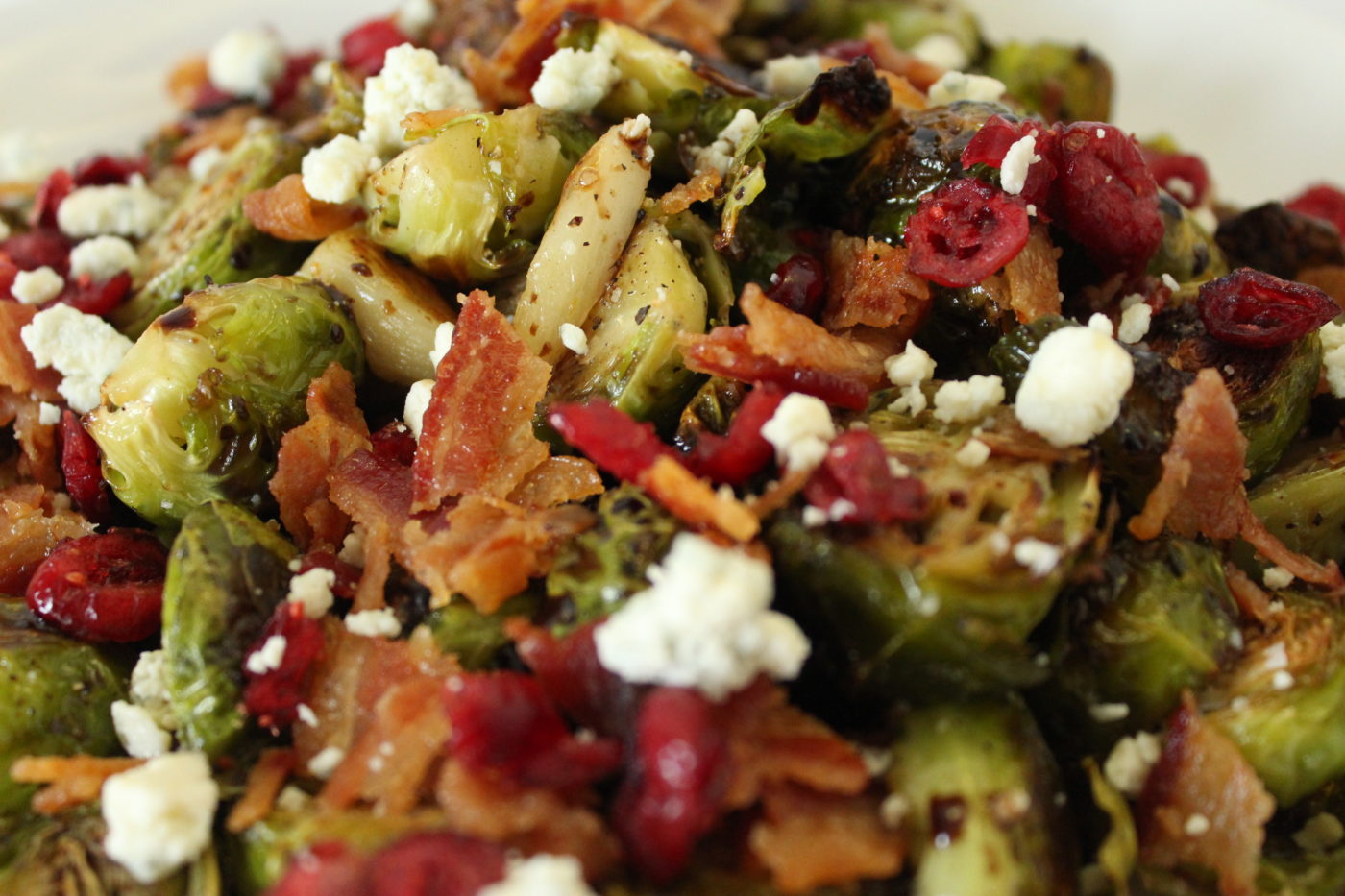 First, the recipe is ridiculously easy to construct. The flavor…oh wow the flavor is phenomenal. Listen, as a former non-sprouts eater, I understand the difficulty of trying to get on the Brussels sprouts train. Trust me, I was apprehensive to get on the bandwagon too. But when you have sprouts that are drizzled in a warm balsamic glaze, bacon and blue cheese, you better believe it's going to be good.
Do you understand why Chrissy Teigen is one of my favorites now? She loves food like I do, she likes to cook, she's married to John Legend and she provides me delicious recipes like this one. This is one of those recipes where after I made it, I texted friends to immediately tell them I'd found a new Brussels sprouts recipe. That's how much I loved this dish. You'll love it to, I bet.

Make the best roasted Brussels sprouts ever
Balsamic Glazed Brussels Sprouts
Ingredients
1 1/2 lbs. Brussels sprouts, trimmed and halved
15 garlic cloves, peeled
1/4 cup olive oil
Kosher salt + black pepper
1/4 cup honey balsamic glaze
4 slices of bacon, cooked and crumbled
1/4 cup dried cranberries
1/2 cup crumbled blue cheese

For the honey balsamic glaze

1 cup balsamic vinegar
1/2 cup honey
Instructions
For the glaze

In a small saucepan, combine the honey and vinegar and bring to a boil.
Reduce the heat and simmer until the glaze reduces - will be thick; about 20 minutes.
Remove from the stove and cool to room temperature.

For the Brussels sprouts

Heat oven to 450 degrees.
In a bowl, toss the sprouts with garlic, olive oil salt and pepper.
Pour the Brussels sprouts on a baking sheet, spreading them around to make sure everything is on one layer.
Roast for 20 minutes.
Remove them from the oven and toss around; place back in the oven for 10 minutes longer (see Note #2).
Transfer the sprouts to a serving dish (season with salt & pepper, if needed) and drizzle with the glaze.
Scatter the bacon, cranberries and blue cheese on top.
Notes:
1. The original recipe called for walnuts but I'm not a fan so I omitted them.
2. Some of the sprouts should be charred and the garlic should be soft.
http://eatdrinkfrolic.com/2016/08/balsamic-glazed-roasted-brussels-sprouts.html
Shop this post