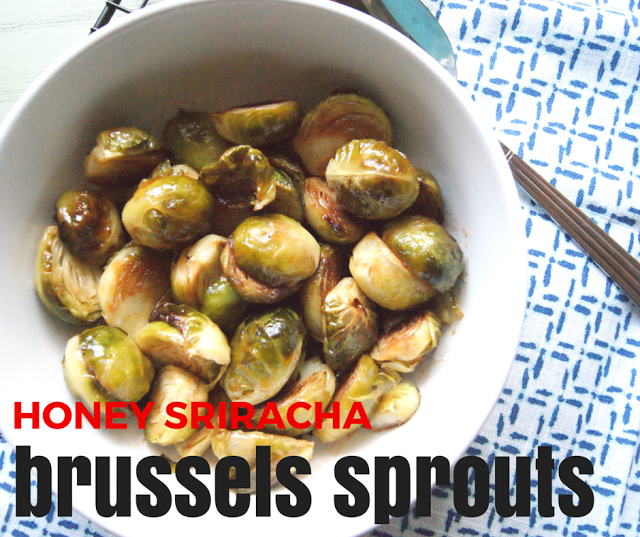 Growing up, my parents never cooked Brussels sprouts and I definitely didn't complain about it. Brussels sprouts were these weird little vegetables that I never knew anything about. I knew that they were odd looking but resembled a mini head of cabbage and I thought they smelled pretty bad. Actually, I still think they smell pretty bad but whatever. Even now, obviously I love to cook and I do it all of the time. Veggies are always a part of our meals but never Brussels sprouts. I determined that since I didn't eat them growing up, I didn't want/need to start eating them now and that was that.
John hasn't ever brought up anything about Brussels sprouts so I assumed our little family was fine without them. One day, I decided I wanted to venture out and try something new. I wanted to experiment with Brussels sprouts. John wasn't opposed to the idea so I proceeded. When I mentioned I would make roasted Brussels sprouts, we were interested. When I discovered honey sriracha Brussels sprouts on Shared Appetite, I think that's when I won John over for sure. These are so easy and so delicious.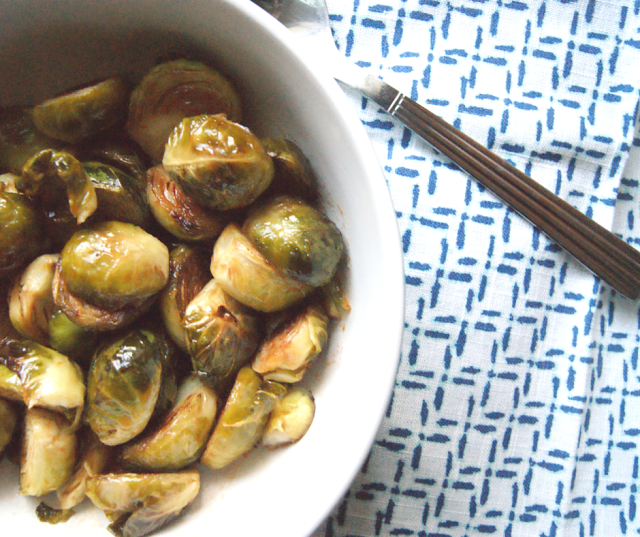 You'll Need:
a pound of Brussels sprouts
2 tablespoons of olive oil
kosher salt
1 tablespoon sriracha
3 tablespoons honey
juice from 1 lime
Heat oven to 400 degrees.
Prep your sprouts: if there are any ugly yellowish leaves, tear them off and cut any large sprouts in half.
In a bowl, drizzle olive oil over the sprouts and season with kosher salt. Stir to coat then add to a baking sheet. Roast for 35 minutes. The outside should be browned and a little crispy.
Meanwhile, make the marinade by combining sriracha, honey and lime juice. Season with salt if desired.
When sprouts are done, add to a serving dish and pour sauce over them. Toss to combine.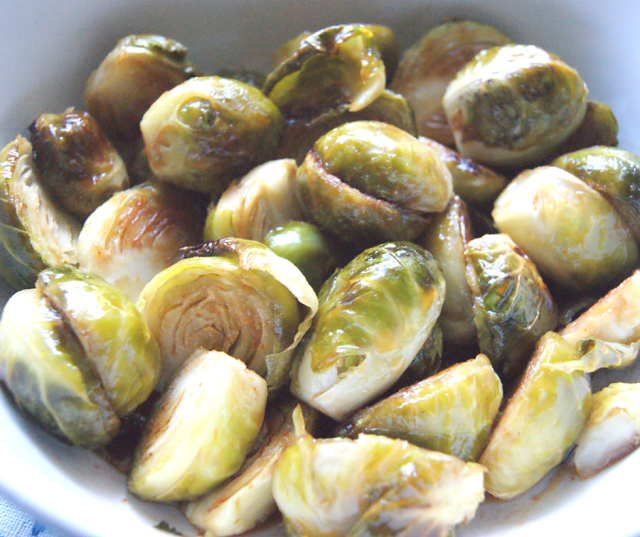 These are good. Totally changed my mind on Brussels sprouts. John and I will definitely be adding these to our veggie rotation.