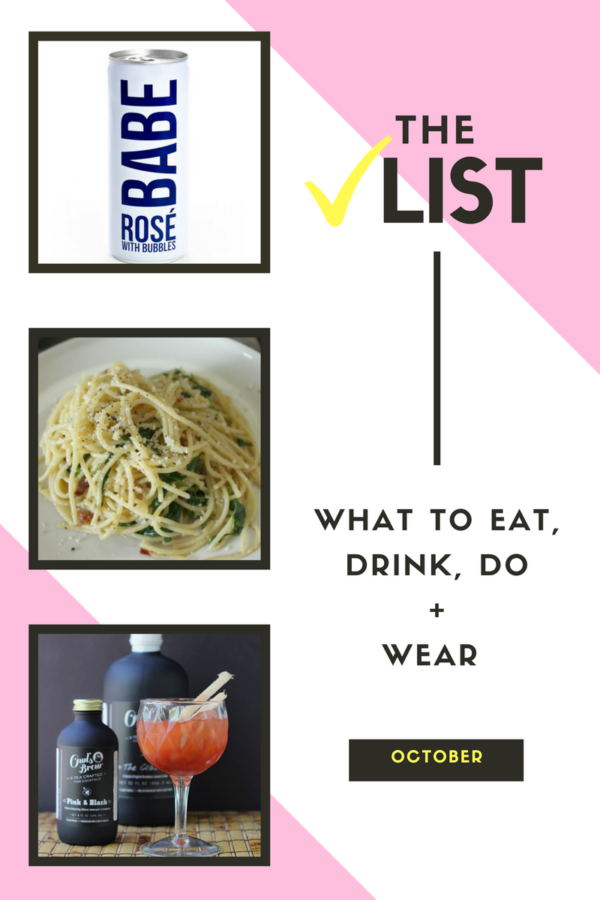 In my last Around the Web post, I was sad to say goodbye to summer. The funny thing is, even though it's fall, it actually still feels like summer outside. It's like I didn't even have to say goodbye. October, though only five days in, feels like it has been so overwhelmingly busy. Fun but really busy. I'm hoping that we'll end 2016 on a good note and this is just a preview of what's to come. At any rate, this month's things to try has a little bit of everything.
My things to try posts aren't really planned out, you know? Well, of course they're planned but it's really organic. If I see or try something that I really like, I'll add it to one of these posts. There are foods (along with other items) that I try and I just simply have to tell someone about it and that's why my things to try posts were created; to encourage you to maybe try something new.
Don't forget, if you have something you think I should try, email me: eatdrinkfrolic@gmail.com. I'd love to hear from you.
Things to try October
Go to Startup Week Chattanooga. There are a few days left to enjoy the many activities of Startup Week. From panels to speed learning and everything in between, Startup Week is a great celebration of the entrepreneurial community here in Chattanooga.
Try Alchemy Spices. Alchemy Spices is a local, Chattanooga made spice company. I was gifted a trio of them when I judged a food competition. They have an awesome variety of blends; start spicing up your foods!
Get a magazine subscription to Bon Appetit. I love magazines year-round but I especially love them in the cooler months when all you want to do is lounge on the couch or in the bed.
I know summer is over but drink Babe Bubbly Rosé. It comes in the cutest cans and since the weather is still warm, you can still drink them and take them with you on a picnic.
Try Owl's Brew, a tea specifically crafted for cocktails. I'm always looking for fun things to enhance my cocktail recipes and I found this stuff in Fresh Market not so long ago. Since it's fall, try the mulling spices flavor.
Eat one of my favorite pastas ever. Chrissy Teigen's lemony cacio e pepe. Good grief it's so good. I've made it quite a few times. Try it for yourself – you'll never regret it. Buy her Cravings Cookbook.
Save