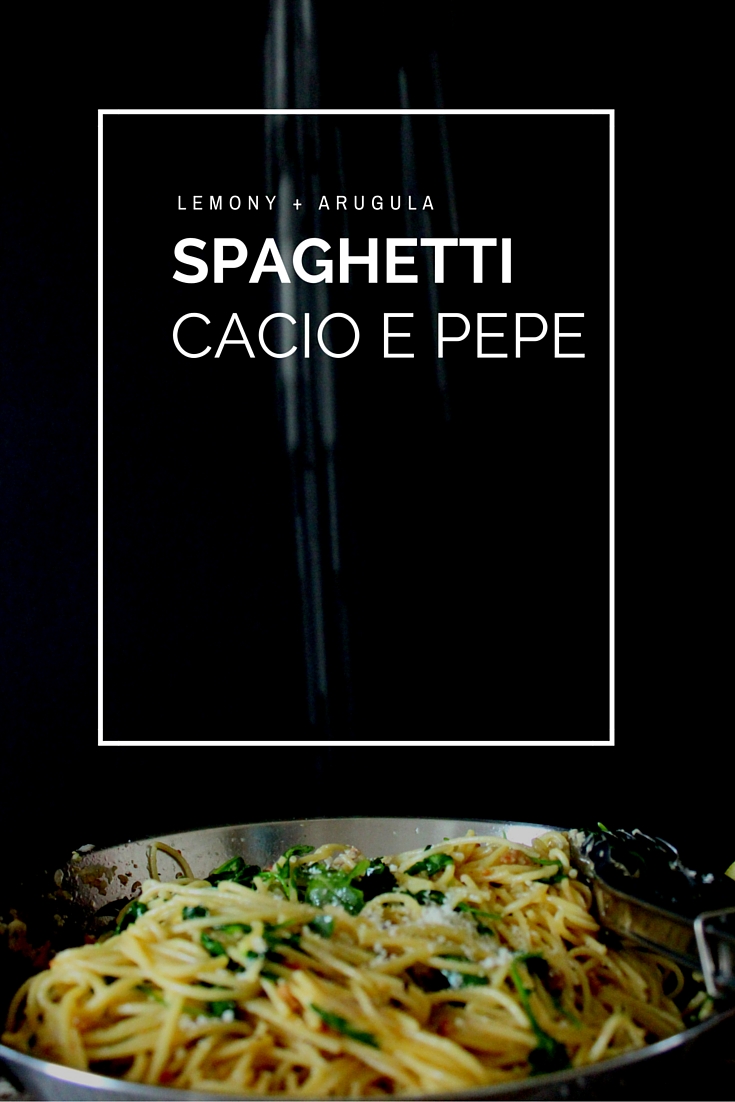 Chrissy Teigen is my spirit animal. Seriously. I just love her so much.
I mentioned not too long ago that I received her cookbook, Cravings, nand I'M IN LOVE WITH IT. I won't go too much into it because you've probably already read about me ranting and raving about it but I seriously love this cookbook. The recipes are fantastic and the ingredients are easy to find; I've loved everything I've made so far.
So this spaghetti cacio e pepe – admittedly, I was a little apprehensive to make this. I think it's because I love pasta but sometimes I find pasta without a sauce to be so dry and tasteless. However, Chrissy has raved about this recipe on social media and I've seen other Cravings cookbook owners also write about how much they loved this recipe so, I had to try it. Much to my surprise, I LOVED this recipe. It's flavorful, lemony and filling. I made this recipe twice in one week – that's how much I loved it. I'm pretty sure I'll make it again very soon.
Anyway, it's not very time-consuming and it's extremely easy to prep and get on tthe table in almost no time. Between the lemony flavor, the saltiness of the bacon and the spiciness of the arugula, this dish is a no-brainer for a weeknight dinner. Also if you're wondering what cacio e pepe means (I mean, I had no idea) it means cheese and pepper. Did you know this?
Lemony Arugula Spaghetti Cacio e Pepe – from Cravings Cookbook
Lemony Arugula Spaghetti Cacio e Pepe
Ingredients
Kosher salt
12 ounces dried spaghetti
1/4 pound bacon (or pancetta), finely diced
1/4 cup extra-virgin olive oil
3 tbsp minced garlic (about 4 cloves)
1 tsp red pepper flakes
2 tsp freshly ground black pepper
1/4 cup fresh lemon juice
1 1/2 cups freshly grated Parmigiano-Reggiano
3 cups baby arugula
Instructions
In a pot of heavily salted water, cook the pasta according to the package. Be sure to reserve 1 cup of the pasta water, then drain the pasta.
Meanwhile, in a large skillet, cook the bacon (or pancetta) over medium-high heat until crispy. Add olive oil to the skillet then add the garlic, red pepper, and black pepper. Cook until fragrant - about 1 minute.
Add the lemon juice then toss in the drained pasta and toss to coat. Add the cheese, toss and add in the pasta water (a couple of tablespoons at a time). This will help the cheese to melt.
Add in the arugula and toss until it wilts. Season to taste with more salt, pepper and red pepper. Top with more cheese if desired.
Holy moly this is good.
http://eatdrinkfrolic.com/2016/05/lemony-arugula-spaghetti-cacio-e-pepe.html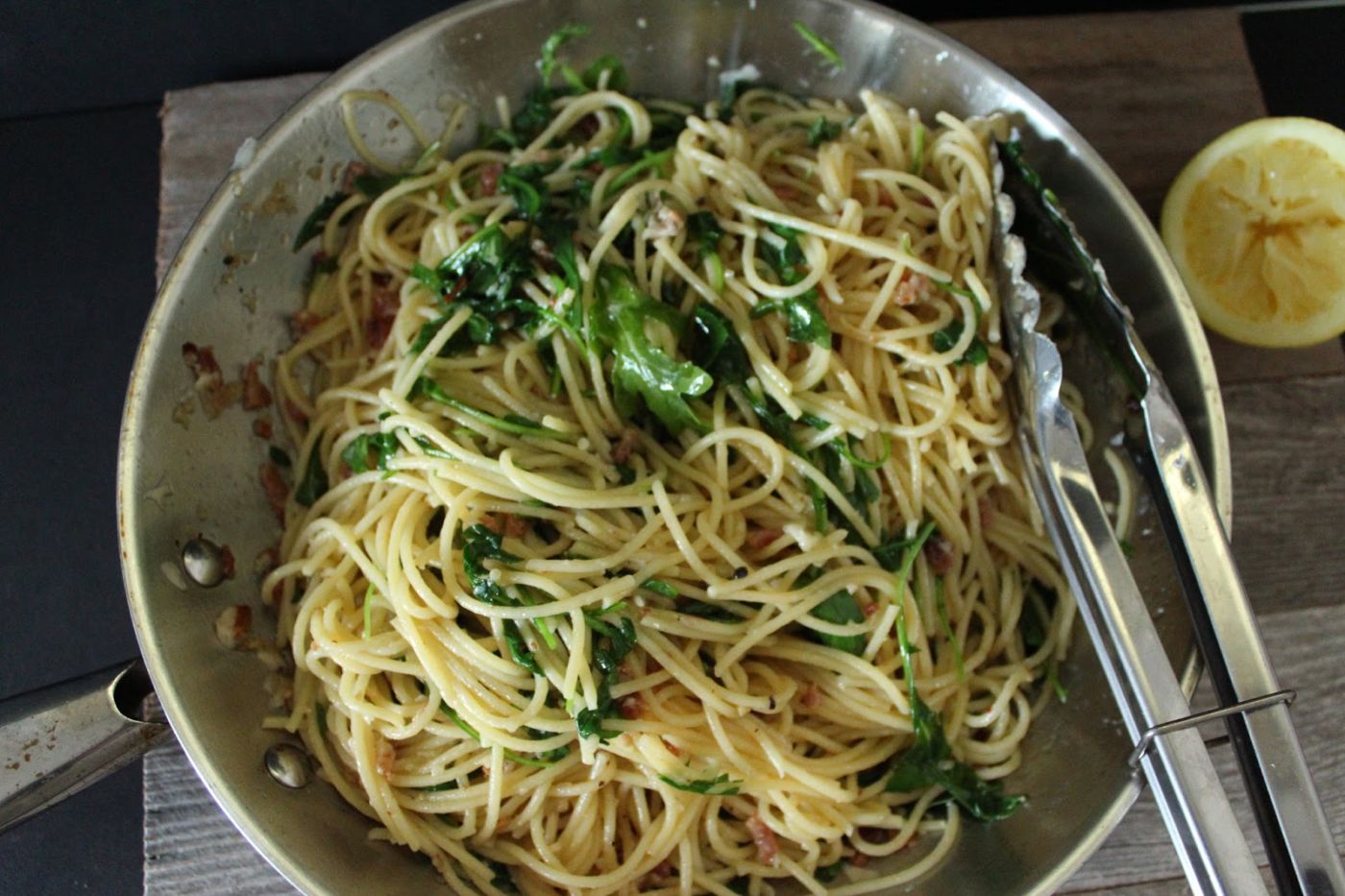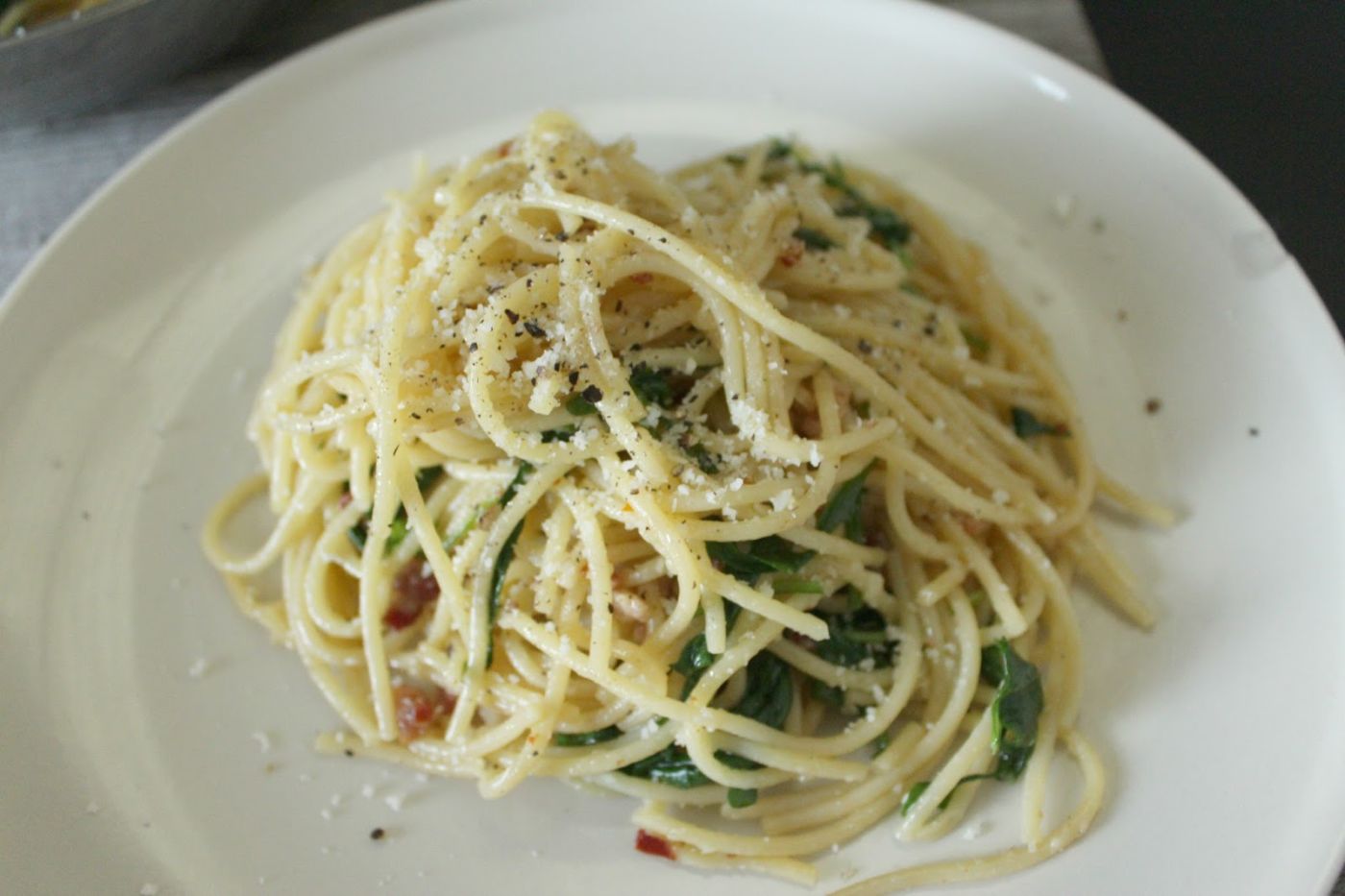 Save
Save
Save