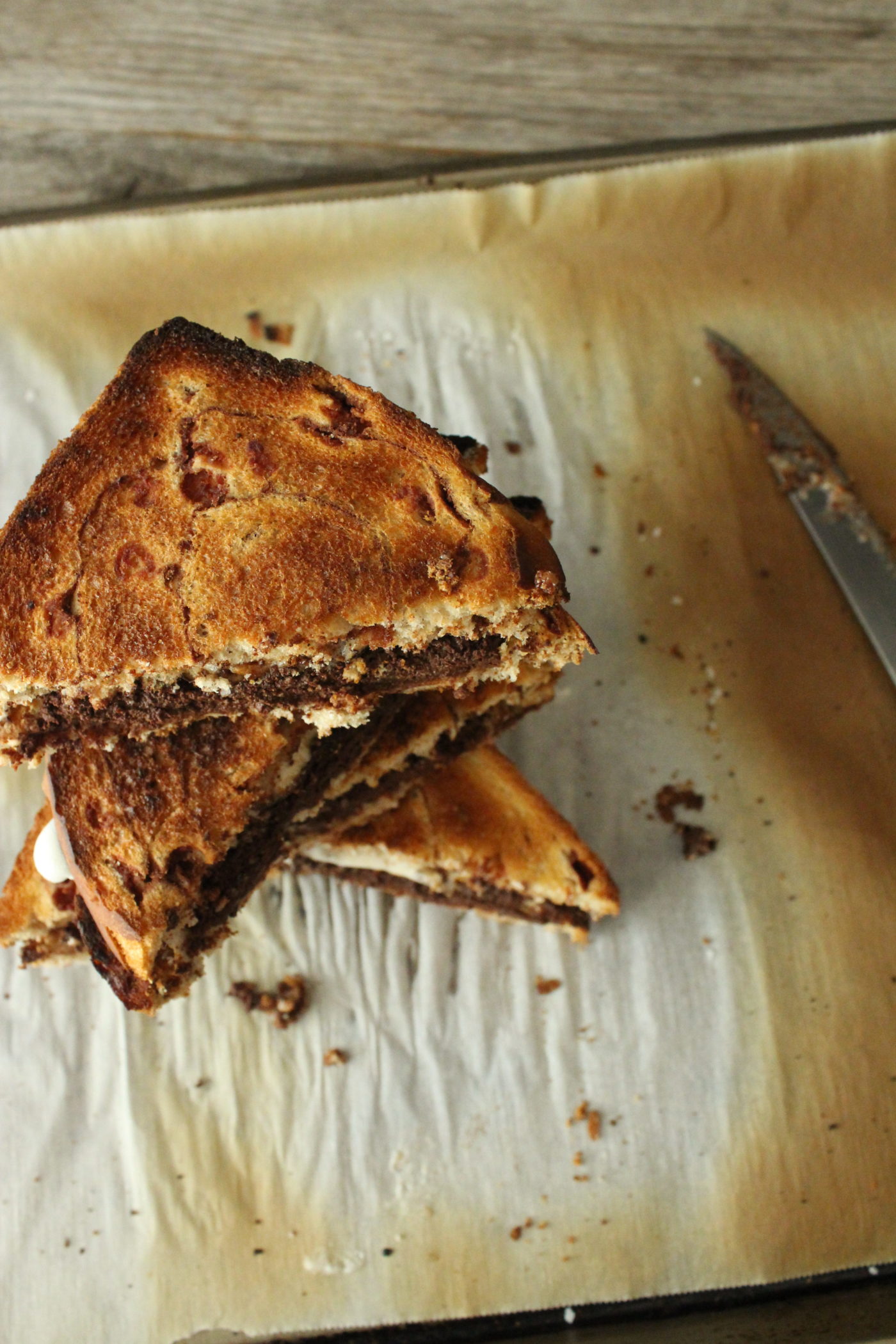 So I've told you all about my Girls Scouts days and my camping experience. I use the word 'camping' very loosely. I mean, I camped but some friends and I snuck off to our friend's home to use the restroom. Our friend lived directly across the street from the campgrounds. So, we camped in the sense that we slept in the woods but I couldn't use the bathroom out there. I say all of this to say, when I think of camping I immediately think of s'mores and campfires. I like s'mores but I'm not crazy about them because of the whole marshmallow thing. However, the idea for s'mores toast is one I can get into.
OK – let's back up for a second. In case you're new here, the 'marshmallow thing' is my disdain for marshmallows. Really, anything white.
Food.
White food, guys.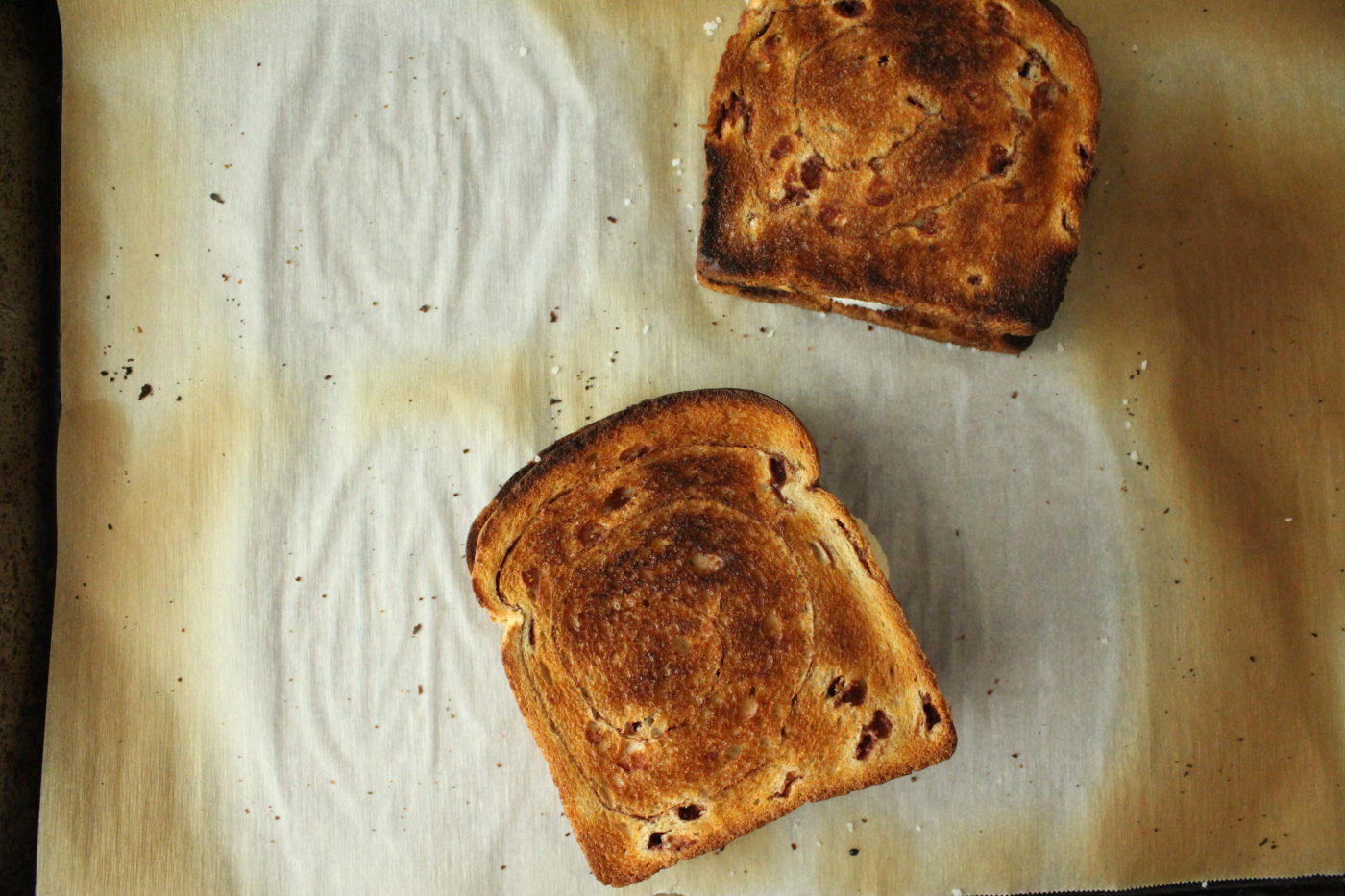 I usually don't do marshmallows, whipped cream (barf), sour cream, milk, cream cheese – you get the point. Cheese, rice and bread DO NOT fall into this category. I love those foods forever and always. Now, I'm not going to just pop marshmallow in my mouth as a snack but there's something about squishing them together with melting chocolate that makes it edible for me. Mmmmm. Just thinking about it makes me feel nostalgic and happy. During The Chattery's Adulting Summer Camp, we [safely] made s'mores inside using this indoor s'mores maker. Pretty neat.
Since I've rediscovered my tolerance for burnt marshmallows, I figured sharing this s'mores toast (inspired by Food52) would be perfect. As we prep for fall, I'm even considering sharing a post of a bunch of elevated s'mores recipes. Actually, I'm going to do that and I can't wait. As I made this recipe (more than once), I started thinking of other ingredients you could add in to make it even more addictive. The second time (I think it was the second time) I made this, I used Nutella.
Y'all. You know I'm still relatively new to the Nutella world. I literally didn't discover Nutella until I was probably 30ish and I never even tried it until probably 2015. It then took me about a year to actually purchase a jar and make something with it. I made Nutella hot chocolate and I'll definitely be bringing that back this year. I've gotten off subject here. Let's get back to the toast.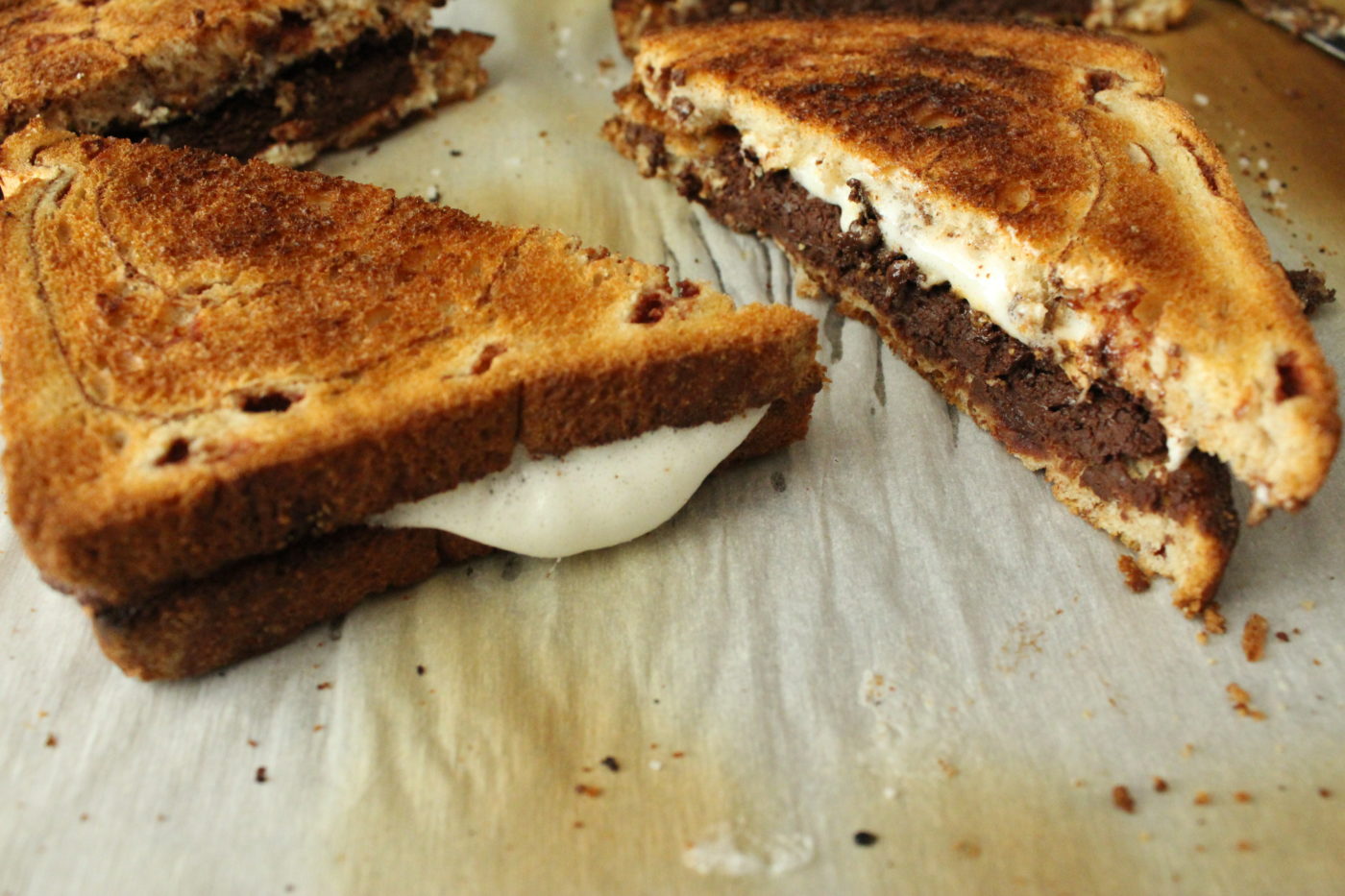 S'mores toast is just as it sounds: toast with s'mores ingredients. It's just heavenly. The great part? IT'S MADE WITH CINNAMON BREAD. The cinnamon bread is the game-changer for me. Graham crackers are awesome but bread? You absolutely cannot go wrong. Also, the smell of this cinnamon bread brought back so many memories for me. I used to buy this bread all of the time. I think it's safe to say, my slight addiction to cinnamon swirl bread has returned. My favorite part of this s'mores toast is the flaky salt that you add on top of the chocolate. Oooooh, it reminds me of these chocolate chip cookies. Something about salty mixed with chocolate is simply delightful.
Ooey gooey cinnamon s'mores toast
Guys, are you ready for this deliciousness? If you don't have cinnamon bread or you're not into it (not sure why that would be a thing), you could try it with regular white bread. But why?
This recipe makes 2 'sandwiches', 4 servings if you cut them in half. If you want more toast, add more bread! As usual, be careful when using your broiler. One look away and things can go terribly wrong.
Ingredients
4 slices cinnamon swirl bread
2 marshmallows
Chocolate
Flaky salt
Instructions
Turn your broiler on and layout the bread on a cookie sheet. Broil the bread until it begins to 'burn' a little. What you're looking for here is just a few brown spots. You don't want to actually burn it to a crisp.
Remove from the oven, flip it over and top two of the slices with a marshmallow. Top the other bread slices with some chocolate then place back in the broiler. Broil until the marshmallow browns and the chocolate begins to melt.
When done, sprinkle some salt on the chocolate then place the marshmallow slice on top.
Smoosh together and enjoy.
http://eatdrinkfrolic.com/2017/09/cinnamon-smores-toast.html
Shop s'mores products
Save
Save