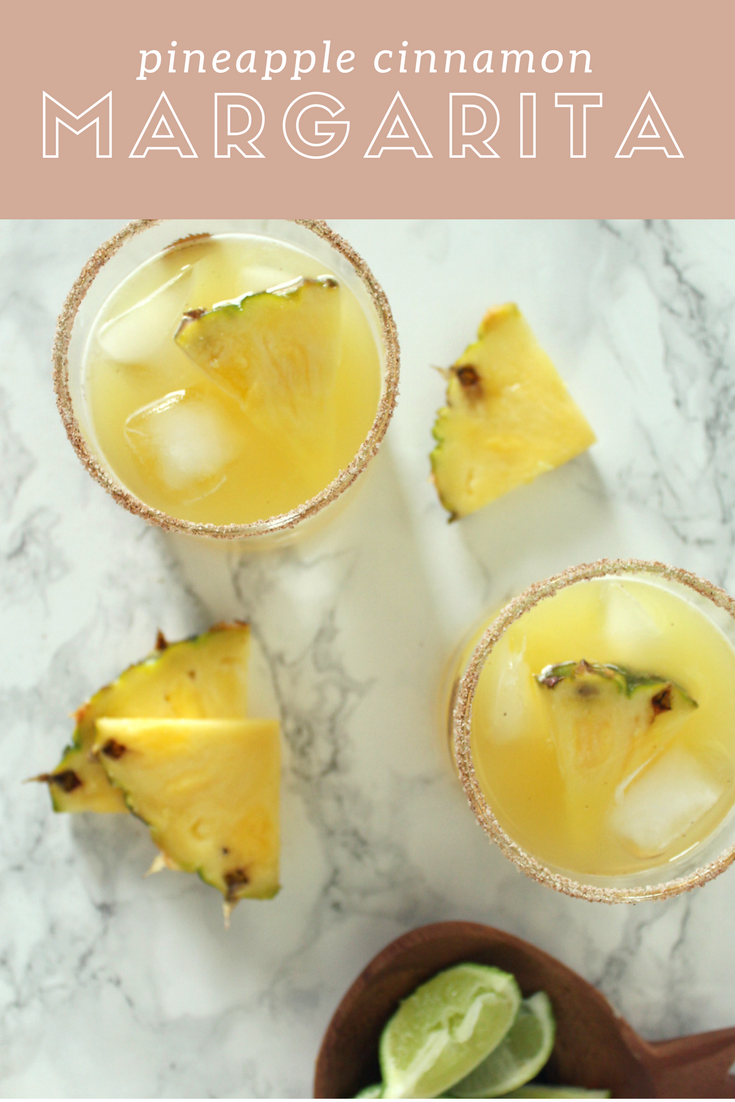 I always say that tequila makes either crazy or really sleepy. There's not really an in between. I don't drink tequila often though but I do enjoy margaritas every now and then. In my opinion, there's nothing better than an ice-cold margarita on a really hot day. . . am I right? Anyway, I always have tequila on our bar at home but it doesn't always get used. Once in a while though, I get the urge to make a margarita or I find a margarita recipe that's worth sharing.
One last thing about tequila. Even though it's not my go to liquor, I do enjoy the Paloma at Main Street Meats. It's tequila, Jarritos grapefruit soda and salt. The best part is that it comes in an actual Jarritos bottle. So good.
OK, back to the margarita recipe.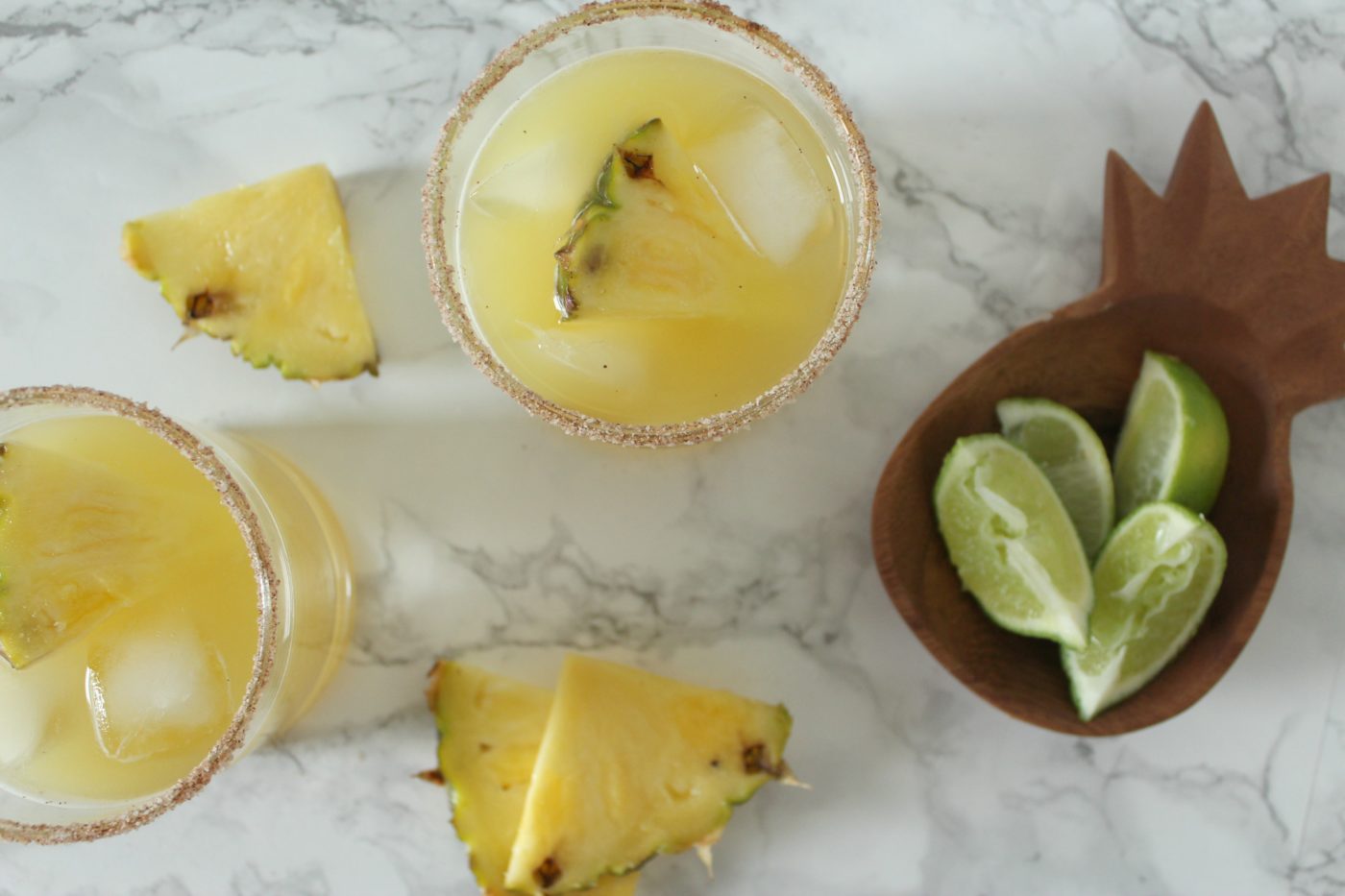 I found this recipe on Spicy Southern Kitchen and was intrigued because of the addition of cinnamon. I mean, let's be honest, I was also interested because of the pineapple. You know how I feel about pineapple. Anyway, cinnamon is one of my favorite spices. I always add a little pinch of cinnamon when I make coffee in the morning. According to John, it reminds him of Christmas.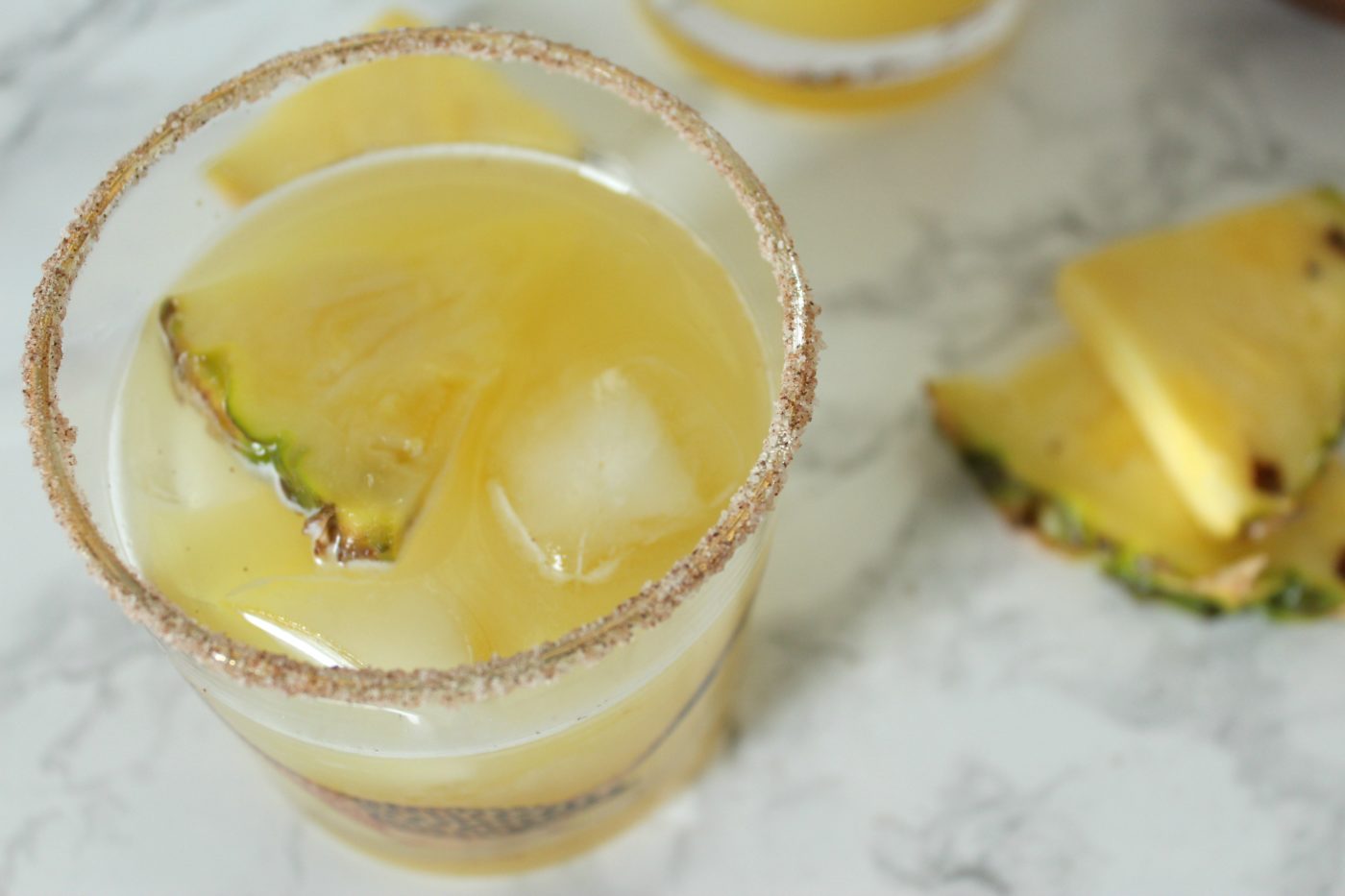 This margarita recipe is pretty easy to recreate and the flavors are just so yummy. Adding pineapple to anything automatically makes it taste tropical. The cinnamon sugar-coated rim gives the margarita a sweet flavor as opposed to salty like a typical margarita. All you need to know is that this drink is good! Traditional margaritas can be salty and tart (not a bad thing, by the way). When I order margaritas, I usually get them without the salt because the flavor is just too much for me; it intensifies the tequila. There are some occasions where I've gotten margaritas with salt but it's usually because of a mistake.
I think you'll find this margarita refreshing and pretty tasty. Let's make it.

Here's your new favorite margarita recipe
Pineapple Cinnamon Margarita
Ingredients
2 cups pineapple juice
1 cup tequila
1 cup Triple Sec
½ cup fresh lime juice
4 tablespoons superfine sugar, divided
½ teaspoon cinnamon
Instructions
On a small plate, combine 2 tablespoons of sugar and cinnamon.
Rub rims of 4 glasses with lime. Dip rims in cinnamon-sugar mixture. Fill with ice
Combine pineapple juice, tequila, triple sec, lime juice and 2 tablespoons sugar in a pitcher.
Pour over ice and enjoy.
http://eatdrinkfrolic.com/2016/10/pineapple-cinnamon-margarita.html
Shop this post
Save
Save