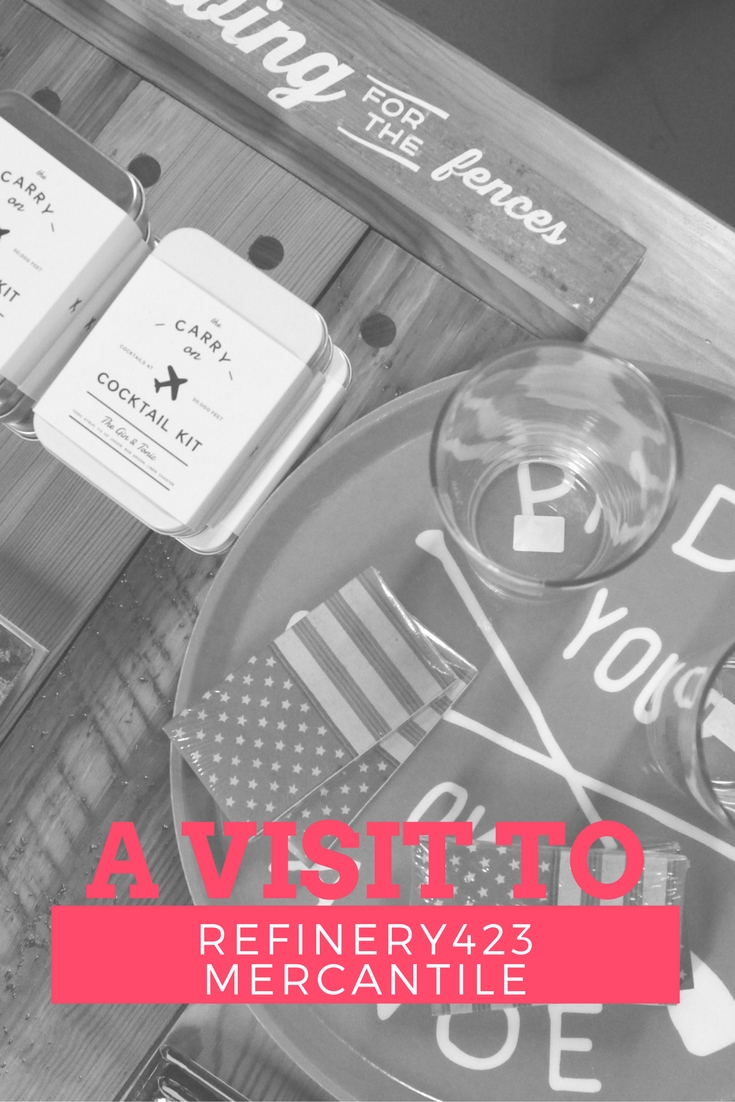 Sometimes the universe puts really cool people in your life and you wonder how in the world it happened. That's how I feel about Carl who co-owns Refinery423 Mercantile here in Chattanooga. Carl and his partner are two really awesome guys and it reflects in how they curate their store.
About a week ago, I *finally* got a chance to visit Refinery423 Mercantile, which sits inside of Merchants on Main – a local business that features over 20 vendors of furniture, home decor and gifts.
So let's talk a little about the awesome space that is Refinery423. It's a perfectly curated area of local products ranging from beard oil to local hot sauce. The space is small but don't let it fool you; it's packed with lots of personality and style. Despite what you may think, curating a store isn't that easy. Think about it: you have to be in the know of what's considered popular plus be well-versed in locally made items which may not be mainstream quite yet. To be able to curate a store well takes lots of time and talent. It's the first thing I picked up on when I walked into Carl and Keith's space; the level of thought that has gone into curating the products in the store.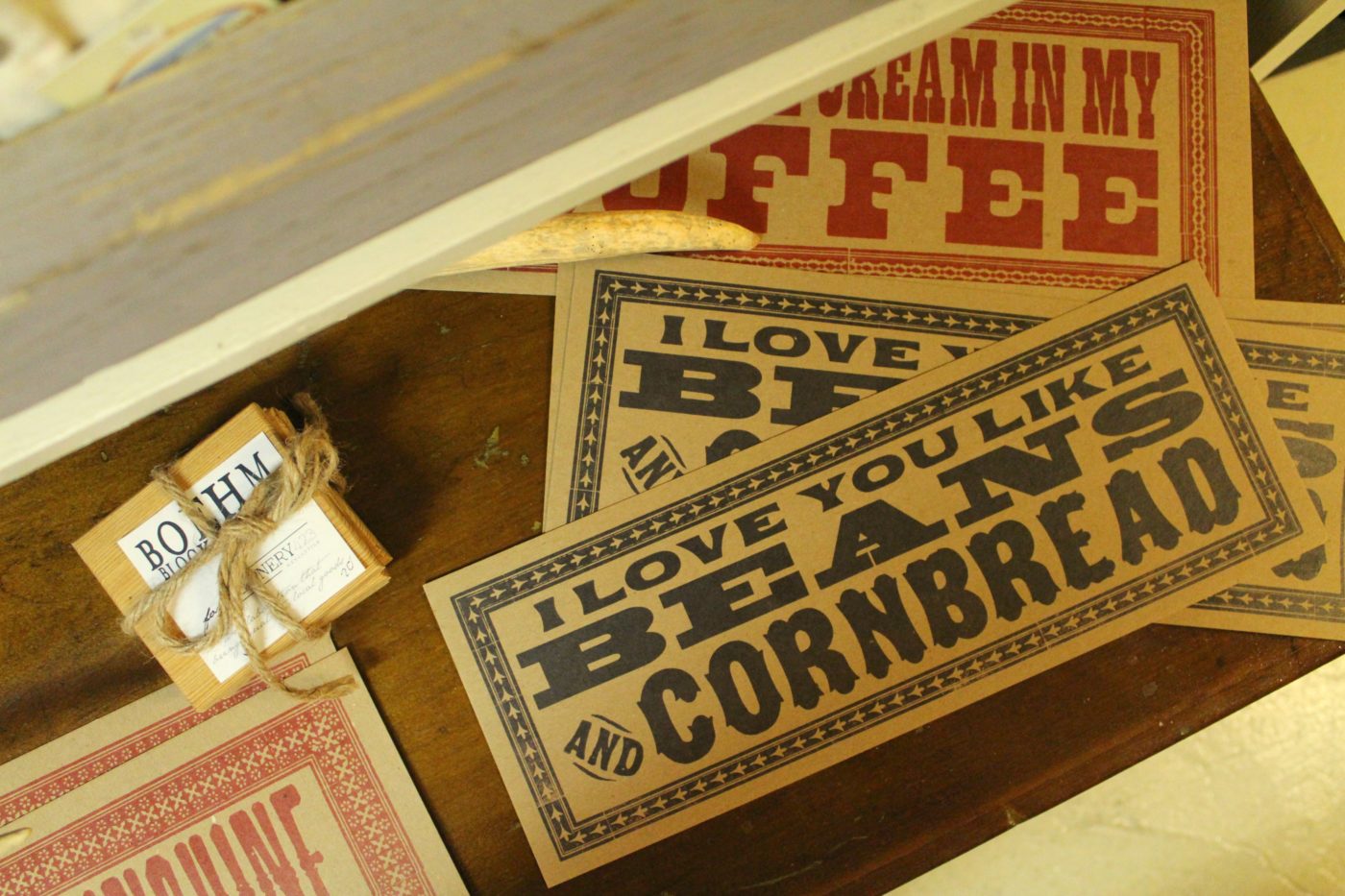 Refinery423 Mercantile is more than a store that boasts pretty products and gifts. There are stories behind each one of the items they carry. I loved hearing Carl's story about a necktie brand they carry and how he met the designer years ago. Now they carry her items in the store. Talk about full circle. I also loved hearing the background story of a candle company they carry and how it's made from recycled vegetable oil from restaurants. How cool is that? When you purchase from this store, you're not just buying a product – you're buying and supporting a multitude of small businesses and becoming part of their story.
One of the products they carry is a spicy honey from Bushwick Kitchen. I read about this honey a while ago in a food magazine and have been wanting to get my hands on some. I was ecstatic when I saw it in the store. Local restaurant, Stir, is a customer of Refinery423 and uses the spicy honey in one of their cocktails called the Bees Knees. Naturally, I wanted to do the same.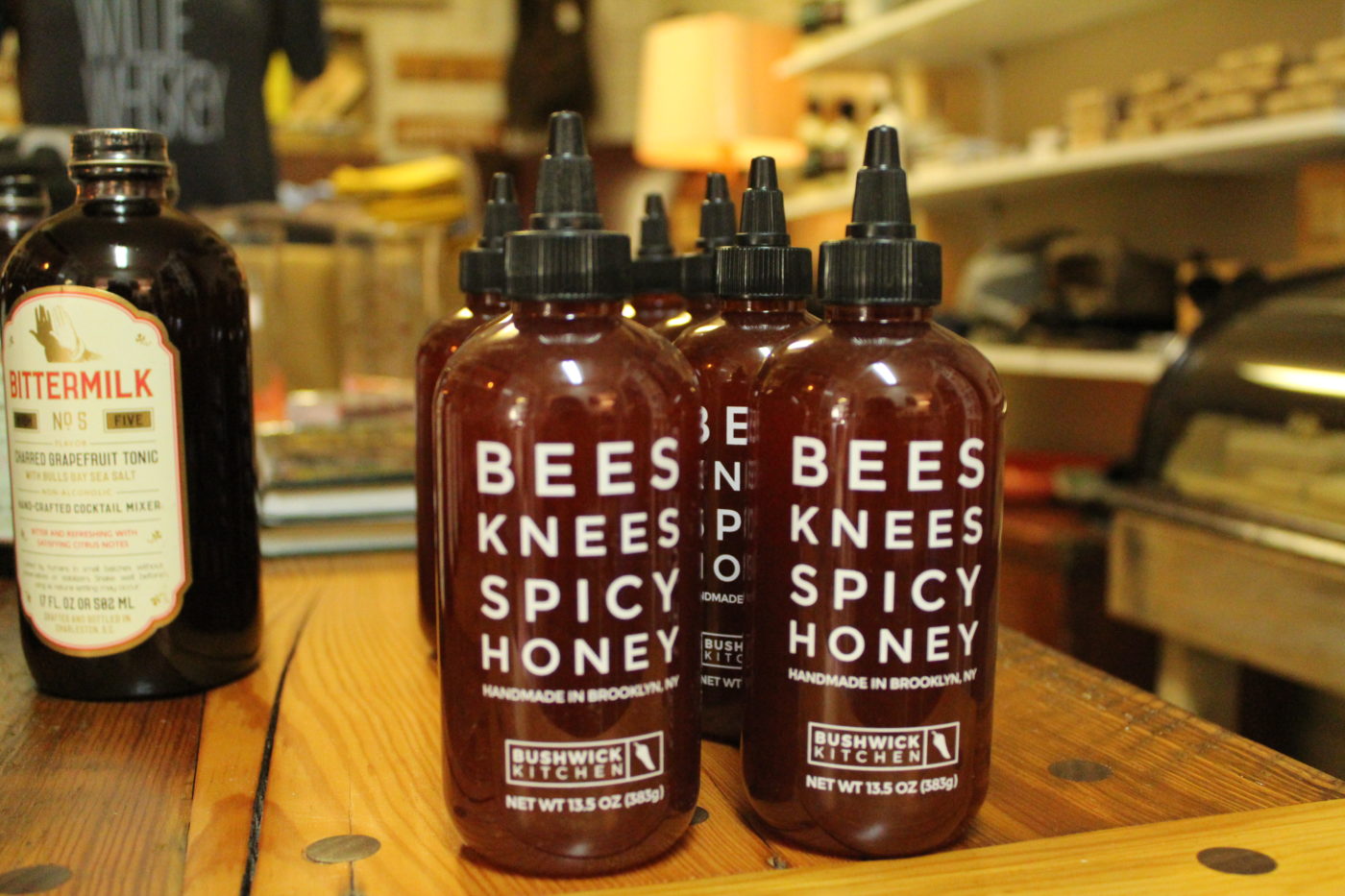 After visiting the store and really taking in what it represents and the products they have, I wanted to create a cocktail that was inspired by the space using the coveted spicy honey. So keep scrolling for a simple and delicious cocktail (The Refinery) inspired by my visit to the store.
On my blog, I've loved visiting and writing about local businesses and small businesses we visit on our travels. What I love most about Refinery423 (besides the awesome 'ESCAPE' duffle bag below) is that at its core, it is a store that is a beautiful reflection of the relationships Carl and Keith have made over the years. Who wouldn't want to support that mission? Shopping at their store means the cycle of collaboration and developing meaningful relationships can continue to grow and flourish.
It's really a beautiful thing. Now let's make a cocktail.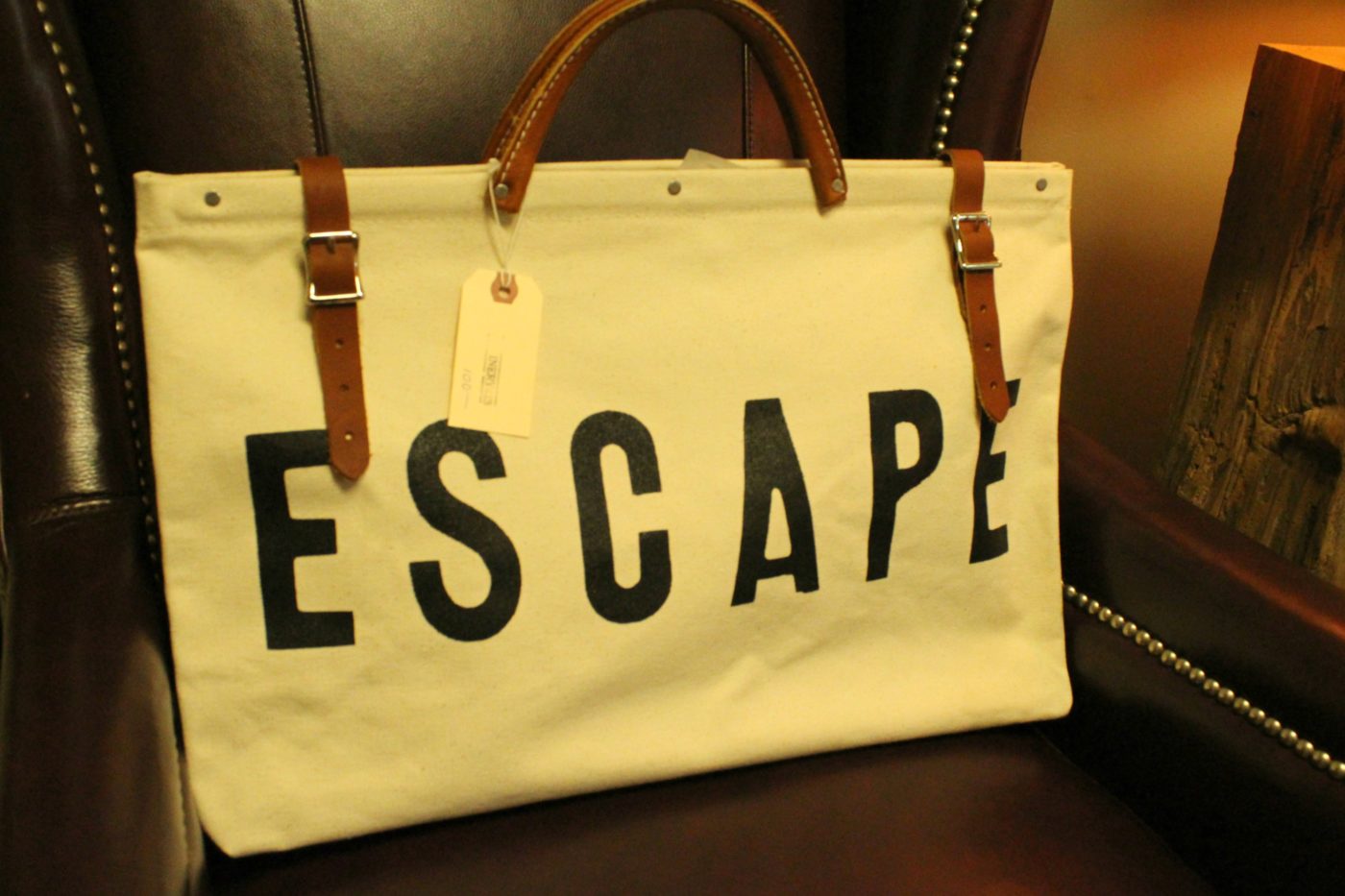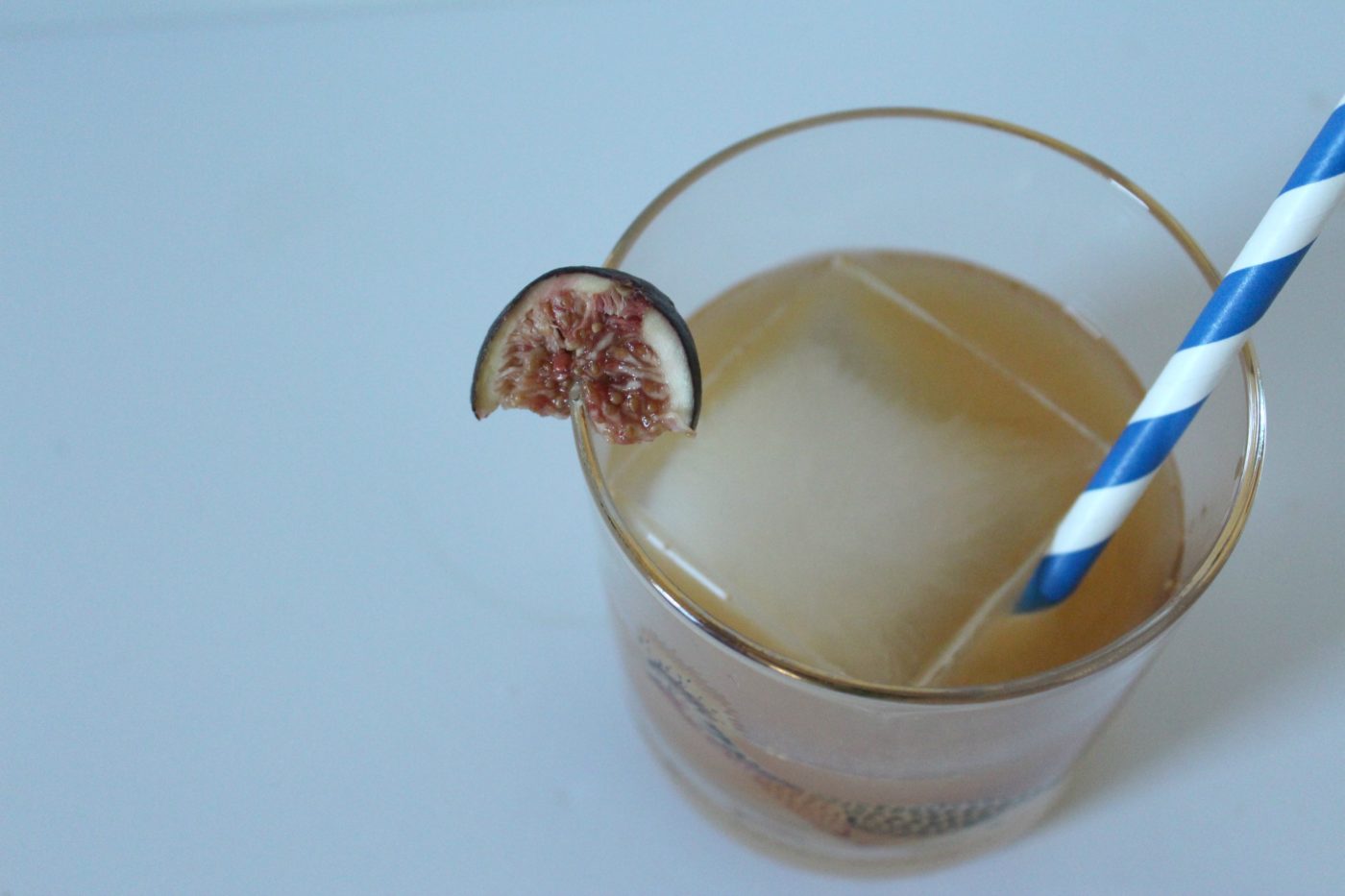 Ingredients
1/4oz Bees Knees Spicy Honey from Refinery423 Mercantile
1 fig, quartered (plus another half for garnish, optional)
Juice from 1 lime wedge
2 dashes of Angostura bitters
1.5oz bourbon
Instructions
In a cocktail shaker or glass, drizzle in the honey then add the figs, lime juice and bitters.
Muddle it all together until it's as smooth as you can get it (it won't be perfect and that's fine).
Add in the bourbon and top with ice and shake until the outside of the shaker is frosty and cold.
Pour into a glass then using a mesh strainer, strain again, into your drinking glass. (SEE NOTES)
Add a large ice cube and garnish with a fig.
NOTES:
I used Four Roses Bourbon but use whatever brand you enjoy.
This drink is really just a bourbon on ice - so it's not for the faint of hearts. The figs and honey add a little bit of heat and sweetness.
Double straining it helps get the seeds and some of the pulp out.
http://eatdrinkfrolic.com/2016/09/refinery423-mercantile.html
If you visit Refinery423 Mercantile:
Refinery423 Mercantile
607 East Main Street, Chattanooga, TN 37408
Monday-Friday, 11-6pm
Saturday, 10-5pm
Sunday, closed
TIP: When you go, buy the Hoff Sauce. It's a locally made hot sauce and it's so yummy! The current batch at the store is the first batch using local chiles from Dayton, TN. Get the sauce before it's gone!
Save
Save
Save
Save
Save