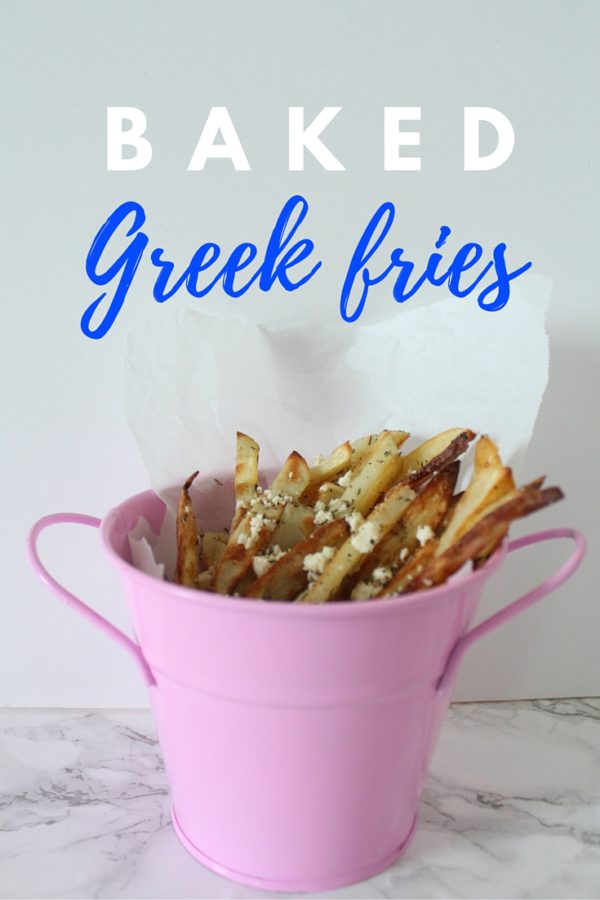 I love french fries. I'll make a confession: one of my favorite things to do is get a late-night snack of fries from McDonald's. It's so bad for my body but they're so good. With today's recipe, I call myself "making it healthy" because I baked them instead of frying them. But what that really means is that I was simply too lazy to get my fryer out of the cabinet and the oven was closer. Anyway, Greek french fries might be my new way to indulge in my snack cravings.
OK, let me start from the beginning. Last week, John and I decided to go have lunch at the local restaurant, 2 Crazy Greeks. I'd eaten there before but I always had regrets that I didn't try their feta fries. So this last trip I was able to redeem myself. I ordered them and they were delicious. The portion was huge and from now on, we'll definitely share them if we order feta fries again.
I had every intention on doing a full blog post on 2 Crazy Greeks but sometimes life pulls you in a different direction. For me, that direction was to try to recreate the fries. Oh yeah.
This recipe is so easy, I almost called it "lazy Greek french fries". Luckily, I decided against it. The most difficult part of this recipe (if you want to call it difficult) is cutting the potatoes. If you own a mandoline, you can use that to make potato rounds instead of potato "sticks". I remember my parents making homemade french fries all the time when I was younger, so this process was familiar to me. If you need a refresher on how to properly slice potatoes for fries, check out this Serious Eats video.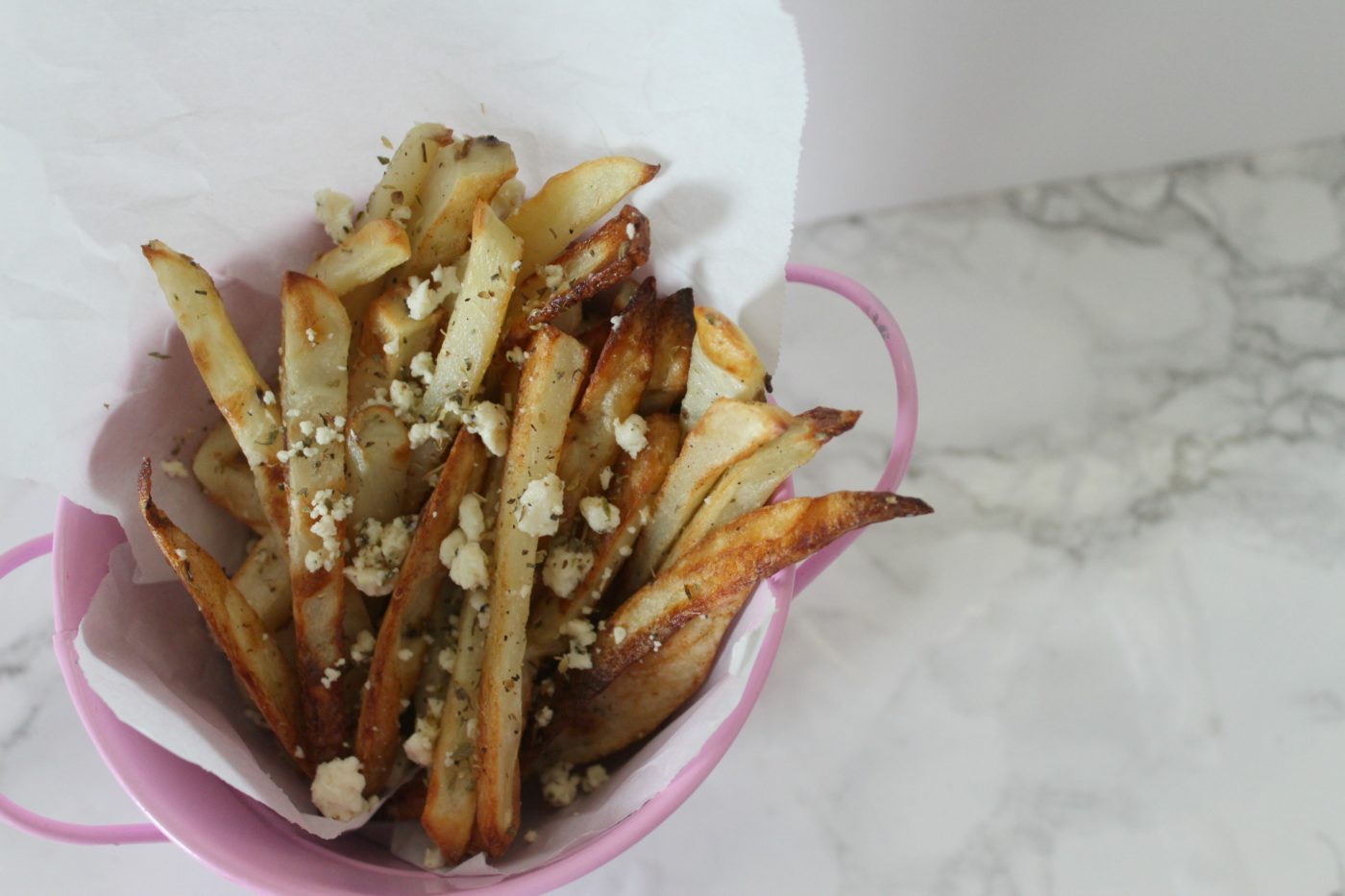 I've read different opinions on soaking potatoes in water while you cut them. My parents did it so I continue to do it too. Soaking your freshly cut potatoes in water keeps them from oxidizing and turning a weird brownish gray color. Gross. It also gets the starch out, which helps them not stick together. So my suggestion is to place freshly sliced potatoes in water until you're ready to bake them. Got it?
Let's make some Greek fries.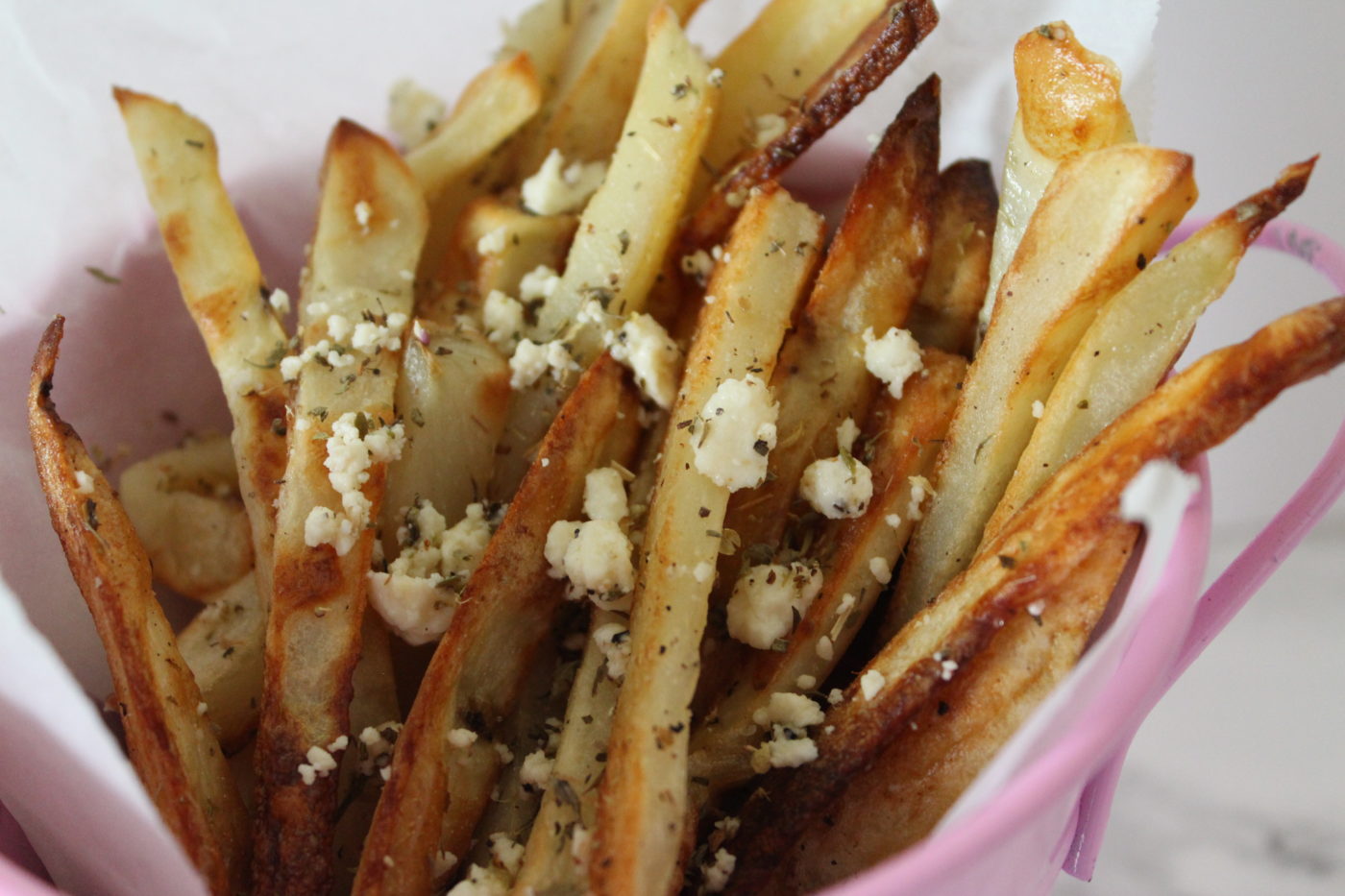 Ingredients
2 or 3 large potatoes
Olive oil
Sea salt
Oregano
Feta cheese
Lemon zest (optional)
Tzatziki (optional)
Instructions
Heat oven to 450 degrees.
Slice potatoes into fries and place freshly cut potatoes in water. (See note #1)
Line a baking sheet with parchment paper and spray with a nonstick spray.
Pat dry the potatoes and in a bowl, drizzle with olive oil and season with salt. Toss to combine.
Lay the potatoes on the baking sheet but don't overcrowd the pan. (See note #2)
Bake for 25-30 minutes or until the fries are golden brown.
Add the fries to a bowl, drizzle with a little more olive oil and season with oregano, salt (to taste) and feta cheese then toss.
When ready to serve, you can add a little lemon zest too. (See note #3)
Notes:
1. You can leave the skin on or remove it. Whatever you prefer.
2. Make sure the potatoes aren't on top of one another; they will bake easier and faster if they have enough room.
3. If tzatziki sauce is your thing, you can serve it on the side instead of ketchup.
http://eatdrinkfrolic.com/2016/07/baked-greek-french-fries.html
Shop this post