So just a couple of weeks ago, John and I were lounging in the rainforests of Costa Rica, trying not to get eaten by a random creature. Yes, this was a vacation but it was also our [second] honeymoon. After the wedding we had a mini-moon just to clear our minds from all of the craziness of the wedding. Then we decided to have a bigger trip later on; gave us something to look forward to. Anyway, Costa Rica was an entire week of beautiful weather, great views of mountains and even an iguana that insisted on joining us for breakfast every morning – I was not a fan of this iguana.
We both fell in love with Costa Rica and surprisingly, it wasn't even our original choice as a honeymoon destination. I think I mentioned before that Paris was our original game plan but after some thinking and planning we decided to postpone Paris until *maybe* our anniversary and go somewhere else. We randomly picked Costa Rica and never looked back. We researched a few destinations in Costa Rica and landed on the area of Jaco as our final destination. Actually, we stayed a little outside of Jaco (pronounced ha-ko) but Jaco/Jaco Beach was the closest city. We flew into San Jose and since our flight landed pretty late, we spent the night there before traveling a couple of hours to Villa Caletas – our beautiful hotel located on a rainforest hilltop.
We started most of our mornings with a hearty Costa Rican breakfast of gallo pinto and a myriad of other tasty foods. I think we ate gallo pinto everyday and I promised John I would try and recreate it now that we're back. One of our drivers gave me some tips on how to make it so now I need to implement them!
Once we arrived at Villa Caletas, the service was exceptional…and so was the view. Our room was great and we had our own private balcony outfitted with the sign "do not feed the animals". Remember, we were in the rainforest so animals just roamed around as they pleased.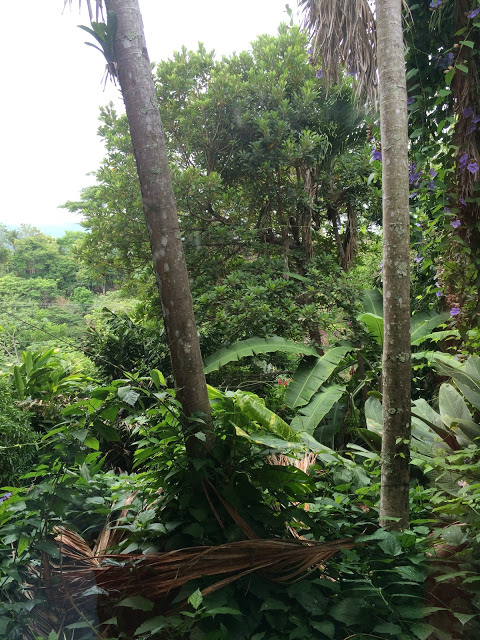 one of the views from our bedroom
Once we got situated in our new digs, we frolicked around the property for a bit. Villa Caletas has two restaurants plus a bar at the pool (where you can order pool snacks) and a bar with food access at their private beach…yes, private beach.
Getting up for breakfast every morning was a treat; the view was enough to get us up early. Side note: though we were on vacation, we woke up every morning around 6 or 6:30am. Never failed.
view from the restaurant

Villa Caletas/Caletas Beach:
Villa Caletas has their own private beach a little over a mile from the hotel. The trail to the beach is obviously through the rainforest. I had no interest in walking it so luckily they provided trucks that will transport you there and back. Awesome, right? The private beach is a bit pebbly but enjoyable with towels, beach chairs and little huts to chill under. We had drinks (at 10am nonetheless) and feel asleep on the beach. The best.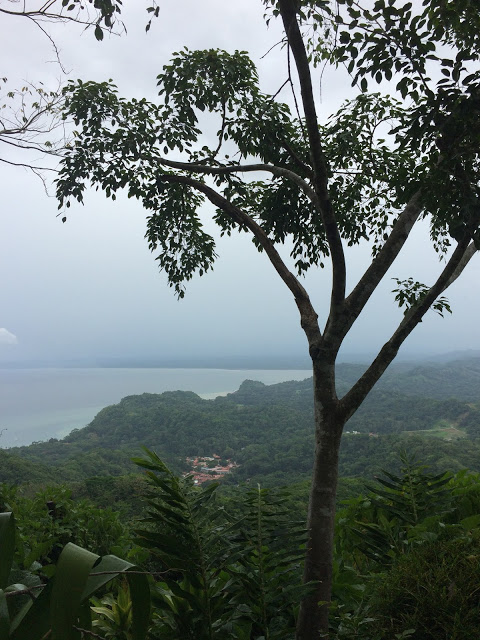 the drive to the hotel from the private beach
Now, our restaurant had quite a few options for breakfast, lunch and dinner and we tried a lot of foods but for some reason, I really took a liking to their salmon for dinner and I'm embarrassed to say…I had it two (or three) nights in a row. Eeek!
Jaco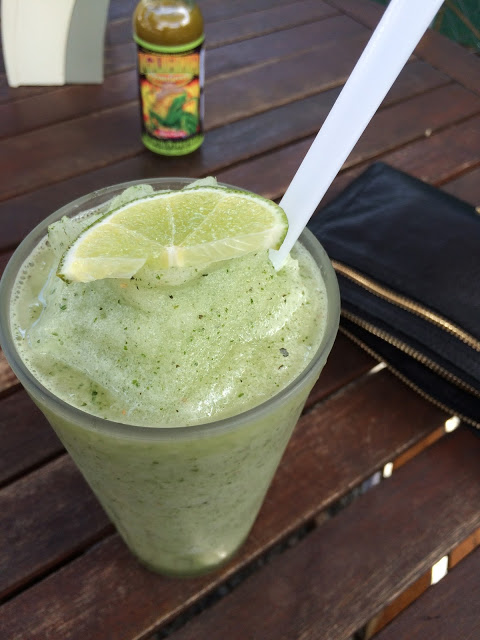 a frozen lemonade from Taco Bar
The beach at Jaco isn't necessarily the most beautiful beach ever but apparently, it's really great for surfing. We found great entertainment in watching surfers for a few hours.
yes, we decided to try this pool out…and yes, it was freezing!

The pool!
One of my favorites from Villa Caletas was the infinity pool – it was beautiful! We made sure to schedule some time to just lounge by the pool and that we did…all day. It was great! We ordered cocktails, had lunch and even met a few folks. The sunset at the pool was my favorite part of pool day. Our hotel gets lots of visitors, not staying at the hotel, because of its amphitheater where guests can order drinks and watch an amazing sunset.