The temperatures in the South are really weird and temperamental. Sometimes the winters are really cold with ice storms. Other times the winters are mild and we barely need a coat. You can't predict it. This summer has been one of the hottest on records; above 90 degree weather pretty much every day since June. I love summer but it's been unbearable even for me. One delicious way to cool off is with a Seattle's Best iced coffee. This is one of my favorite coffee beverages.
I love coffee. Hot coffee is my thing but a really bold and flavorful iced coffee or latte is really a treat for me. I especially love to make my own iced coffees at home.  In order to prep my at-home iced coffee, there's a little bit of work that goes into it.  Some may think it's a little too much work just for a cup of cold coffee but I think it's all worth it!
I recently had an opportunity to work with Seattle's Best Coffee on crafting a delicious iced coffee using their House Blend.  I excited headed to Publix (where you can purchase Seattle's Best Coffee House Blend) and proceeded to get my supplies. I feel like its worth noting that I love Publix. Every time I'm there, I always have such a pleasant experience. The staff is always super-helpful and there are always delicious samples to snack on as you shop.
Since moving from Atlanta, I've missed having a Publix really close to my home. Lucky for me, there's a Publix coming very close to where I live and I CANNOT wait until it opens!  It only took a few years of me living in Chattanooga to finally get a Publix. It's so convenient and my life has changed dramatically. Back to the subject at hand: a Seattle's Best iced coffee.
I found the Seattle's Best House Blend to be really tasty! I love robust and full coffees and that's what I got with the House Blend.  When I was in college, we were lucky enough to have access to Seattle's Best coffee on campus and it felt nice to be reunited again.
Let's make some iced coffee!
Before we get to the coffee recipe, first things first: the ice cubes
There's nothing I hate more than watered down iced coffee. Stop the insanity by simply making coffee ice cubes.  Brew a strong pot of coffee – don't add any sweeteners to it – and pour in an ice tray.  Freeze and add them to your coffee.
I went with a caramel mint iced coffee because life is just too short to keep things simple.
A delicious Seattle's Best Iced Coffee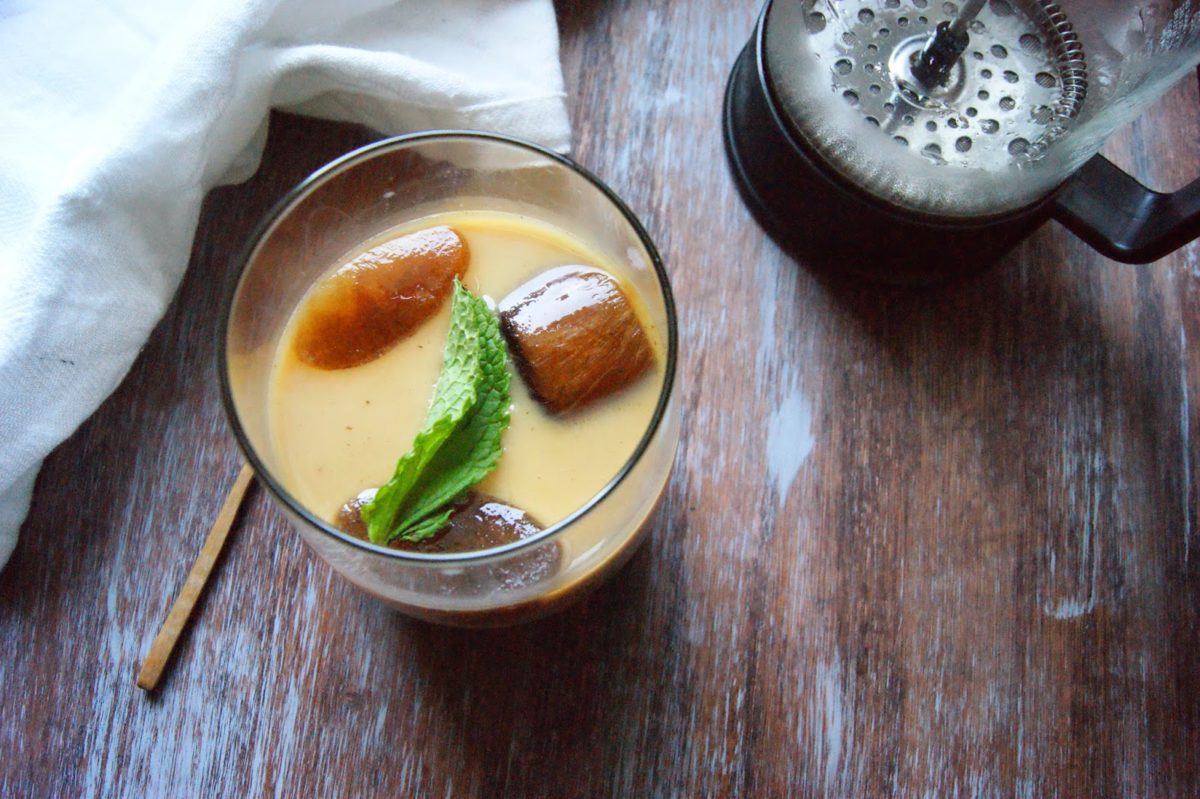 Disclaimer: I'm participating in a Seattle's Best Coffee blogger campaign and received compensation as part of the program. However all opinions (and recipes) are my own.
Save