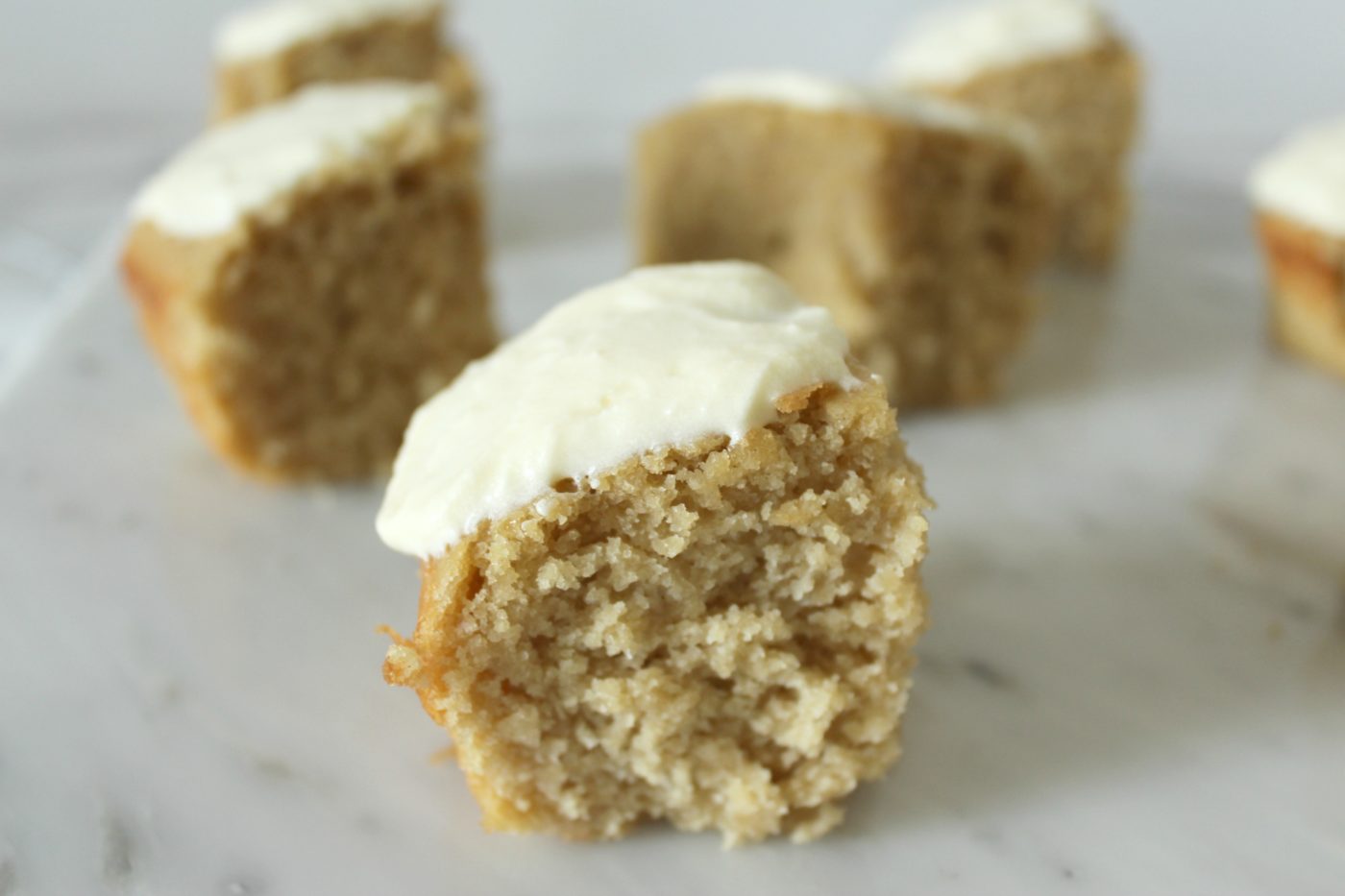 Have you ever tried Vietnamese coffee? I read about it a while ago and saw so many people ranting and raving about it. Naturally my research led me to try it for myself and make my own iced version. Do you ever make your own iced coffee? I love to make them at home and my husband always knows that if he opens the freezer and sees coffee ice cubes, I'll be making iced coffees real soon. In the summer, I try to keep coffee ice cubes in the freezer because I like to be prepared and because I hate iced coffees with regular ice cubes, don't you?
I'll get off of my iced coffee soapbox now. Vietnamese coffee is honestly what led me to a slight addiction to sweetened condensed milk. I remember sweetened condensed milk being in my parents' cabinets when I was younger but I have no idea know what it was ever used for. Maybe it was a secret ingredient in something delicious that they used to make. Who knows – I guess my parents were onto something.
Vietnamese Coffee Cake Inspired by Easy Gourmet
Not too long ago I wrote about a cookbook, Easy Gourmet. Easy Gourmet is written by Stephanie Le of the blog, I am a Food Blog. I love this book (and her blog) and at the time of receiving it, I was really into Vietnamese coffee. The coffee cake recipe stood out to me immediately. This recipe is easy and doesn't require that you have thousands of ingredients and the best part: the icing.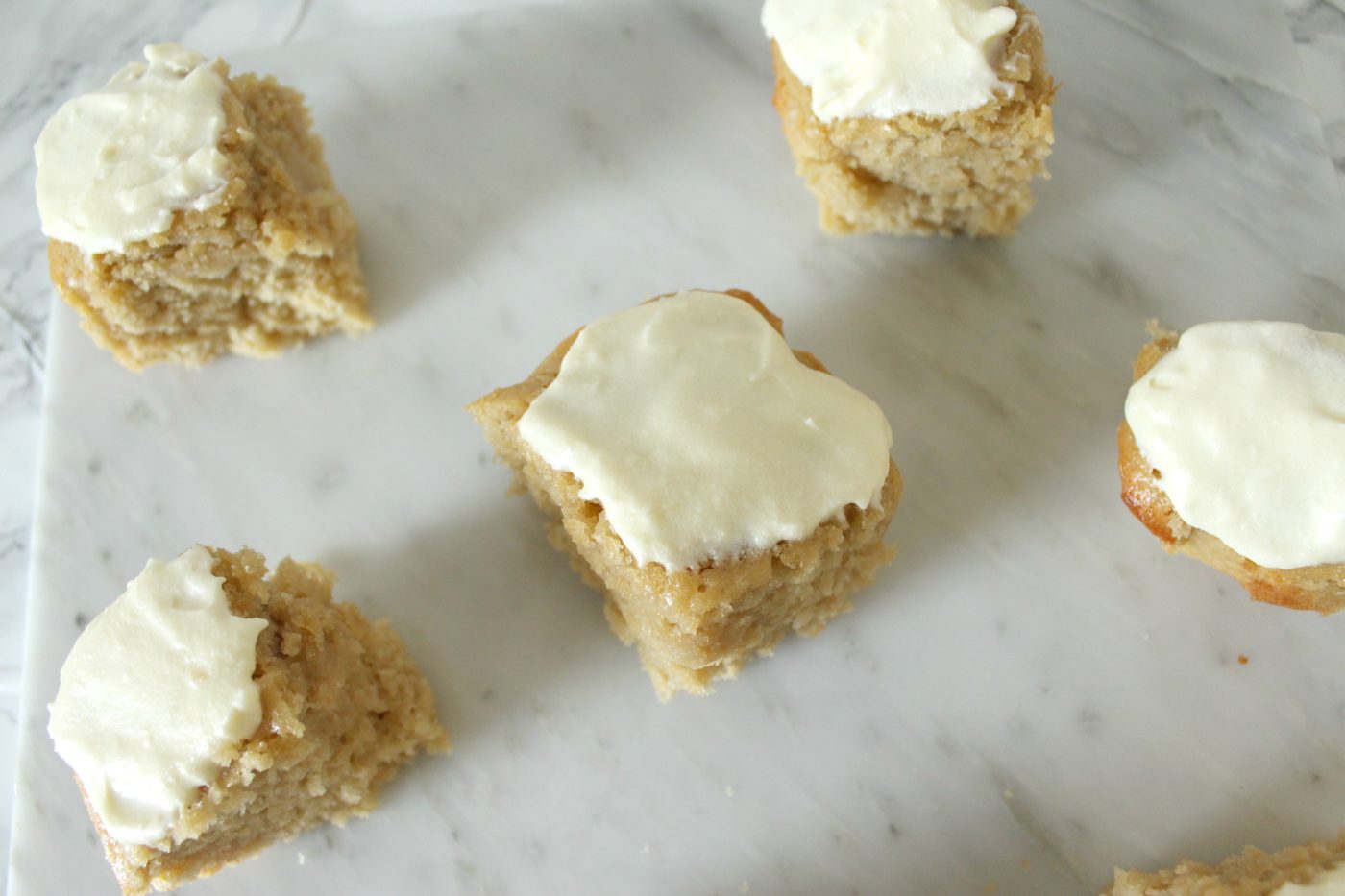 The icing is a sweetened condensed milk icing and I'm here to let you know that it is delicious. I could have seriously eaten just the icing and I would have been pretty content with that decision. The icing *almost* didn't end up on the actual cake. Luckily, I stopped myself. I challenge you to do the same.
Vietnamese Coffee Cake (from Easy Gourmet)
Ingredients
1 cup butter, room temperature
1 cup sugar
1/2 cup brown sugar
4 large eggs, room temperature
2 3/4 cups all purpose flour
1 1/2 tsp baking powder
1/8 tsp salt
3/4 cup strong coffee, cooled
1/4 cup milk

For the icing

3/4 cups butter, room temperature
2 cups powdered sugar
1/4 cup (plus 1 tbsp) sweetened condensed milk
Instructions
Heat oven to 350 degrees.
Beat the butter until light and fluffy then add the sugars and mix until fully incorporated.
Add eggs one at a time, beating well after each addition.
In a small bowl, whisk together the flour, baking powder and salt.
In a measuring cup, stir together the coffee and milk.
Add a 1/3 of the flour mixture to the butter+sugar mixture and mix until combined. Add 1/2 of the coffee and milk mixture; stir well. Continue alternating between the flour and coffee mixtures, ending with flour.
Pour the batter into a parchment paper-lined square pan and bake for 35-40 minutes.

For the icing:

Beat the butter on medium until light and fluffy. Beat in powdered sugar and when smooth, beat in condensed milk until thick and smooth.
Cake may need to cook for a little longer; oven temps vary. Test the cake by sticking a toothpick into the center. If it comes out clean, it's ready.
Allow the cake to cool completely before icing it.
http://eatdrinkfrolic.com/2016/06/vietnamese-coffee-cake.html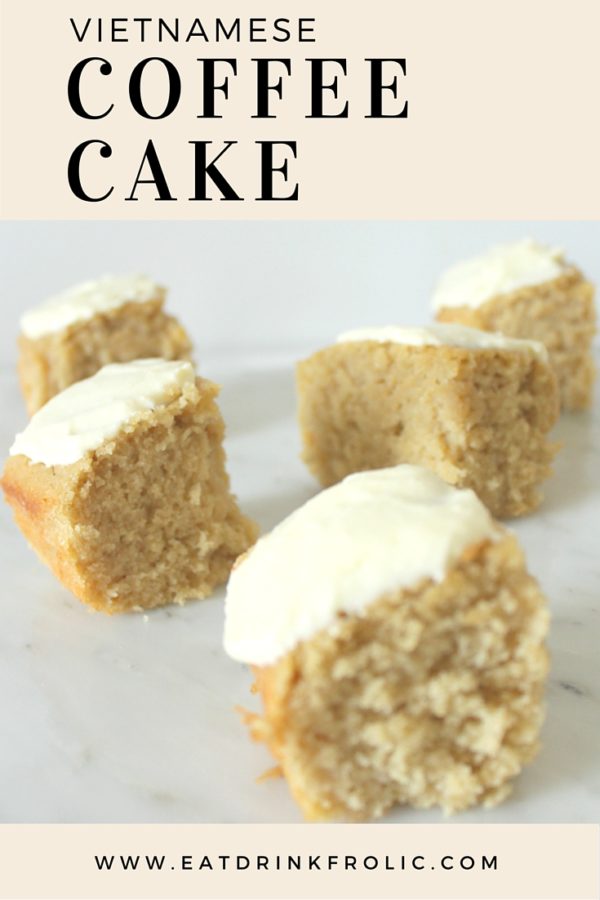 Save