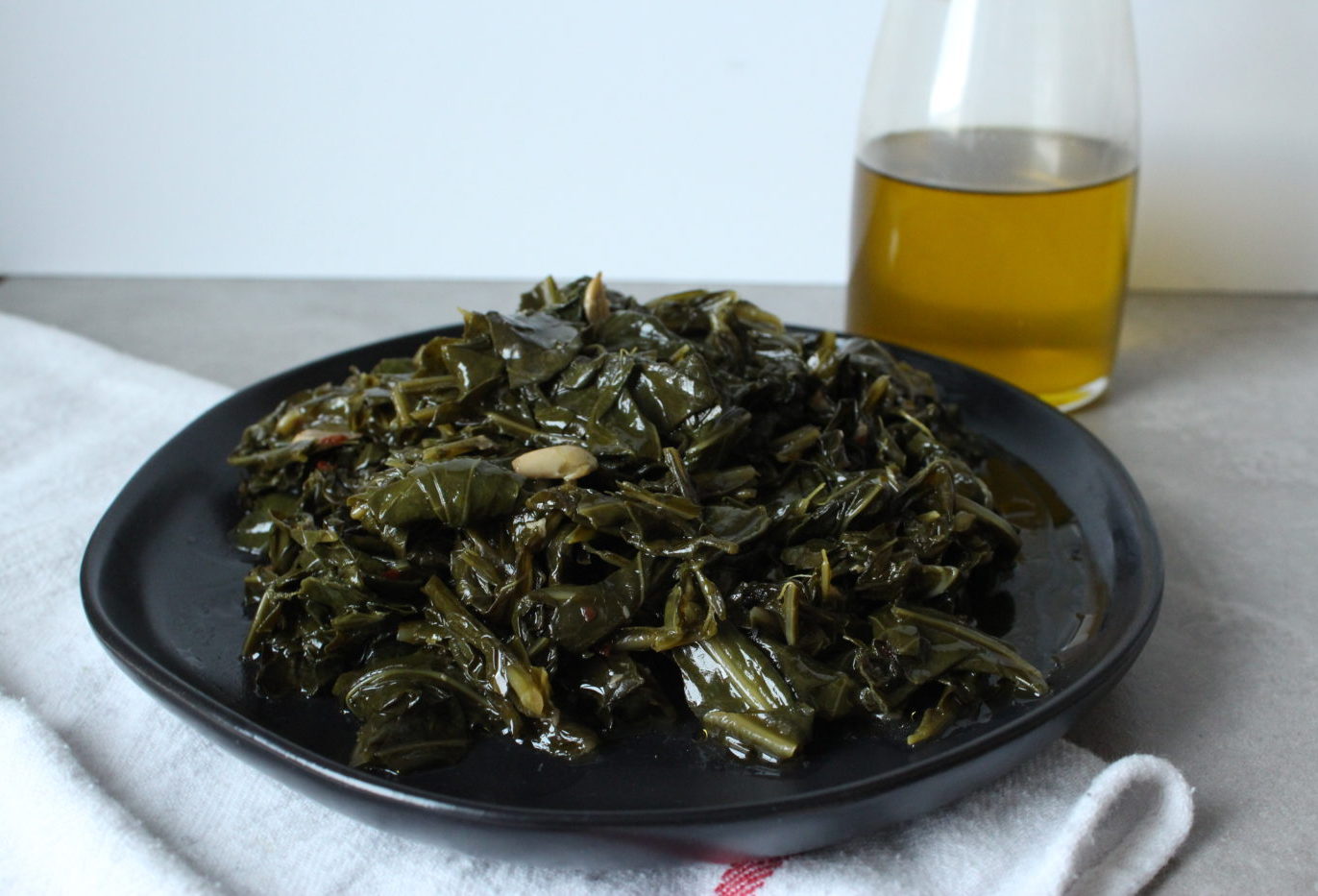 I love collard greens. When I was little and we would have holiday gatherings, my grandmother would always serve collard greens. They were a dinner table staple. Once I left home and went to college, they weren't really part of my life anymore. I didn't know how to prepare them and even if I wanted to try, I was afraid they wouldn't even taste like my grandmother's greens. Since meeting and marrying John, his mother does make collards for family gatherings and they're delicious. I decided to try my hand at it with olive oil braised collard greens, which were inspired from reading Bon Appetit magazine.
Alright so most people know that greens are a huge part of our holiday menu. By our, I mean black folks. I feel as though I can speak as an authority on this since I, in fact, am black and grew up attending many, many holiday dinners.
Collard greens would cook all day long and typically there's a large piece of meat in it; usually something like a hammock or turkey neck. Once the greens are done, they taste fantastic. Sometimes they may taste a little sweet other times they may be spicy and tangy. Bottom line: they were good and I always went home with some leftovers.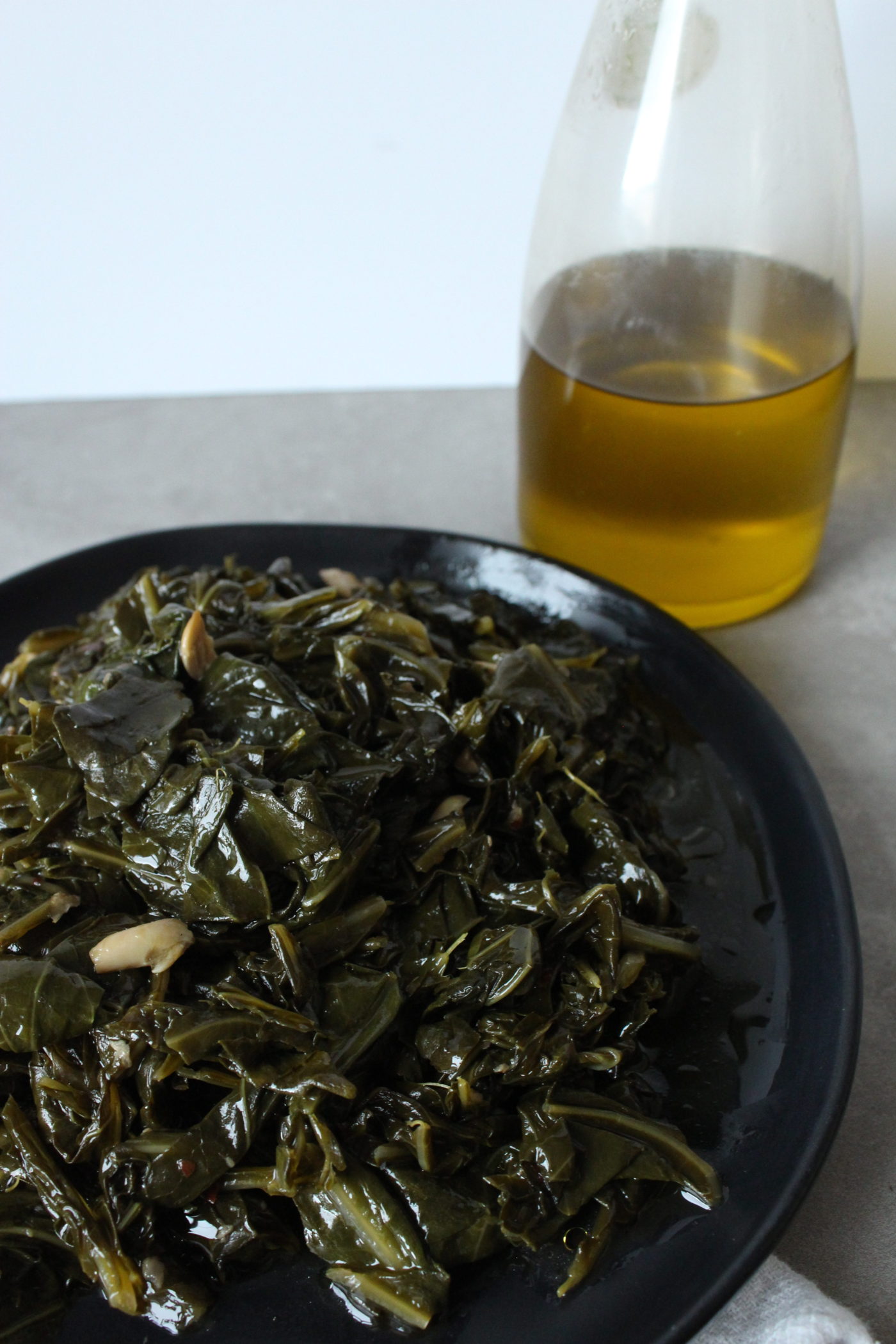 Because most of our grandmother's are the best cooks ever, these are tough shoes to follow in regards to trying to make my own pot of greens. Even looking at collard greens in the grocery store brought some type of anxiety to my soul. I remember contemplating making greens one day in the grocery store. For what seemed like hours, I stared at the greens; I'm pretty sure if anyone was watching they thought I was a complete weirdo. I picked them up then put them back and repeated this at least 5 more times. Long story short, I ended up leaving the store without the greens.
No disrespect to my grandmother's greens but I love these olive oil braised collard greens because of the timing. Back in the day, I remember my grandmother's greens taking ALL DAY to be done. At the time, I assumed that was just how long it took. It was right then and there that I decided I'd never make collard greens. Until now.
Yes, these need to braise for a bit but good news for me, they don't take that long at all. The other thing with these greens is that the color is still somewhat in tact. The problem with cooking greens (or any veggie) soooooo looooong is that the color, along with the nutrients, are sucked out of them. No bueno. Because these cook for an hour to an hour and half, the color still resembles collard greens and you don't lose all of the nutrients.
Olive oil braised collard greens (my new favorite)
This recipe is part of a Black History Month virtual potluck I'm participating in with other awesome black food bloggers (like last year). I'm excited to share this recipe with you AND the recipe of others – such yummy recipes.
OK back to the greens.
They're braised in olive oil (obviously) and not really doctored up with lots of other things. It's simple yet they pack lots of flavor. These aren't your grandmother's greens. Keep scrolling for the full list of recipes participating in the Black History Month virtual potluck.
Olive Oil Braised Collard Greens
Ingredients
1/2 cup olive oil (and more for drizzling)
8 garlic cloves, sliced thin
1/2 teaspoon red pepper flakes
2 bunches collard greens, torn into 2" pieces (ribs & stem removed)
Kosher salt
Black pepper
1 tablespoon (plus an extra splash) apple cider vinegar
Pinch of sugar
Instructions
Heat 1/2 cup oil in large pot (or Dutch oven) over medium heat.
Cook garlic and red pepper flakes often until garlic is a deep golden brown. Be careful not to burn the garlic.
Add greens to the pot, one handful at a time, making sure each group is wilted before adding the next handful; season with salt and pepper.
Add a cup of water* then bring to a simmer. Reduce the heat and allow the greens to simmer gently.
Cover and cook, stirring occasionally until the greens are a deep dark green color and tender (about 1-1 1/2 hours).
Let the greens cool slightly then add in the vinegar and sugar.
Transfer to a serving dish then drizzle more olive oil on top.
*You can certainly add chicken or vegetable broth instead of water.
http://eatdrinkfrolic.com/2018/02/olive-oil-braised-collard-greens.html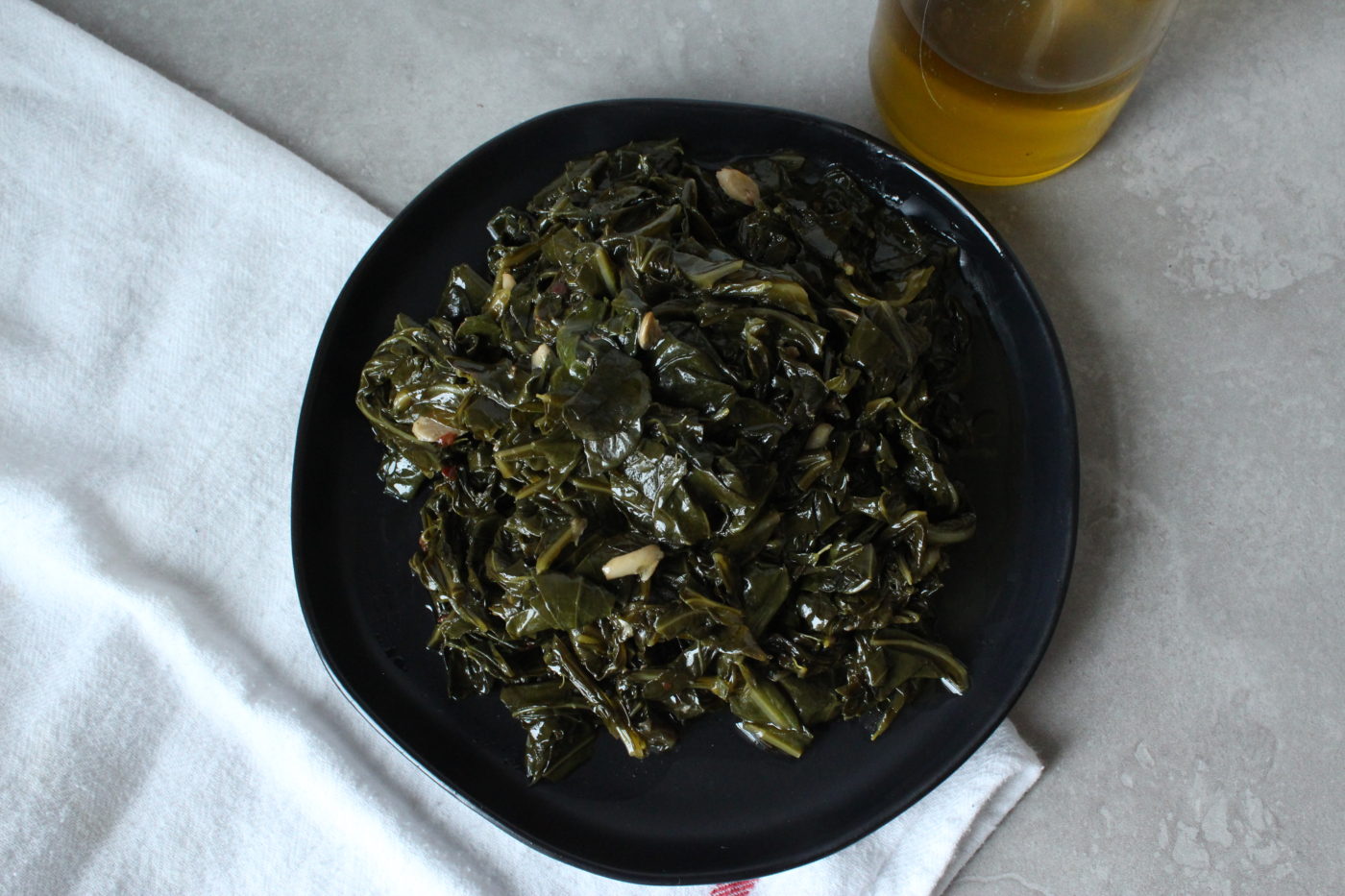 Black History Month Virtual Potluck
Beautiful Eats & Things | Turkey Sausage Stuffed Collard Green Wraps
Better With Biscuits | Fresh Corn Pudding
Beyond The Bayou Food Blog | Creole Seafood Courtbouillon
Brandi's Diary | Better than Jiffy Cornbread from Scratch
Butter Be Ready | Southern Style Mac and Cheese
Chef Kenneth | Fried Sweet Potato Hand Pie
Chocolate For Basil | Pilau and Kachumbari (Spiced Rice with Pico)
Cooks with Soul | Braised Short Rib Meatloaf
D.M.R. Fine Foods | Cinnamon Raisin Bread Pudding with Maple Glaze
Dash of Jazz | Nigerian Jollof Rice
Domestic Dee | Fried Peach Pies
Food Fidelity | Mofongo Relleno (Mashed Plantains with Garlic Shrimp)
Food is Love Made Edible | Buttermilk Biscuits with Fried Chicken and Tabasco Honey
High Heels and Good Meals | Crawfish Etouffee
HomeMadeZagat | Shrimp with Spicy Curry Cream Sauce
Houston Food Fetish | Sweet Almond Tea Cakes
In the Kitchen w/Kmarie | Pineapple Lemonade
Marisa Moore Nutrition | Bourbon Peach Glazed Salmon
Meiko and The Dish | Candied Bourbon Peach Cobbler
My Life Runs On Food | Lentil Soup and Roast Okra
Orchids + Sweet Tea | Carrot and Zucchini Noodles Stir Fry with Shrimp
Raised on Ramen | Orange Glazed Brussels Sprouts
Savory Spicerack | Creamy Seafood Stew
Simply LaKita | Blackberry Cobbler
The Hungry Hutch | Orange Bundt Cake with Vanilla Glaze
The Kitchenista Diaries | Smothered Turkey Wings
The Seasoning Bottle | Honey Turmeric Skillet Chicken