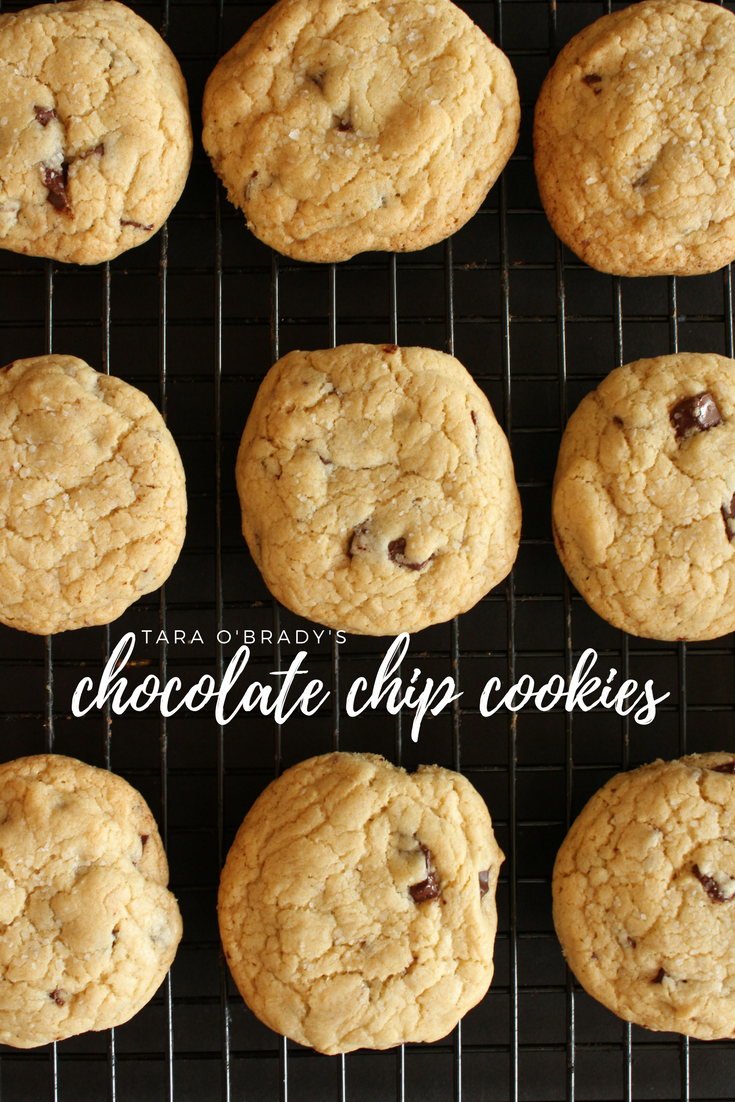 It's so cold outside right now. I honestly hate this time of the year. You know how they say hell is hot? Well, I think "they" are wrong. I think hell is COLD. Yes, cold. That's what it has felt like the last couple of weeks; absolute hell. There are two ways I can think of to warm up: (1) cocktails and (2) desserts. Currently, it's January and I'm not drinking this month so dessert it is! I've been hearing about Tara O'Brady's chocolate chip cookies and decided recently to try out the recipe.
I've shared my favorite chocolate chip cookie recipe here before – it's so good. It's my go-to recipe for chocolate chip cookies. I make them when I'm craving cookies, I make them for John's co-workers and sometimes I just make them when I'm feeling like I want to bake.
I've seen many, many cookie recipes since experimenting with my favorite and I've always been pretty happy to not stray away. My motto: if it ain't broke, don't fix it. It wasn't until recently I felt the need to try something new. To be more specific, it was Tara O'Brady's chocolate chip cookies that made me want to venture out and try a new recipe.
Do you know Tara? I mean, I don't but I follow her on Instagram. Her photos are gorgeous and make me want to jump in the kitchen and make something. She has a blog you can check out and she has a beautiful cookbook too. Anyway, I've seen photos of other folks on Instagram trying out her chocolate chip cookie recipe and most (if not all of them) proclaimed they were the best. Naturally, I had to give it a try.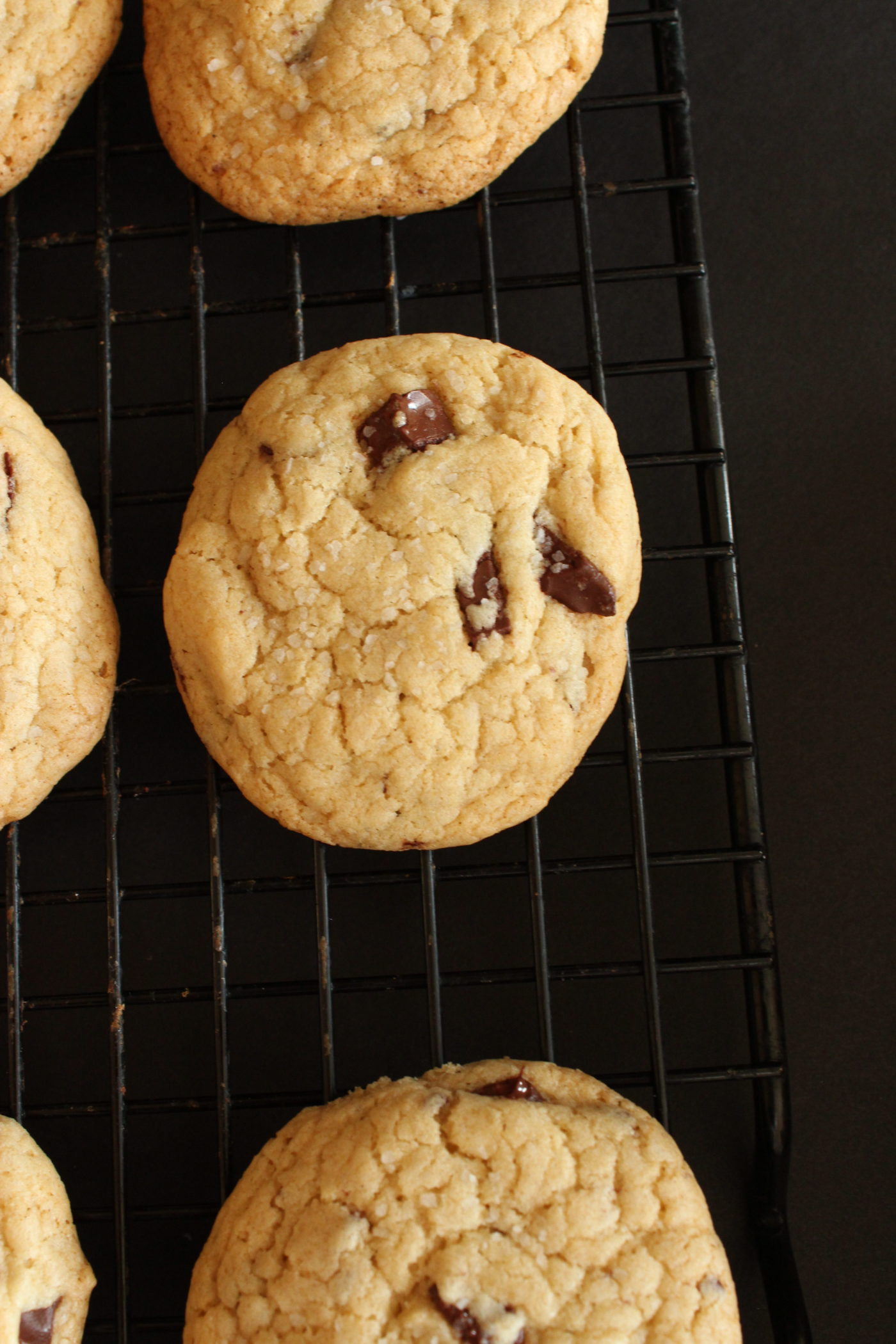 I found a recipe over on Apt. 2b Baking Co. and I'm SO GLAD I TRIED THEM. These cookies are so good. They're similar in flavor to the other chocolate chip cookies I've made but Tara's recipe is a bit more rich. I think it's from the melted butter. I loved these cookies – so did John (and his co-workers). I can't wait to make another batch of these.
Are you ready to try?
Tara O'Brady's Chocolate Chip Cookies
Tara O'Brady's Chocolate Chip Cookies
Ingredients
1 cup unsalted butter, chopped
3 1/4 cups all purpose flour
1 1/4 tsp baking powder
1 tsp baking soda
1 1/2 tsp kosher salt
1 1/2 cups light brown sugar, firmly packed
1/2 cup granulated sugar
2 eggs
2 tsp vanilla extract
12 ounces, semi or bittersweet chocolate, chopped
flaky salt, to finish
Instructions
Preheat the oven to 360°F. Line a rimmed baking sheet with parchment paper.
Melt butter in a heavy bottomed saucepan over the lowest heat possible, stirring occasionally. Make sure the butter does not sizzle or bubble.
In a bowl, whisk together the flour, baking powder, baking soda, and salt. Set aside.
Pour the melted butter into a large bowl and whisk in the sugars until smooth. Add the eggs, one at a time, whisking until just combined. Stir in the vanilla.
Use a wooden spoon or silicone spatula to stir in the dry ingredients until barely blended. When things are still looking floury, stir in the chocolate until all of the ingredients are just combined.
Roll the dough into balls, about 3 tablespoons each, and arrange them on the baking sheet. (If you want, you can refrigerate the dough, loosely covered, overnight.)
To bake, sprinkle each cookie with a bit of sea salt and bake until the tops are cracked and lightly golden, 10-12 minutes, rotating the pan halfway through.
Cool on the pan for 2 minutes, then move to a wire rack to cool completely.
http://eatdrinkfrolic.com/2018/01/tara-obradys-chocolate-chip-cookies.html