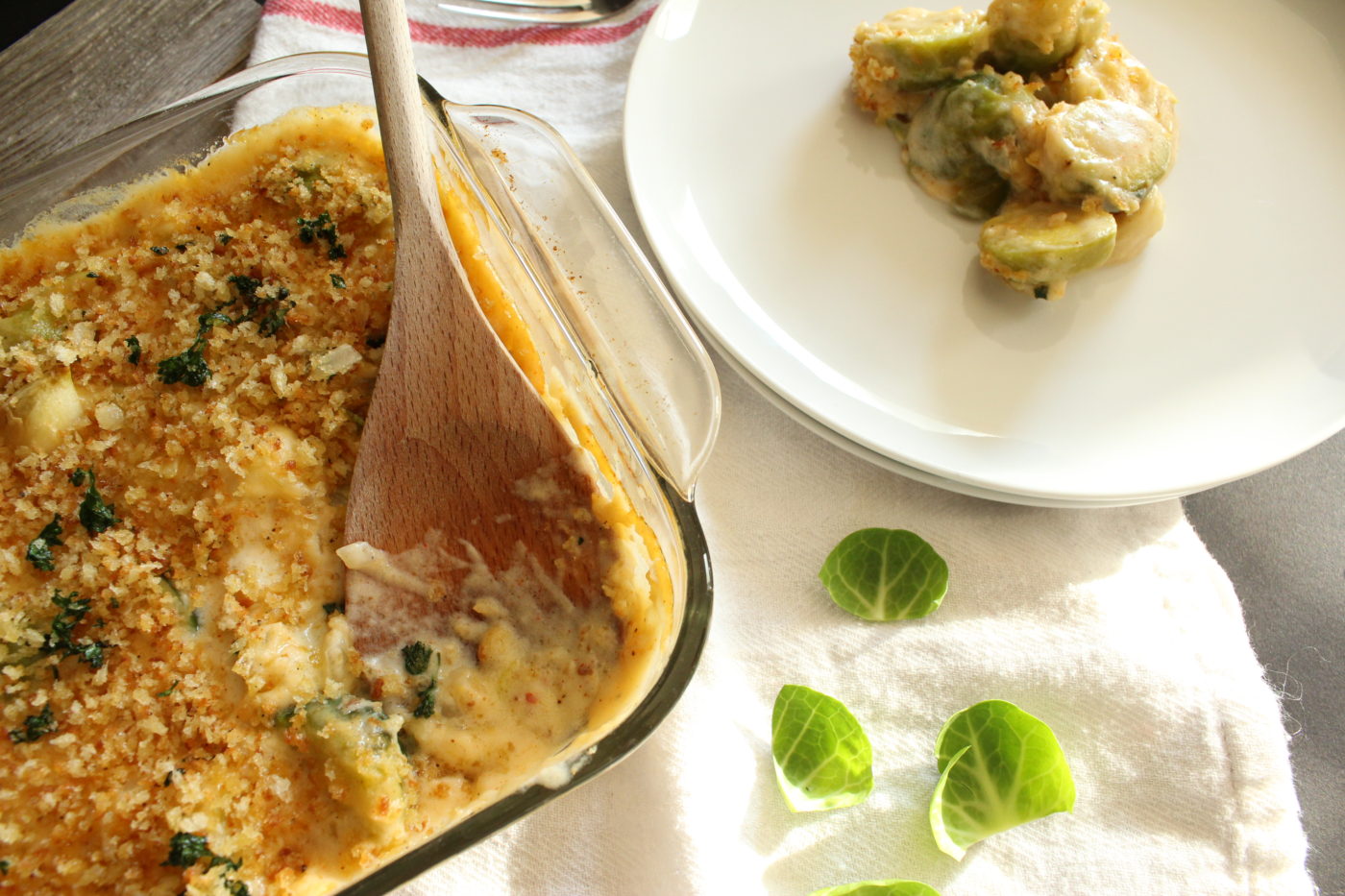 I'm really feeling like I should start a blog about Brussels sprouts. Truth is, I never thought I would be such a champion for these weird little cabbage lookalikes but here we are. I often refer someone to one of my Brussels sprouts recipes (here and here). Honestly, I thought I was pretty set in my ways as far as Brussels sprouts recipes go and then, I discovered cheesy baked Brussels sprouts and my life has been changed.
This dish reminds me of a yummy, indulgent macaroni and cheese dish. Yes, I know you're thinking that you can't compare mac & cheese to sprouts but in my world, you can. John even suggested that this dish could very well be an addition to our holiday dinner table. You know that's a pretty big deal when someone wants to add a dish to a holiday meal where the menu is set in stone already.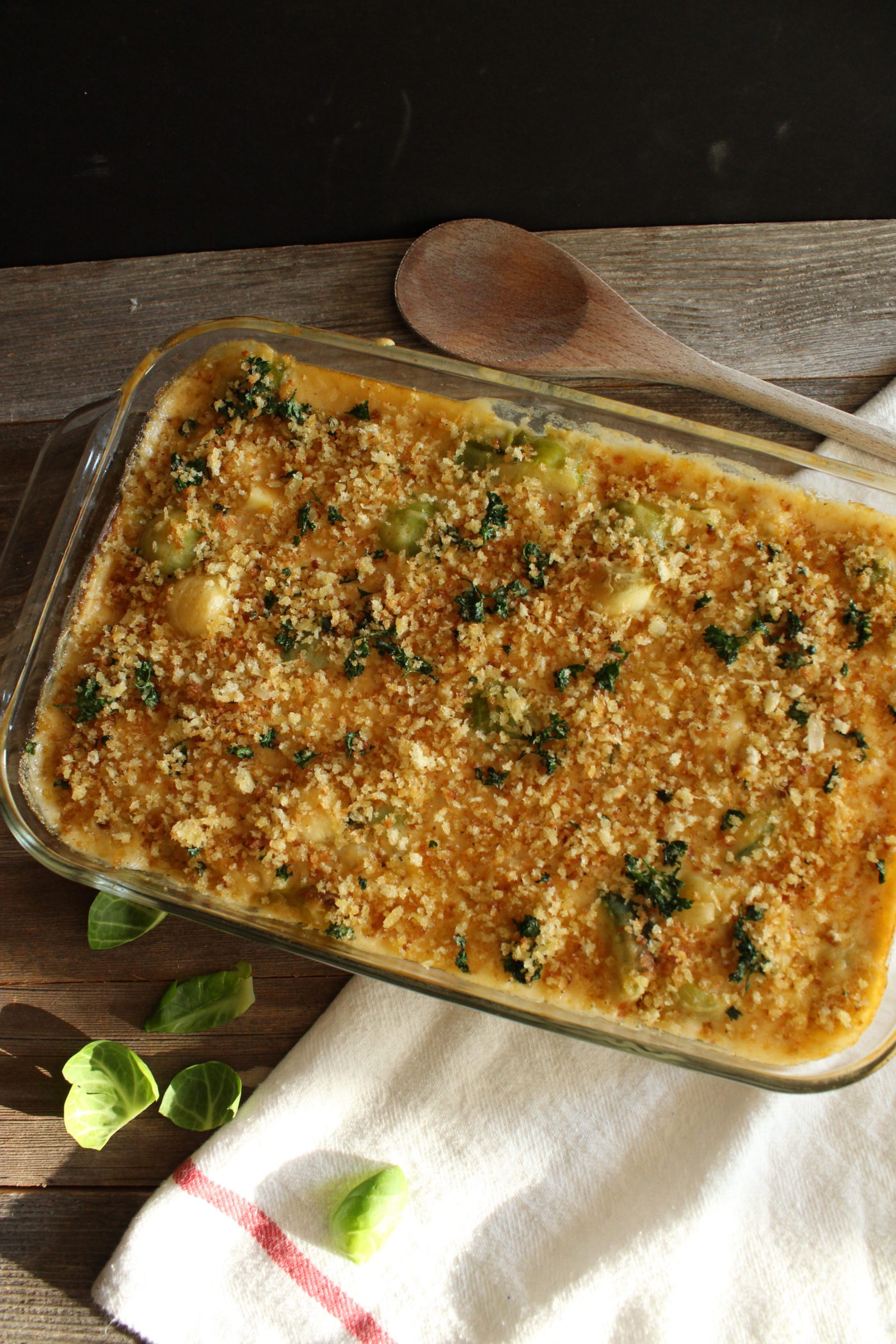 I mean, let's be honest: our holiday menus are typically the same every year and absolutely no one is complaining about it. We spend the entire year not eating those foods so we can overindulge for Thanksgiving or Christmas. And let me tell you, cheesy baked Brussels sprouts are usually not on the holiday menu list.
Until now.
Get into it: cheesy baked Brussels sprouts
This dish was influenced by Joy the Baker, who I love. I love following her on Instagram and I get lots of inspiration from her. I was super-excited when I stumbled upon this recipe (on Pinterest) because I was looking for something new to try with Brussels. Can I just say: I LOVE THIS RECIPE. Even more surprising, the sprouts tasted better the next day.
The next day, the sprouts were super cheesy and the spice had settled in a bit. Dare I say, I enjoyed it even more the day after? I know you're dying to make these so I won't make you wait any further.
Cheesy Baked Brussels Sprouts
*If your second cheese is a chipotle Gouda like I used, you may want to use a little less of cayenne pepper (1/4 tsp instead of a 1/2 teaspoon). The chipotle Gouda has a little heat.
Ingredients
1 ½ pounds Brussels sprouts, trimmed and sliced in half
3 tablespoons unsalted butter
3 tablespoons all-purpose flour
¾ teaspoon ground mustard powder
½ teaspoon cayenne pepper
2 cups whole milk
sea salt & cracked black pepper
2 tablespoons olive oil
1 cup diced yellow onion
8 cloves of garlic, smashed and peeled
1 cup coarsely grated smoked Gouda cheese
1 tablespoon cornstarch
1 cup coarsely grated chipotle Gouda cheese
2 tablespoons unsalted butter
½ cup panko bread crumbs
3 tablespoons fresh parsley, coarsely chopped
sea salt and fresh cracked black pepper
Instructions
Heat oven to 375 degrees.
Bring a large pot of heavily salted water to a boil. When the water begins to boil, add the sprouts and simmer for 7 minutes. Drain into a colander and rinse with cold water to stop them from cooking. Set aside while you prepare the rest of the ingredients.
In a medium saucepan or pot, melt butter over medium heat. Whisk in the flour, and whisk until it's combined and it starts to bubble a little. Be careful not to let it brown too much.
Whisk in the spices then carefully and slowly pour in the milk into the butter and flour mixture, whisking as you stir. Keep whisking (constantly). Eventually, the milk will come to a light simmer and it will begin to thicken slightly. Add a generous pinch of salt and pepper; lower heat to low.
In a small skillet heat olive oil over medium heat. Add onions and whole garlic cloves; saute until the onions are translucent and both the onions and garlic begin to brown.
In a small bowl toss together smoked Gouda cheese and cornstarch. Add the cheese to the milk mixture and stir to combine. The cheese will begin to melt and the cornstarch will further thicken the sauce as it begins to simmer.
Stir in the cooked onions and garlic; cook until mixture is silky smooth and thickened.
Melt remaining 1 tablespoon of butter in the medium skillet and add the breadcrumbs and parsley and toss until coated in butter and browned slightly, about 4 minutes. Add a pinch of salt and black pepper and place in a small bowl until it's time to layer everything.
Transfer drained sprouts to a baking dish; add the chipotle Gouda and toss to combine.
Pour the smoked Gouda cheese sauce over the sprouts.
Bake, uncovered, until bubbling and golden brown and the Brussels sprouts are completely tender, about 30 minutes. Remove from the oven and top generously with breadcrumbs (the breadcrumbs were my favorite part).
http://eatdrinkfrolic.com/2018/01/cheesy-baked-brussels-sprouts.html