There's a restaurant here in Chattanooga called Taco Mamacita. Every time we visit, I always get a side of Mexican street corn. It's so good. Creamy, flavorful – it's just a necessity when I go.  I've had Mexican street corn many times and in my years of inhaling it, I never once thought to try to recreate it. Fast forward to now, something finally clicked: try to make Mexican street corn at home, Shawanda. Duh. So here we are. And in pure Shawanda form, I thought I'd kick it up a bit by making Mexican street corn tacos and they're so good!
First, let's talk about Mexican street corn for a second.
The Table gives a wonderful lesson in history of corn on the cob or "elote" as it's called in Mexico. There are many variations of serving corn on the cob here in the United States. Growing up, corn was my absolute favorite veggie; it still is even though Brussels sprouts are slowly creeping up on the list. On the cob, off the cob – you name it, I'm into it. I've always been a pretty simple girl when it came down to how I enjoy my corn on the cob: butter, salt and pepper. That's it. That's all I need. Until, I tried other variations.
There are lots of chefs and home cooks that have really gotten creative with different ways to serve elote. The basic flavor profile has typically been: mayo, cheese (cotija), lime, chili powder, salt and cilantro. There's something about combining all of these flavors together with fresh corn that just reminds me of summer. I could seriously eat an entire platter of it.
Today's recipe takes the traditional Mexican street corn flavors and stuffs it into a taco then we add chicken. I do think the corn would be OK as a taco without the meat, though. To make this meatless, you can throw in a few extra veggies if you like (I think green beans would be perfect). If you prefer to add some meat, we really enjoyed it with the chicken.
Now that I'm thinking about it, I'd imagine these would be yummy with steak too.
Mexican street corn tacos: a couple of notes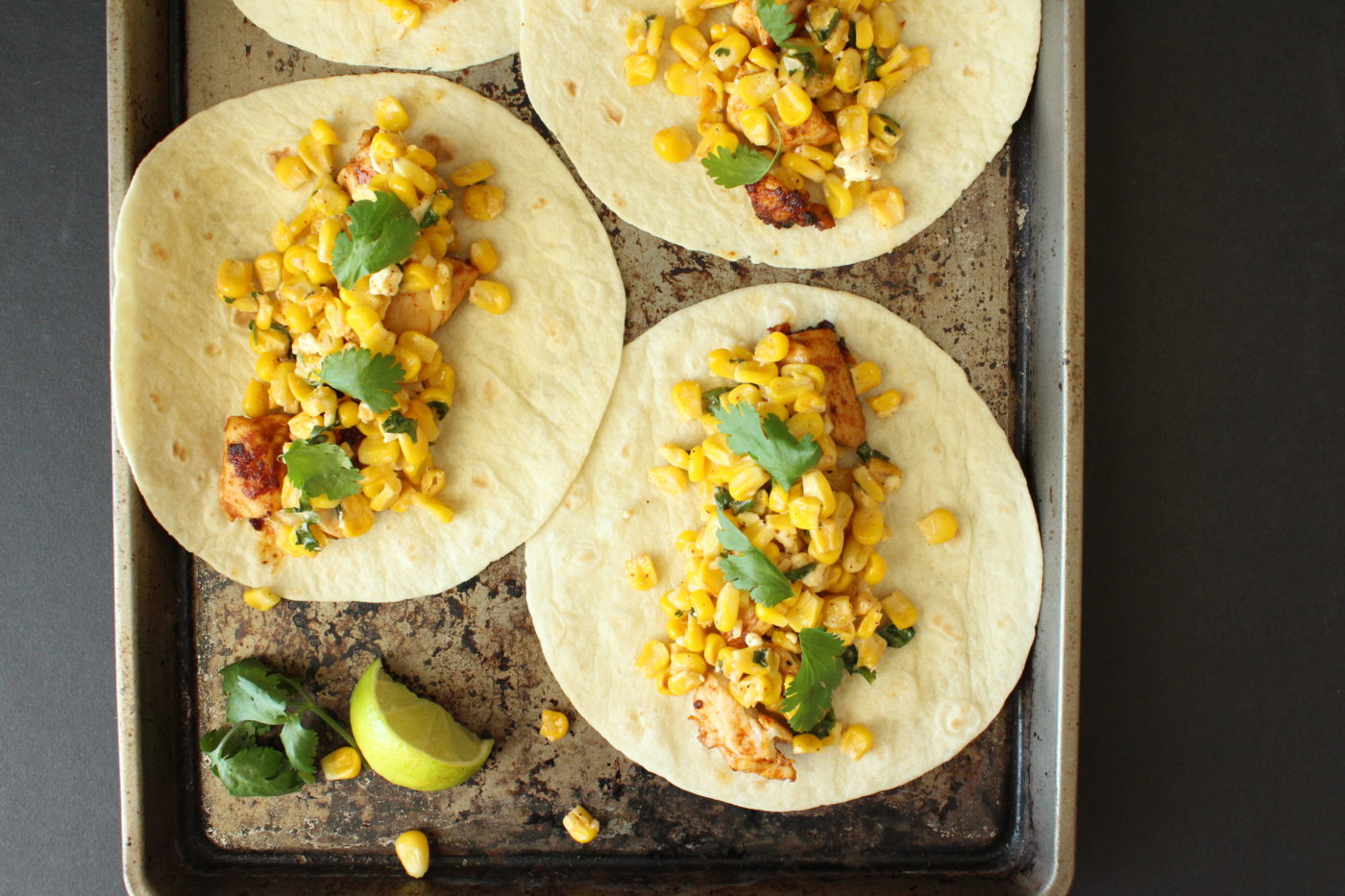 Sometimes cotija cheese can be difficult to find; I can't always locate it in my grocery store. If you're lucky enough to have a Latin market nearby, stop in there, they may have it. Feta cheese is a decent substitute because of its texture and flavor profile. I hope you'll make this soon. It's really so fantastic.
Mexican Street Corn Tacos
If you can't find fresh corn in your grocery store, frozen corn is fine. Just thaw it out and use a cheesecloth to remove the moisture.
Ingredients
Corn

1 tbsp olive oil extra virgin
2 ears corn, kernels removed
1 tbsp mayonnaise
2 tbsp cotija or feta cheese crumbled
1/4 cup chopped cilantro
1/2 jalapeno seeded and minced
1 clove garlic finely minced or grated
1 tbsp fresh lime juice
1/4 tsp chili powder
Kosher salt to taste

Chicken

2 chicken breasts thinly sliced
1 tbsp taco seasoning
1 tbsp olive oil extra virgin

Tacos

Tortillas
Instructions
Corn

Heat oil in a large non-stick skillet over high heat until shimmering. Add corn, season to taste with salt, and cook (don't move it!) until charred on one side, about 2 minutes. Toss corn and repeat until charred on the other side, about 2 minutes longer. Transfer to a large bowl.
In the bowl with the corn, add mayonnaise, cheese, cilantro, jalapeño, garlic, lime juice, and chili powder and toss to combine. Season with salt to taste.

Chicken

Heat oil in a skillet (same as corn is fine) over medium-high heat. Add chicken and sprinkle with taco seasoning. Stir to combine and cook fully.

Assemble

Warm tortillas and add chicken then top with corn.
http://eatdrinkfrolic.com/2017/12/mexican-street-corn-tacos.html