I love a cold, crisp and gingery Moscow mule. I mean, let's be honest, there's really not too many adult beverages that are more refreshing than that. In spite of my love for Moscow mules, I rarely drink vodka. I'm pretty sure I used to drink it when I was "younger" (read: my early/mid 20's). I remember my college roommate used to order a Stoli raspberry and sprite so I followed suit and it soon became my 'club drink'.  Anyway, I've now transitioned into whiskey, bourbon and gin but once in a while, vodka will rope me back in – like with this basil smash.
So let's talk about the smash cocktail for a second. Imbibe Magazine has a great article on the history of the smash. In the article, it mentions that smash cocktails are 'fruity, icy concoctions that highlight the best of the cocktail season'. To confuse you even more, a smash is julep (think: mint julep) but a julep isn't always a smash. I love cocktail history, do you? Or maybe you just enjoy drinking without the history lesson and that's fine by me. Truth be told, sometimes I like to know the background of what I'm sipping.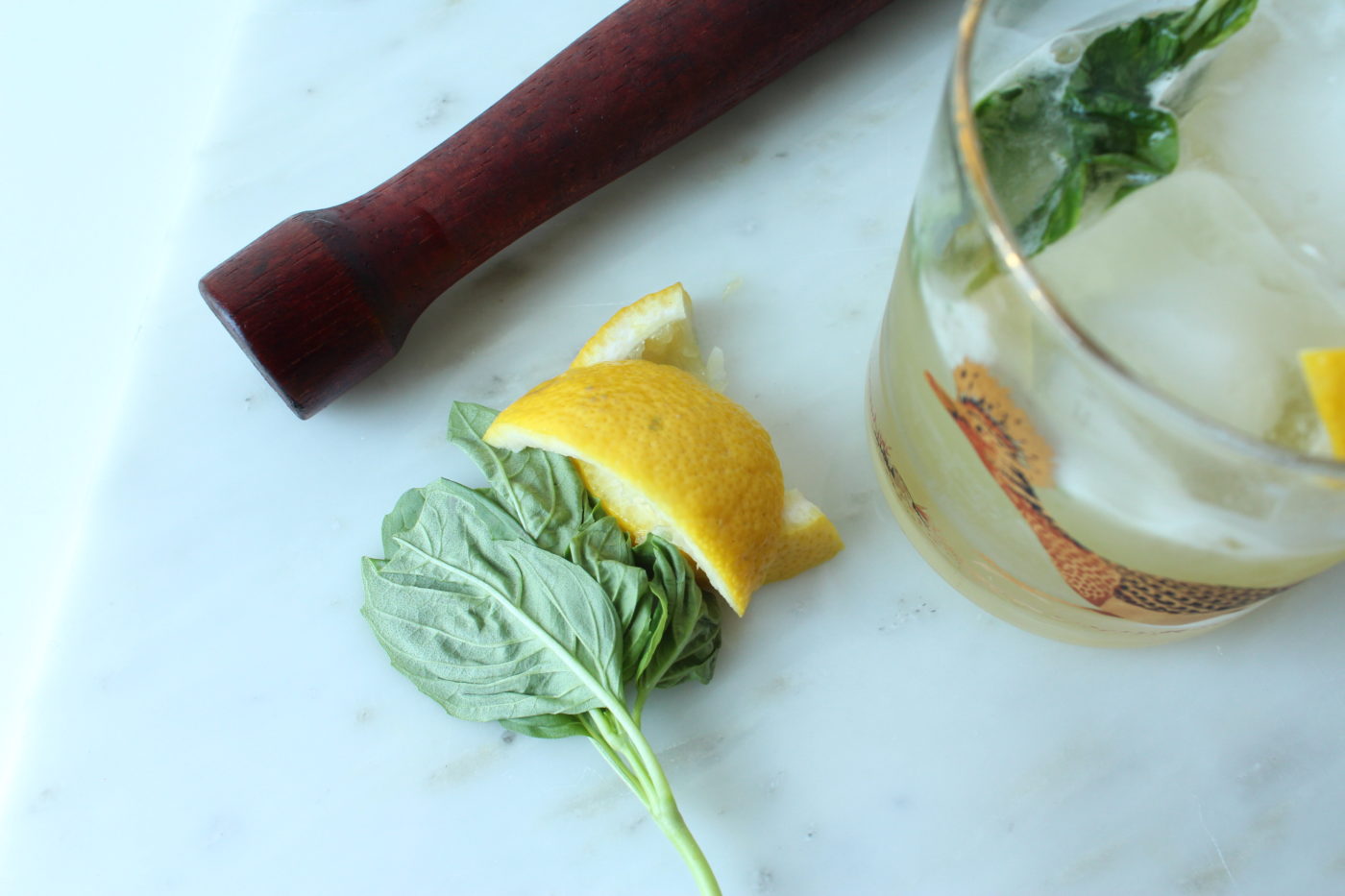 Anyway, the article goes on to say that there are lots of variations of a smash now – as with most cocktails and recipes. It's a drink that's perfect on warm days and because there are so many variations of it, it's a really flexible cocktail. I've always said that recipes are simply a guideline for you but they aren't the absolute bible when recreating a recipe.
This basil smash is obviously made with basil but you can play with different types of herbs that you love. This would be great with lavender, sage or even mint. That's the beauty of a smash (or any cocktail), you can easily substitute or edit ingredients based upon your preference.
This recipe calls for simple syrup and we know how I feel about that. In case you're new here, I'll tell you: make your own simple syrup. It really takes no time to make and they're not just for cocktails. You can use them in coffees and teas too. I'm thinking about doing a workshop soon on infusing and making different simple syrups – it's my favorite thing to do.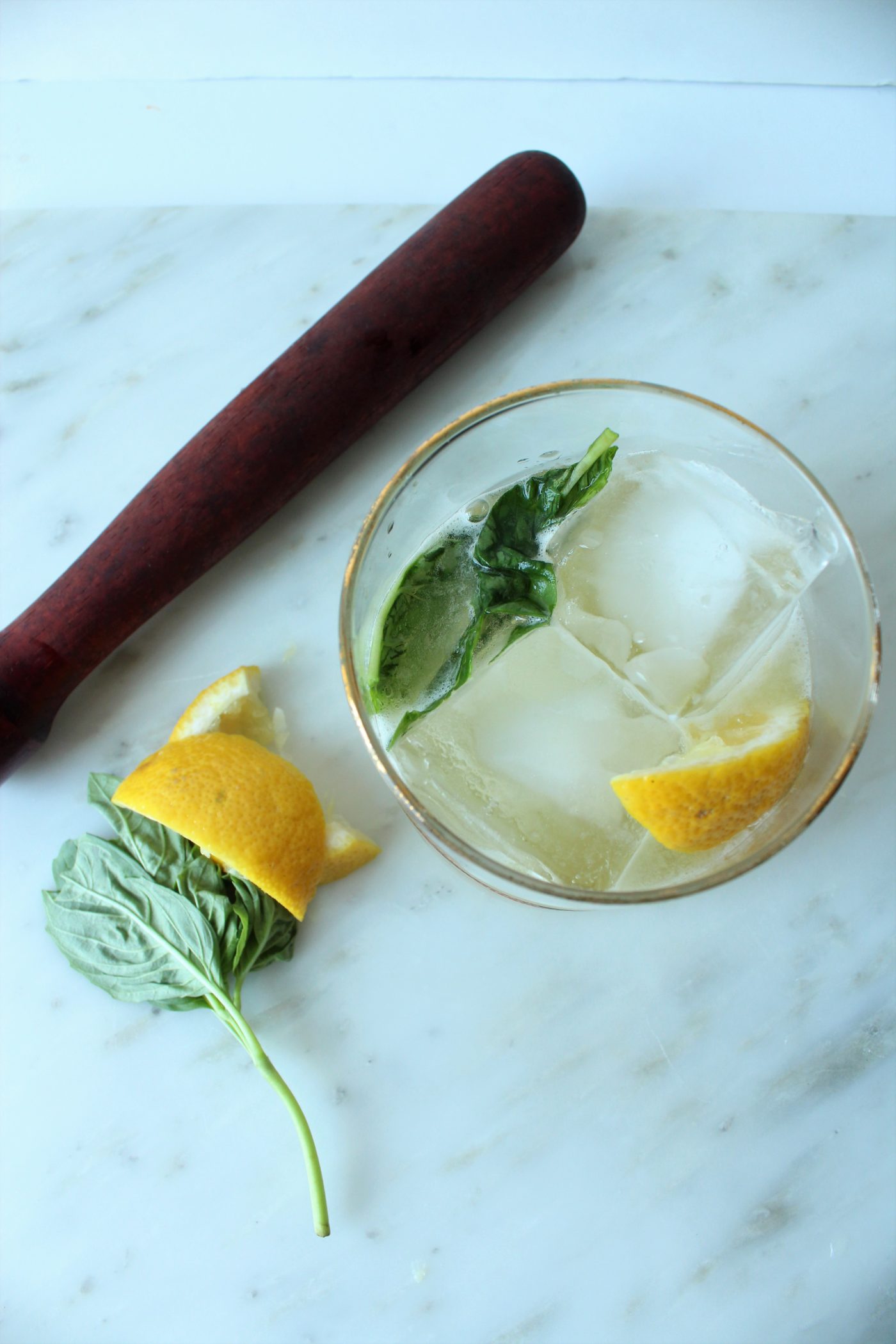 Since summer is almost over (sad), this vodka basil smash is the perfect cocktail to accompany saying goodbye to summer.
Don't forget to scroll down to shop this post (after the recipe). Unfortunately, the roadrunner drinking glass featured in this post is vintage (and my favorite) but maybe you'll see something you like below!
Cheers! Vodka Basil Smash
This recipe calls for simple syrup. Simple syrup using regular granulated sugar is perfectly OK however, for this cocktail I used simple syrup made with turbinado sugar, which brings out a honey/molasses flavor.
Ingredients
Small bunch basil leaves
1 ounce fresh lemon juice
2/3 ounce simple syrup
2 ounces vodka
Instructions
Muddle basil, lemon juice and simple syrup in a shaker.
Add ice and vodka; shake vigorously.
Strain into a chilled glass with ice.
http://eatdrinkfrolic.com/2017/08/vodka-basil-smash.html
Shop this Post