One of my favorite things about visiting Mexican restaurants is the salsa. You know, you can really tell which restaurants take the time to make really fresh (and sometime spicy) salsa. My mouth is watering just thinking about it. Yes, I know you don't typically find pineapple mango salsa on the tables of most restaurants but I LOVE non-traditional salsas. Don't you?
Salsa is pretty simple to make and if we're being honest you don't really need a recipe for it. Whatever flavors you enjoy, you can probably make into a salsa. Corn salsa, peach salsa – you name it and it can be done! Today's pineapple mango salsa is SO EASY, I hope you'll be making it all of the time.
As for me, I've literally been eating the salsa straight out of the bowl. That's normal, I'm sure. As I'm snacking on this salsa, I imagine how tasty it would be on a taco or served on top of a yummy baked fish dish. Can you imagine it? I'm sure I'm not the only person who daydreams about the next meal as you're eating the current one.
Yeah. I'm pretty sure I'm not alone in this. Or at least that's what I'm telling myself.
OK back to salsa.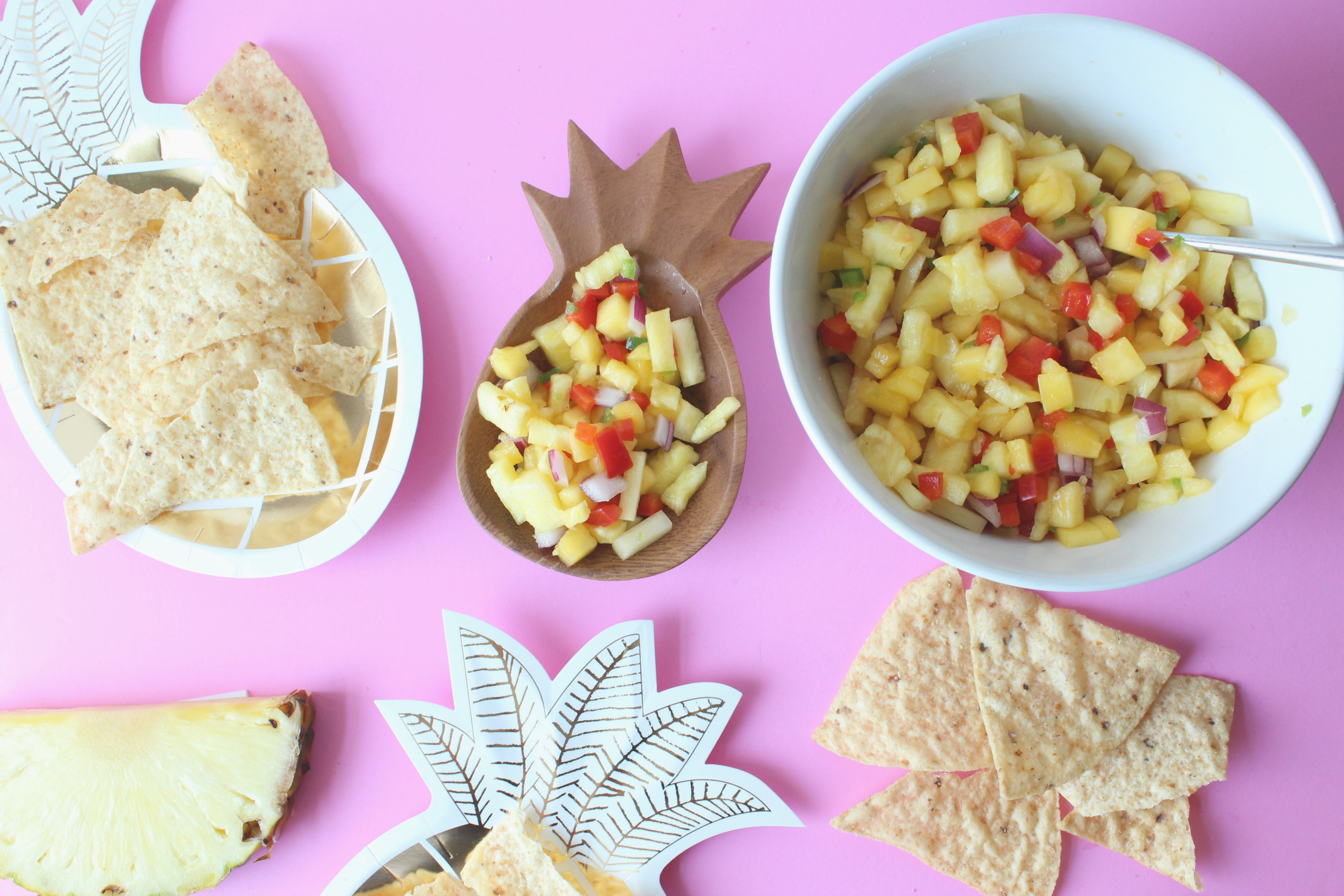 What I love most about making salsa (and eating it) is that it doesn't always have to be super spicy or really mild. You can adjust the spice levels to your taste. I like spicy but I don't want it to be so spicy that it's not enjoyable. With this pineapple mango salsa, I used a half of a jalapeño (including the seeds), which was just enough to give it a light heat. You do know that leaving or removing seeds from a jalapeño determines its spice level, right?
Yes, if you leave the seeds in the pepper, the spicier your dish will be. Also, this should be a given but when handling peppers, be sure to use cooking cloves. I've made the tragic mistake of removing seeds with my bare hands only to go and remove my contacts later in the evening. Let's just say it wasn't pleasant. MY EYES WERE ON FIRE.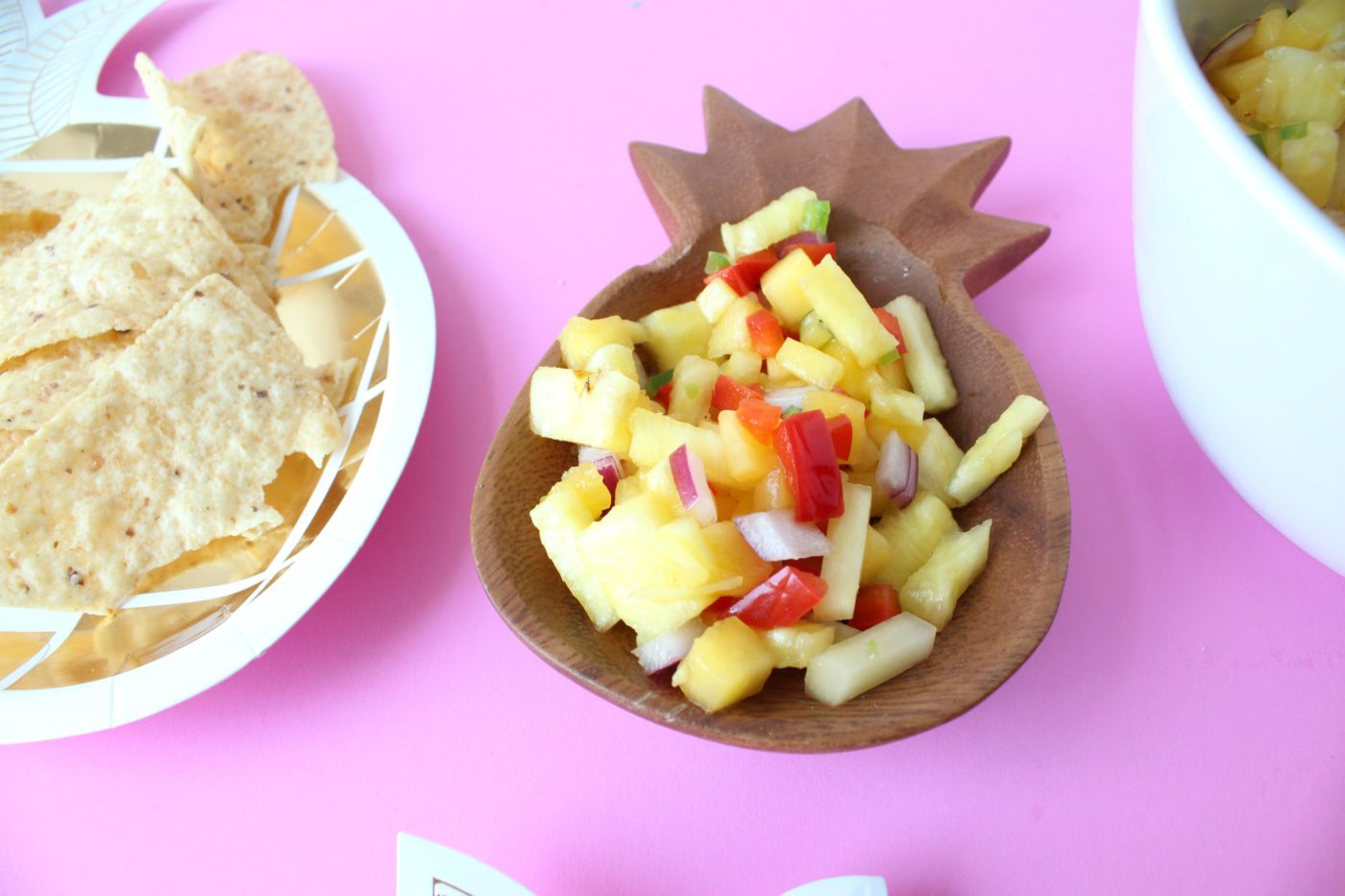 Anyway, I say all of this to say: make this salsa. With football season starting soon and an ongoing snack season, you can easily whip this up for guests or yourself in literally NO TIME. Really.
Oh! One more note about this salsa. It could be really delicious with peaches. Not that you shouldn't use pineapples. Pineapples are delicious. Remember when I had a pineapple party for my birthday?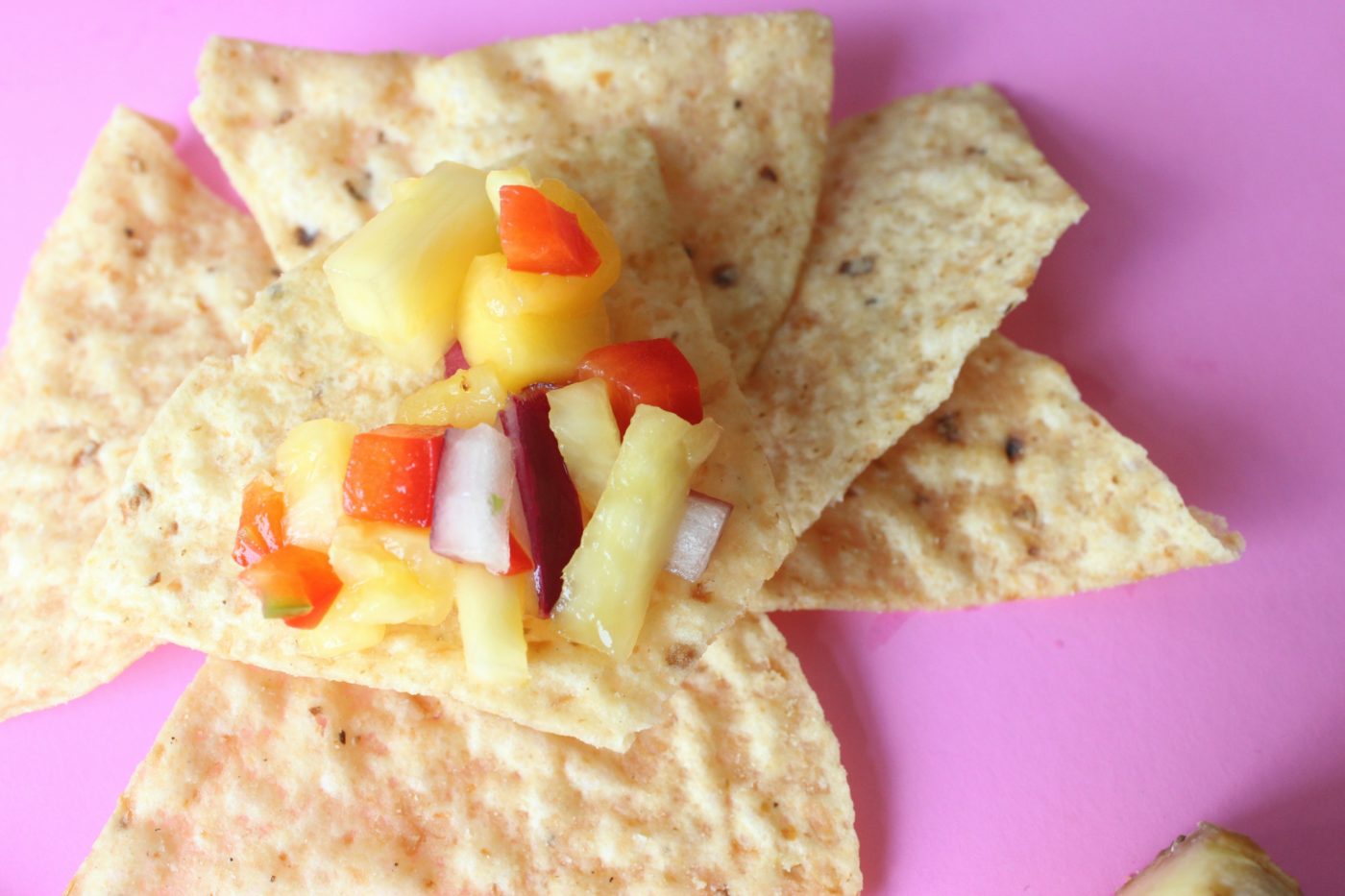 Pineapple and Mango Salsa
Ingredients
1/2 of a pineapple, diced
2 mangoes, diced
1/2 of a red onion, diced
1/2 of a jalapeño (or whole)
1 bell pepper (red or green), diced
Salt
Instructions
Mix all ingredients in a bowl, stir and allow it to sit in the fridge for a few minutes. This let's the flavors come together.
Serve with tortilla chips or tacos.
http://eatdrinkfrolic.com/2017/08/pineapple-mango-salsa.html
Shop this post