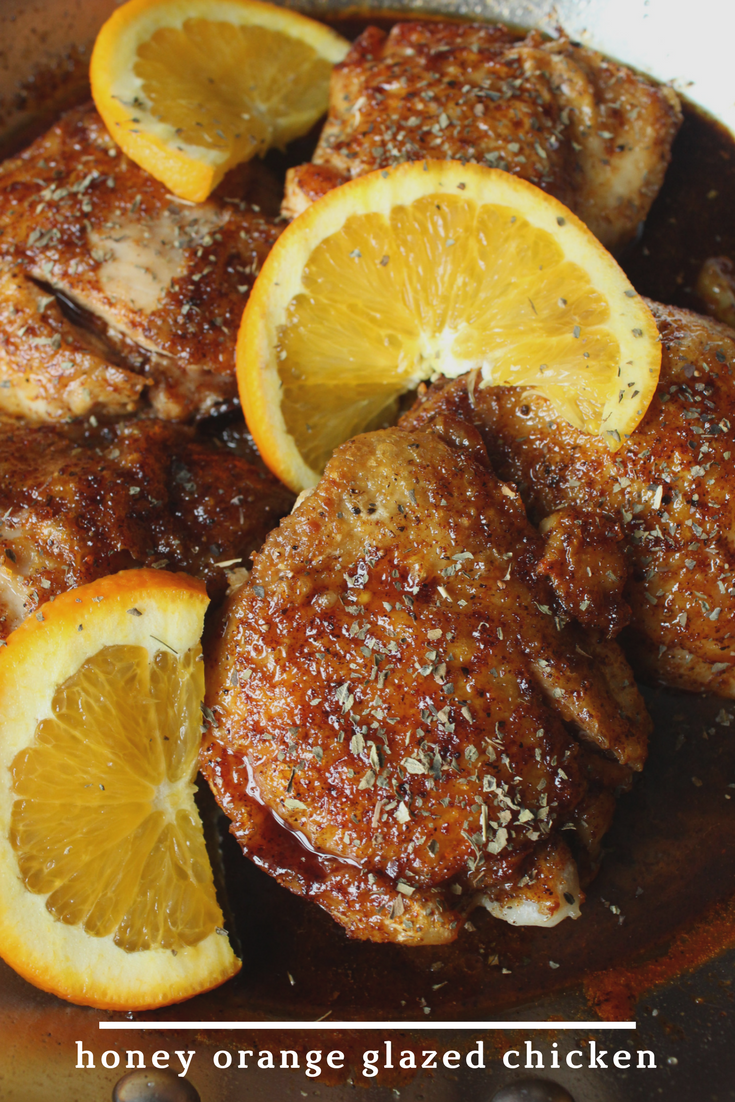 Y'all, I cook chicken a lot at home. I oftentimes wonder if John gets tired of it. The upside to my chicken adventures is that I switch it up very often. I don't always make the same chicken dish over and over again. Well, let me be honest, I do make this lemon garlic chicken a lot. It's really just so easy and one of my favorites. Today, obviously by the title of this post, I'm sharing another chicken recipe. The recipe is simple and quite honestly, this honey orange glazed chicken may be one of my favorite chicken dishes.
I guess every recipe I make at the moment is a favorite so take that statement with a grain of salt. One thing is for sure, it's really yummy. I'm usually really apprehensive about citrus glazed meat because sometimes the citrus flavor can really overpower the dish. Not with this meal, though.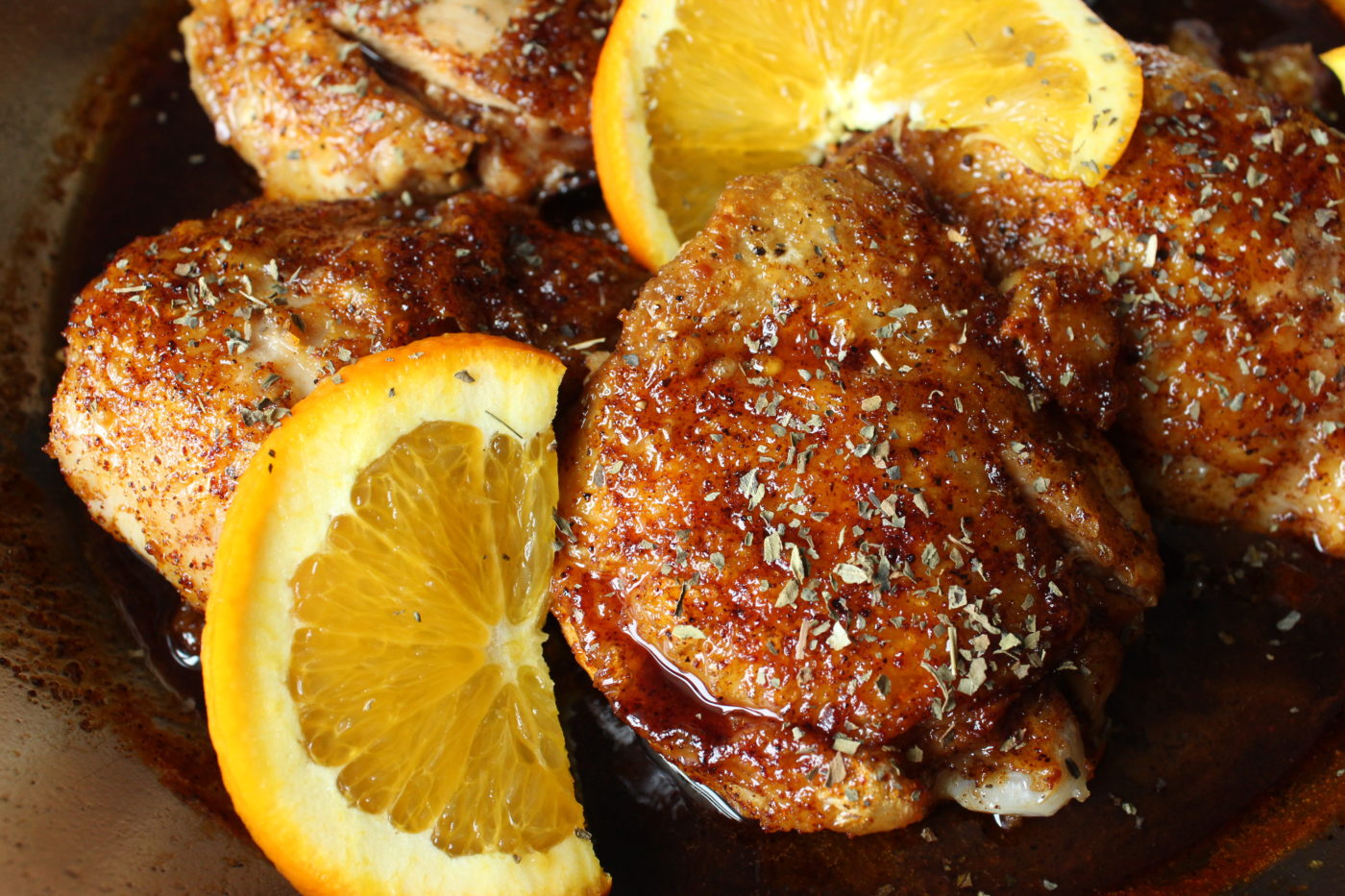 Wait, speaking of citrus. A few days ago, we went to our friends' house (Chattanooga Brunches) and her fiancé made some pretty delicious food. I ate SO MUCH. Once I was done inhaling the papaya salad, he grilled some brisket and the sauce that went along with it was so good, I wanted to drink it. It was super citrusy and spicy. I didn't get the recipe but they gave me an idea of what was in it. I have been thinking about that sauce since we left their house. That's weird, right? Who thinks about a sauce for days?
I do.
And guess what? I'm not ashamed.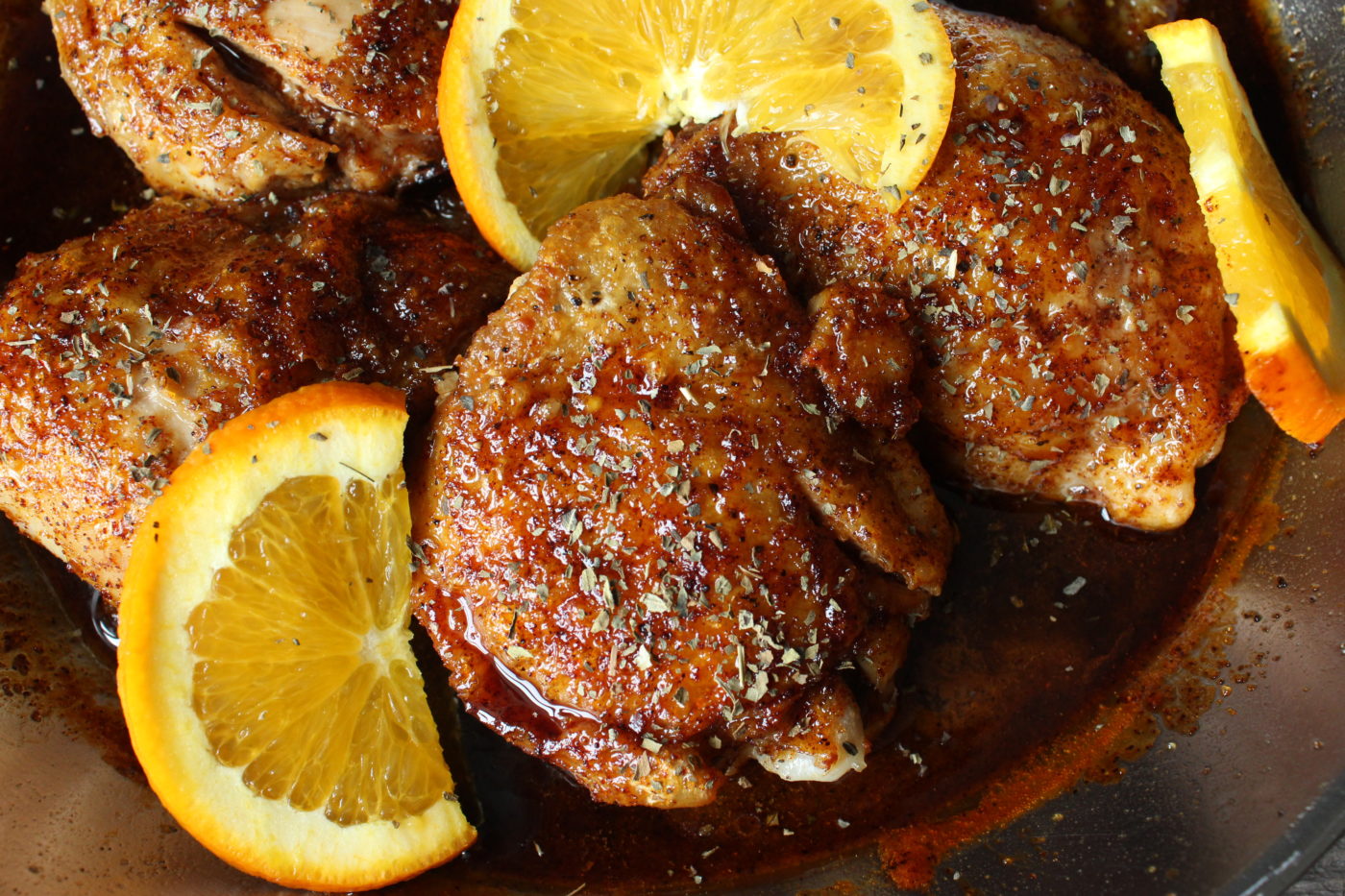 Anyway, the sauce you'll make for this honey orange glazed chicken needs to simmer for 30-45 minutes so be patient. It needs to thicken a bit and reduce. This time also allows all of the flavors to meld. In this recipe, there's 2 tablespoons of chili powder. Remember, chili powder isn't very spicy but it is powerful. If you're not a fan, I'd just reduce the amount that you put in the sauce but I wouldn't remove it entirely. The chili powder really adds a nice smoky flavor to the chicken.

Honey orange glazed chicken
Honey Orange Glazed Chicken
Ingredients
1 cup orange juice
½ cup cider vinegar
½ cup brown sugar
¼ cup honey
2 tbsp chili powder*
1 tbsp ground coriander
1 tbsp ground cumin
2 pounds chicken thighs
1 tbsp olive oil
Salt & pepper
Instructions
In a small saucepan, combine orange juice, vinegar, brown sugar, honey, chili powder, coriander, and cumin. Bring to a boil then reduce heat and let simmer for 30-45 minutes or until sauce has reduced to one cup.
Heat a medium skillet and add olive oil; heat to medium high.
Season the chicken with salt and pepper and cook until no longer pink. Drizzle the glaze on top and allow to simmer for 1-2 minutes making sure the chicken is coated well in the glaze. Serve immediately.
*If you're not a huge fan of chili powder, start out with a tablespoon or so and add the other if you think it needs more.
http://eatdrinkfrolic.com/2017/08/honey-orange-glazed-chicken.html