Can you believe we're almost done with the month of July? I can't. It feels like winter just drags on forever but summer flies by like no other. I hate that. Summer is one of my favorite seasons and I think it's a great time to revamp things in our lives like wardrobe or home decor. I know, I know, lots of folks do it in the spring and that's when I usually do it too but I think summer is great because, in my opinion, we're more relaxed in the summer. Anyway, I've put together a few of my summer essentials that you can shop today.
My summer essentials are pretty simple and fall into three categories: beauty, fashion and home. There are things that I use and love throughout the summer and I wanted to pass those items along to you!
Are there things you can't live without regardless of the season?
For instance, it doesn't matter what month it is, I LOVE using Cetaphil face moisturizer. My skin has a tendency to get dry no matter what season it is (especially if I've had too much to drink). Cetaphil makes my skin feel moisturized without making it feel heavy and oily.
I've also found that I can't live without one of my favorite cold brew coffees, Stök. It's especially pleasant in the summer months but I've developed an obsession that continues all year round. Have you tried it? It's great – John loves it too. Anyway, let's shop!
Shop my summer essentials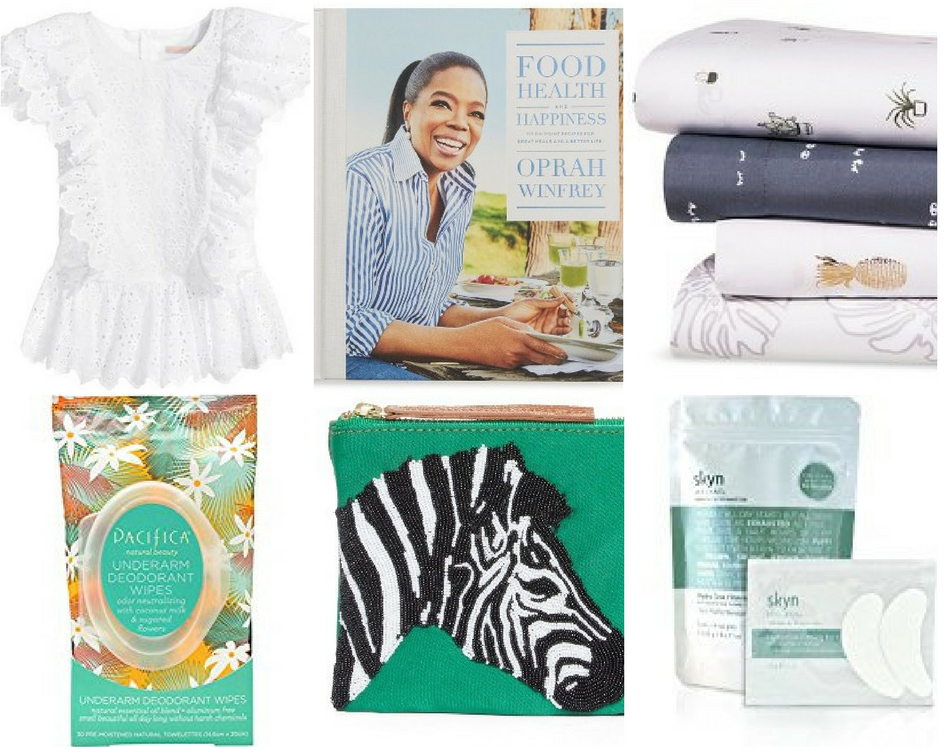 White eyelet blouse  – I've really been into ruffles this summer and this top from H&M is perfect.
Food, Health and Happiness Cookbook – I just discovered this cookbook and it's wonderful. There are lots of delicious recipes for all seasons.
Room Essentials pineapple sheets – Bed sheets don't have to be boring. I love these fun Room Essentials sheets from Target. They have pineapple, frond print and more.
Pacifica underarm deodorant wipes – Summer time is hot especially if you live in the south. These Pacifica deodorant wipes are perfect when you don't have time to fully freshen up (and they smell nice).
Michael Nelson zebra clutch – A fun, pop of color clutch is one of my favorite accessories, especially for summer. This zebra clutch is just unique enough for my summer adventures. Isn't it cute?
Skyn Iceland eye masks – I love these so much. If you wake up and your eyes look exhausted (especially in the under eye area), these are the perfect solution. They cool as they go on, which feels really nice.
What's on your summer essentials list?