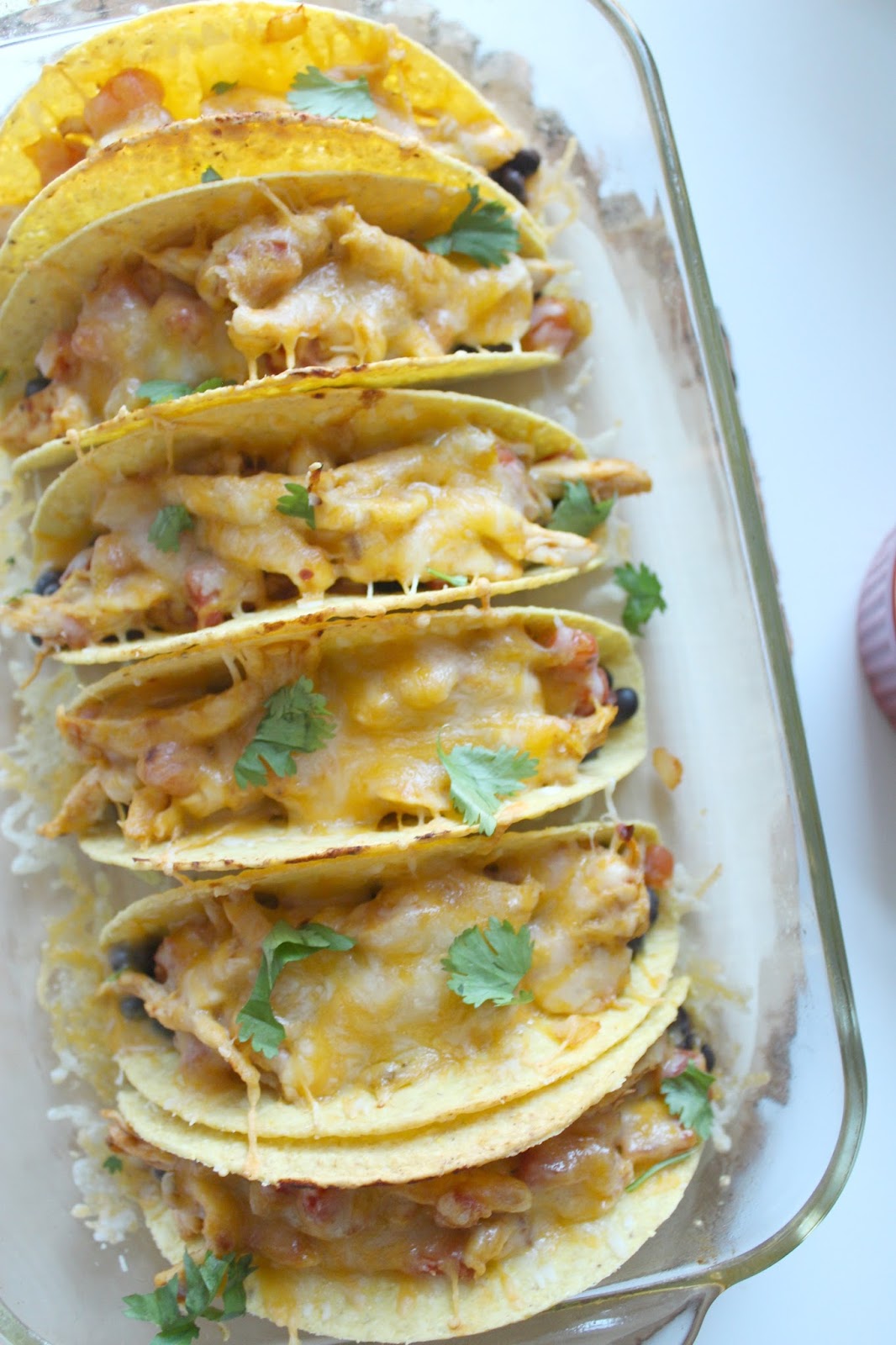 John and I are the type of people that seriously never get tired of tacos; we eat them all the time. Actually, now that I'm writing it out, I should definitely do a post on one of our favorite taco places here. We even had tacos at our wedding but I'm sure you knew that already – that's how much we love them.
The weird thing is that we go out for tacos quite a lot but I rarely make them at home and I'm not sure why that is. Tacos are so easy to put together and I think it's fun too. Also, I had no idea that standing taco shells existed, did you? This has totally changed my life. Thanks to this recipe, which I found on The Cookie Rookie, my life has been enhanced by these "stand 'n stuff" taco shells. These baked chicken tacos aren't overly complicated and don't require a lot of time or effort. SCORE! I don't know why I never thought of baking tacos – I mean, that's a simple technique that makes the tacos even better, in my opinion. Anyway, let's make these tacos.
adapted from The Cookie Rookie Enjoy!
Ingredients
1 tbsp olive oil
1/2 pound cooked chicken, shredded
1 packet hot and spicy taco seasoning (I used Old El Paso)
1/2 cup onion, diced
1 can diced tomatos, drained
1 can chopped Green Chiles
10 Old El Paso Stand and Stuff Taco Shells
1/2 can black beans, drained (I used Bush's)
2 cups Mexican Blend Cheese, shredded
Toppings of your choice
Instructions
Heat oven to 400F then spray a 9x13 baking dish with nonstick spray; set aside.
In a skillet heat olive oil and add onion. Cook until onion becomes translucent (about 3 minutes).
Add in the chicken, taco seasoning, tomatoes and chiles;stir. Reduce the heat and simmer. Cook for 6-8 minutes.
Place the shells in the prepared baking dish (makes sure they're standing up) and begin the stuffing. Being with the beans, then top with the chicken mixture, lastly add the cheese (I love cheese so the cheesier, the better).
Bake for 12-14 minutes or until the cheese is ooey-gooey and the shells have browned a bit.
Remove from the oven and top with your favorite toppings!
http://eatdrinkfrolic.com/2016/05/oven-baked-chicken-tacos.html