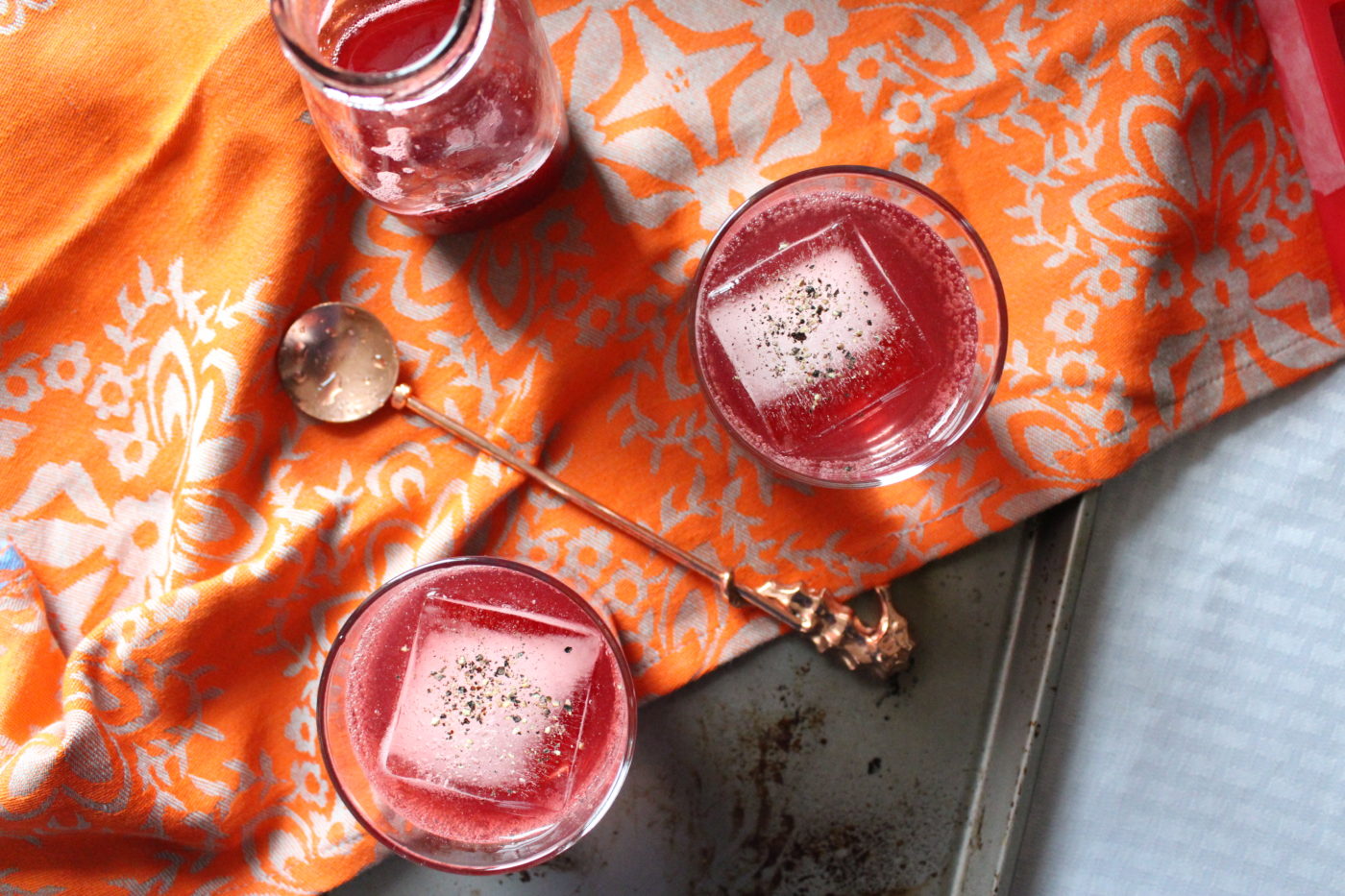 I love really odd pairings when it comes to cocktails. Catch me on the right day and I'll attempt to be pretty adventurous. For instance, this pineapple cilantro Moscow mule seemed a little odd at first but it was really yummy. I was quite surprised at how popular it was on the blog, which tells me that most of you loved it too. You are my people! Today's drink can be sipped on whenever you feel like it but it serves as inspiration for Valentine's Day: a raspberry shrub cocktail.
I made this drink a while ago and I really liked it so I decided to make it again for a cocktail workshop I led. I could tell that some of the attendees weren't so sure how a cocktail with vinegar in it was going to turn out. Overall, I think it ended up pretty good.
So here we are. It's red (perfect for v-day), it's unique and I think it's sort of a cool conversation starter. I got the recipe from With Food + Love and changed it a bit to include raspberries instead of cranberries. Even if you don't have a ton of cocktail-making skills, you can still pull this drink off and impress your friends (or lover). Trust me.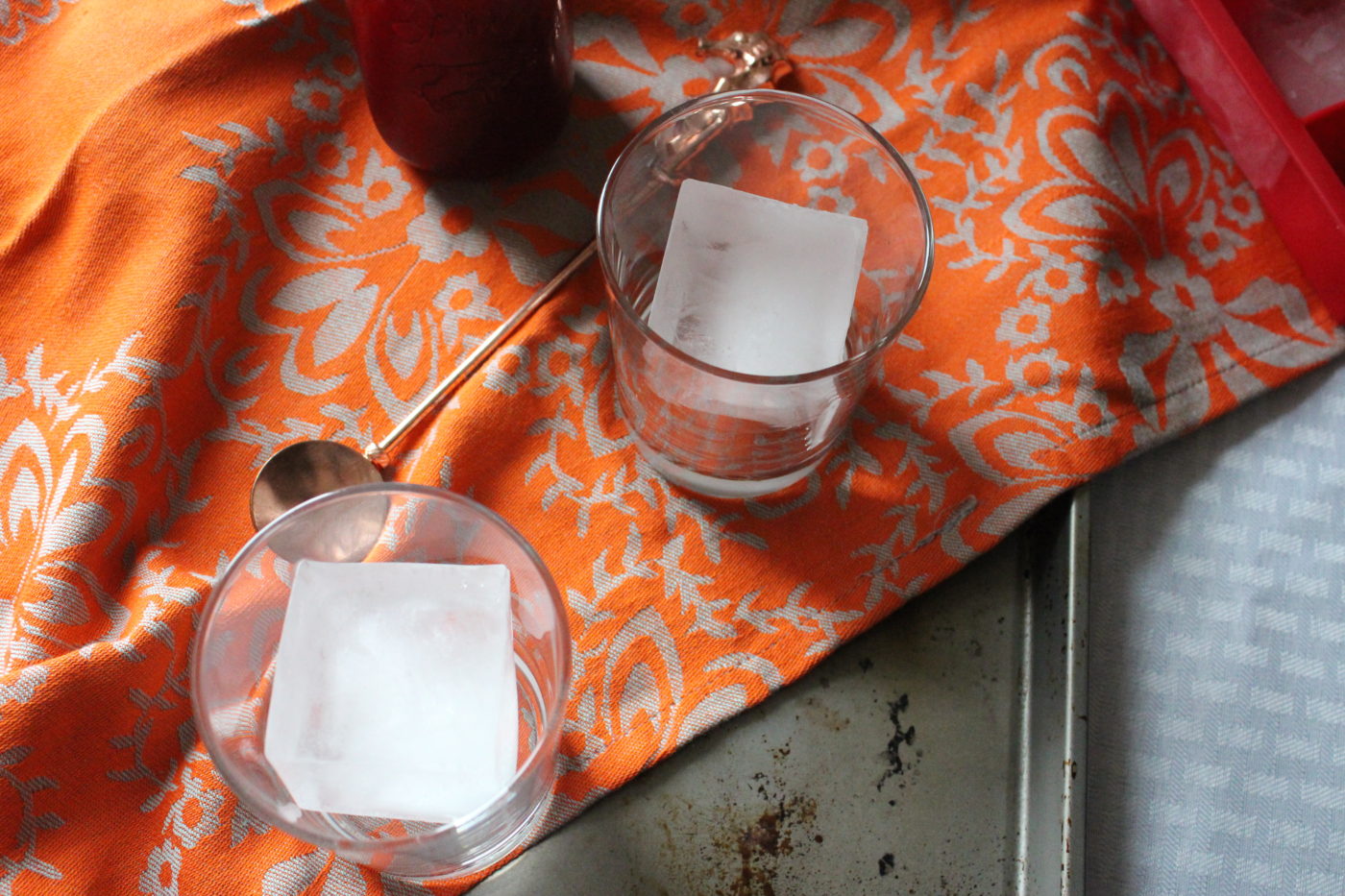 First things first though, do you know what a shrub is? No, I'm not talking about the little tree outside of your home. My type of shrub is also known as a drinking vinegar made popular back in the day. By back in the day, I mean Colonial times. Yeah, that long ago.
Shrubs have had quite the resurrection; I've seen tons of restaurants with shrubs on the beverage menu. They're very acidic but there's something very odd about them that I weirdly enjoy. You can try shrubs with a variety of fruits and and today, it's all about a raspberry shrub cocktail. What I didn't tell you about this drink is that there's also black peppercorns in it – to further my mission of drinking oddly paired beverages. I think your taste buds will do little dances after sipping on this.

Raspberry shrub cocktail (with gin)
The shrub is pretty decent on its own. It's an acquired taste but after the first couple of sips, I think you'll get used it. You can certainly try this with a different type of fruit if raspberries aren't your thing.
Valentine's Cocktail: Raspberry shrub with gin
Ingredients
1 cup water
2 tablespoons black peppercorns
2 cups raspberries (fresh or frozen will be fine)
1/2 cup maple syrup
1 cup apple cider vinegar
1 oz gin
club soda
black pepper, for garnish
Instructions
For the shrub

In a medium sauce pan bring the water and peppercorns to a light simmer.
Add in the raspberries and simmer until the they are completely cooked down; the liquid will become red - about 10 minutes.
Remove from the heat and add in the apple cider vinegar and maple syrup. Stir and then strain the mixture through a sieve into a glass jar.
The shrub will keep for about a week or so.

For the cocktail

Combine 1 ounce gin, with 1 tablespoon of the shrub syrup over ice and top with club soda (can use tonic water too if you want).
Dash a bit of black pepper on top for garnish.
http://eatdrinkfrolic.com/2016/02/valentines-cocktail-black.html