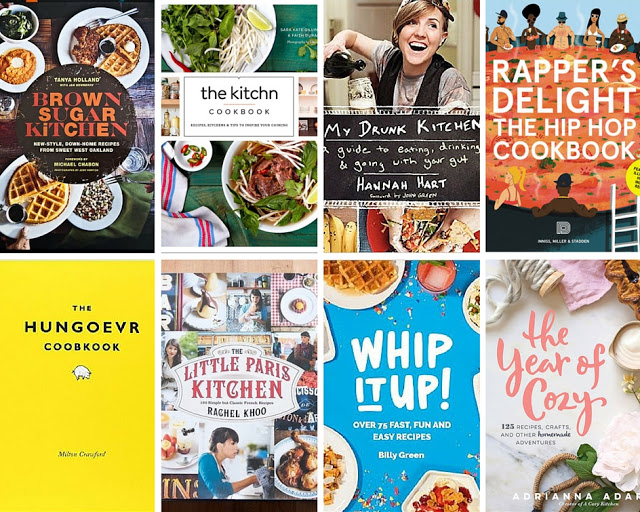 Alright, the holidays are here and I know everyone is overwhelming the internets with crazy (and expensive) gift guides. I wasn't planning on doing any gift guides this year; gift guides aren't usually my thing. I read some of them but sometimes, they're sort of a pain to put together. But then I had the bright idea to put together a gift guide that was really specific and could possibly be helpful for someone who has a cook in their lives or someone who really enjoys food. I've rounded up 8 cookbooks that are fun, creative and colorful – I'm sure this guide has a little something for everyone on your gift list. Also I'd like to note that there are no affiliate links here, just pure love and joy for these books. Here we go:
Brown Sugar Kitchen – Great book and it's a restaurant in Oakland! I'll be sharing a recipe from this book soon.
The Kitchn – I've written about this book before. I love it. Lots of tips on how to get your kitchen together and great recipes.
My Drunk Kitchen – Recipes, stories and pretty pictures. The title alone, is pretty awesome; buy it for someone drunk special.
Rapper's Delight Cookbook – Have someone in your life who loves hip hop and food? With recipes like Wu Tang Clam Chowder, Run DM Sea Bass and Busta Key Lime Pie, I mean come on.
The Hungoevr Cookbook – Buy this with My Drunk Kitchen and give it as a bundle, right? This book is filled with quizzes and comforting recipes to help you remedy your hangover.
The Little Paris Kitchen – Parisian recipes and Parisian stories. Is there really anything better?
Whip it Up! – This book just looks fun. I don't own it (yet) but it's high on my list. The tagline is "over 75 fast, fun and easy recipes". So, yes.
The Year of Cozy – A beautiful look into recipes, crafts and some DIY projects.