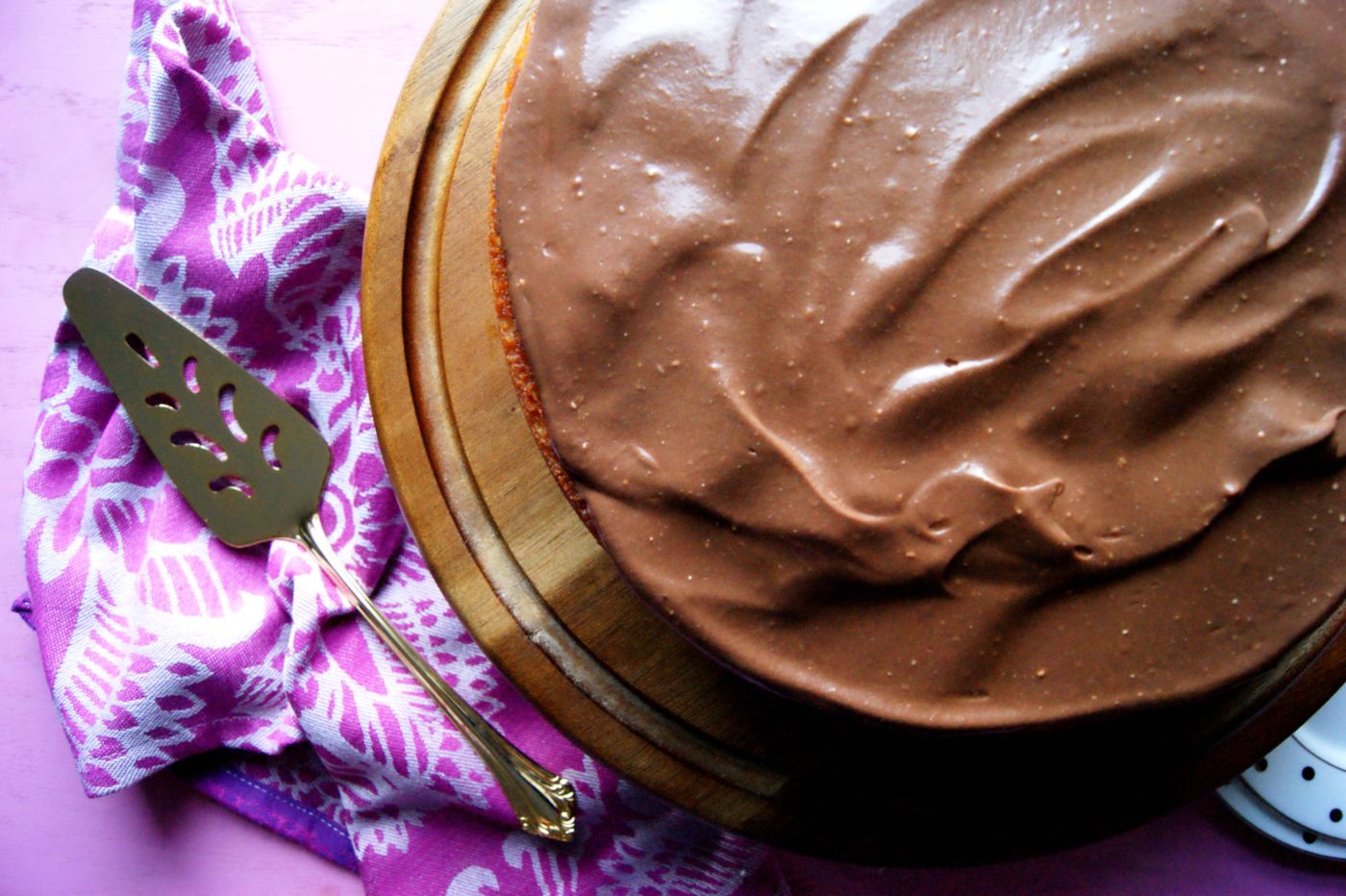 We've come to the end of my birthday week but today is the best day of them all for two reasons: it's Friday AND it's my actual birthday! Hooray! What better way to celebrate a birthday than with hot milk cake, right? Let me explain.
Apparently hot milk cake is a southern staple in the dessert world. I'll admit, I'd never heard of it. I found this out by visiting the site Cake over Steak where Sara has renamed it to golden milk cake. If I'm being honest, golden milk cake sounds much more appetizing than hot milk. When I think of hot milk, I just think of a disgusting substance that shouldn't be consumed. This cake, is definitely not that.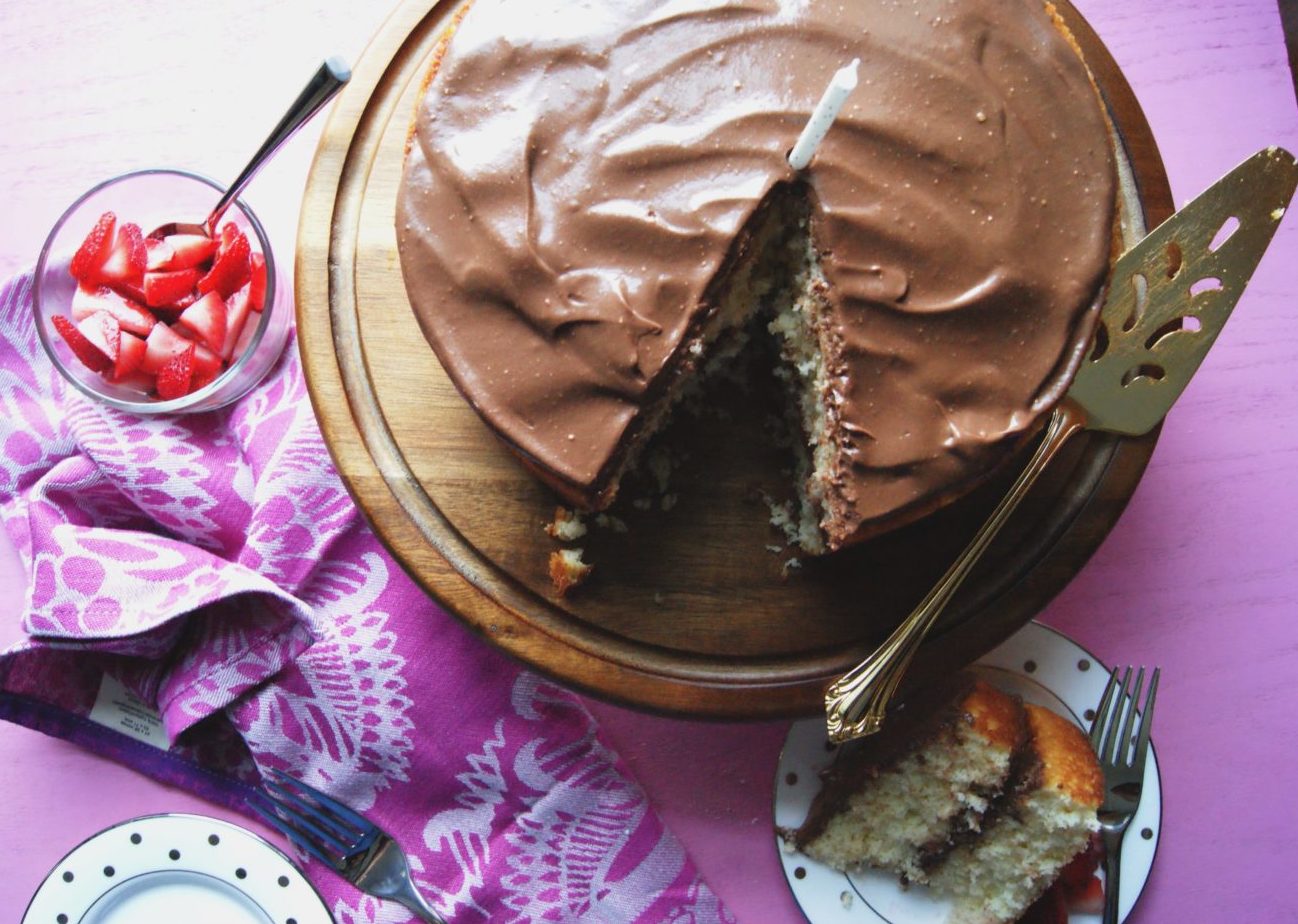 Cake is the epitome of birthdays and I'm excited to share this recipe with you. It's perfect as a birthday cake or as a 'just because' cake. Thanks to Sara at Cake Over Steak, this cake is easily a new favorite of mine. The best part was slathering it with chocolate ganache and eating it with a small heaping of fresh strawberries. Oh my goodness, happy birthday to everyone!
I don't do a ton of baking not because I don't love baked goods (trust me, I do) but I think I have a slight fear of baking things and having it fail. Baking is so scientific that and I think that deters a lot of us from experimenting with the oven. Though I'm not a professional baker and I'm still learning a lot about the art, I do know that once I tackle a baked good recipe, the outcome is usually worth the mess you've made in the kitchen. If you're a little apprehensive towards baking, try this cake. It's easy and it'll make you seem as if you're a pro.
If this cake is any indication of what this weekend will bring, I'm pretty sure I'll have a perfect birthday. Don't forget to enter the giveaway; it's happening until Sunday!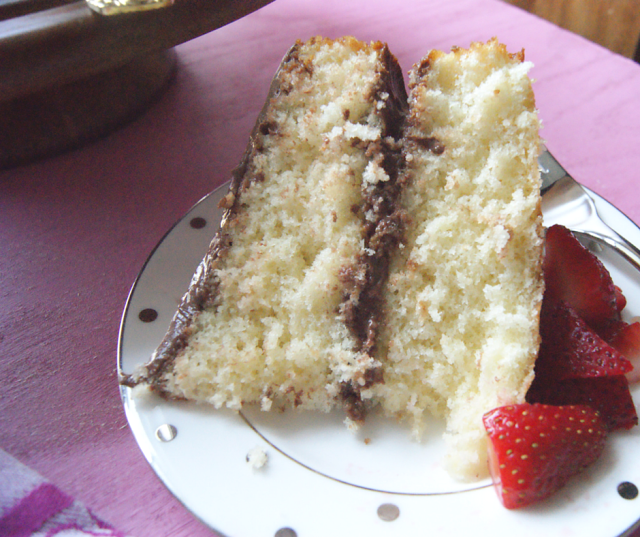 Golden Milk Cake (formerly known as hot milk cake)
Golden Milk Cake w/Chocolate Ganache
Ingredients
For the cake

2 cups all purpose flour
2 tsp. baking powder
4 eggs
2 cups sugar
1/4 tsp. kosher salt
2 tsp. vanilla extract
1 stick of butter
1 cup whole milk

For the ganache

8oz milk chocolate, chopped (see Note #1)
1 cup heavy cream
pinch of salt
4 tbsp. butter, cut into pieces (room temperature)
Instructions
For the cake

Heat oven to 350 degrees and flour your cake pan (see Note #2)
Combine flour and baking soda in a mixing bowl.
In a separate bowl, beat the eggs, sugar, salt and vanilla. If you have a stand mixer or a handheld mixer, use that. It'll speed up the process.
Add the flour mixture to the egg mixture and combine gently with a spoon. Don't overmix.
In a small sauce pan, melt the butter then add the milk; bring to a boil.
Slowly pour the milk into the cake batter while lightly mixing.
Pour the batter into your cake pans. (see Note #3)
Allow cake to cool before adding any glaze or icing (see Note #4)

For the ganache

Bring the cream and salt to a simmer.
Pour the cream over the chocolate and let it sit for about 10 minutes; whisk gently until it's all combined and smooth.
Allow the ganache to chill for 30-45 minutes. After it has chilled, beat in the butter and mix until it's light and fluffy. Taste a spoonful of it if you want, I did.
When ready, go ahead and ice your cake. (see Note #5)
Notes:
1. You can use chocolate chips if that's what you have on hand
2. You can use a bundt pan or two round cake pans.
3. If making a two-layer cake, bake for 25-30 minutes. If using a bundt pan, bake for 50 minutes or so. You can always use the toothpick test to see if your cake is done.
4. This cake is great without any icing or glaze but if you're feeling fancy, the ganache is great.
5. I iced the cake the "naked" way. Just the middle and the top of the cake and that was just enough for us.
http://eatdrinkfrolic.com/2015/08/golden-milk-cake-with-chocolate-ganache.html
Save
Save
Save