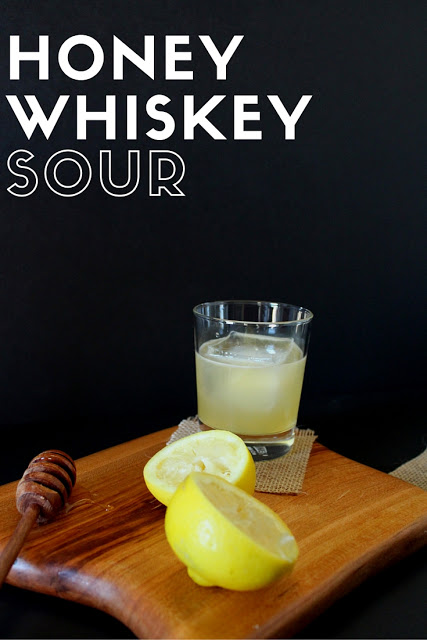 Historically, whiskey sours have a dash of egg white in them, which to some can be offputting but it's really not that bad. This particular whiskey sour does not have the infamous egg white and I'm fine with that. I love whiskey but for some reason, I never order whiskey sours when I'm out. I decided to play around with the idea of a whiskey sour after finding an article on Pinterest, by way of The Kitchn, on different ways you can sweeten up your whiskey sour.
Hmmm. I'm intrigued.
I came across the honey whiskey sour and it seemed super easy and all of the ingredients I already had at home. Before life got crazy busy, I always had Sunday night cocktails at home for John and me. I decided to reintroduce this idea with these honey whiskey sours. I think it was a pretty good choice for slowly working ourselves back into our Sunday cocktail hour.
Ready to try it for yourself?


Honey Whiskey Sour – from The Kitchn (serves 1)
2oz whiskey
3/4oz lemon juice (fresh)
1/4oz honey
1/2oz hot water
Add the honey to a cocktail shaker then add the hot water. Stir to combine.
Add in the rest of the ingredients then add ice. Shake for a few seconds then pour into a glass.
How easy was that? Cheers!