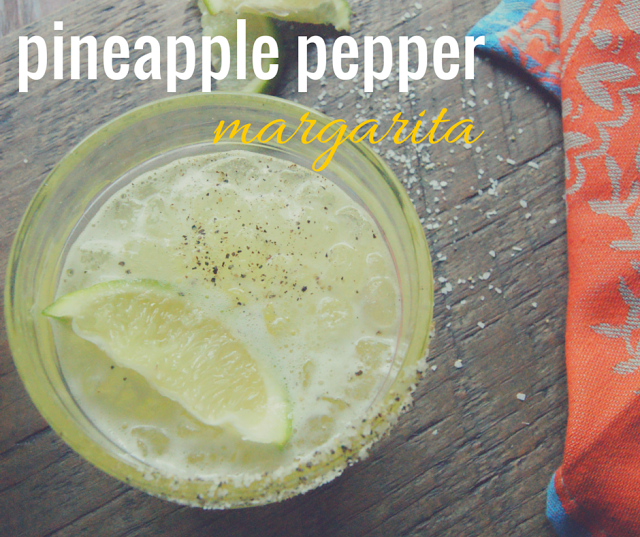 Did you know that today is National Tequila Day? We have so many random "holidays" that folks make up just for the sake of it…and as expected, I continue to celebrate these random days.
Anyway, I love concocting fun cocktails; just the thought of it makes me so happy. Thinking of what flavors compliment each other and just toying around with different spices and herbs is a whole lot of fun for me. Since it's National Tequila Day, I thought I'd share a margarita. Actually, I'm lying. I had no idea it was National Tequila Day until I randomly saw it on Twitter…two days before this post was to go live. My initial thought was: SCORE! Then I thought: how perfect is this? I just happen to be posting a tequila drink on a tequila day – what are the odds? Luck, I guess. Moving on, I sort of love citrus paired with spicy flavors. Not sure where that came from but I love it. One day I was reminiscing over the delicious pineapples John and I had while in Costa Rica and I thought why not make some fresh pineapple margaritas. Oh wait, better idea: let's add some black pepper!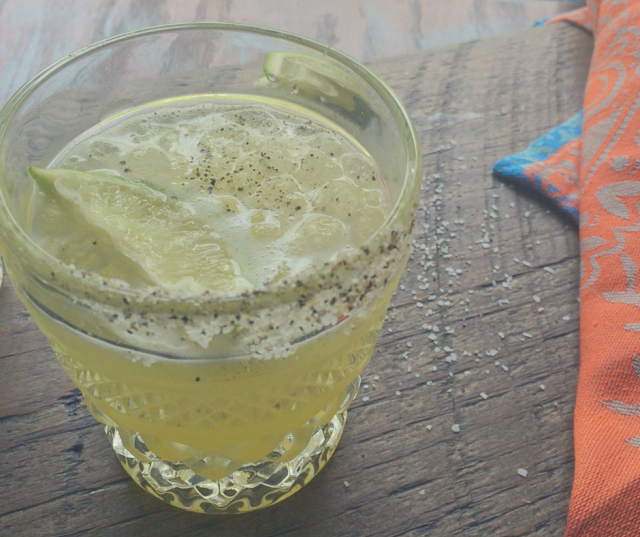 There are so many variations of how to make a margarita. Blah blah blah. I chose to use the 3-2-1 method. So, for this margarita you'll need:
3oz fresh pineapple juice (if you can't make your own pineapple juice, store bought will be fine)
2oz tequila (silver/white)
1oz fresh lime juice
coarse black pepper
kosher salt
There's some debate on whether to shake or stir margaritas. I believe in the philosophy of 'do what you want' BUT I shake my margaritas because that's what feels right to me.
Rub a little lime on one section of the glass rim. Then roll it around in a mixture of kosher salt and black pepper. This will reinforce the pepper flavor and add the familiar flavor of salt.
So here we go – combine the tequila, pineapple juice, lime juice and black pepper in a cocktail shaker filled with ice. Shake until the cocktail shaker is cold and frosty.
Pour into a glass with ice and sprinkle with more black pepper.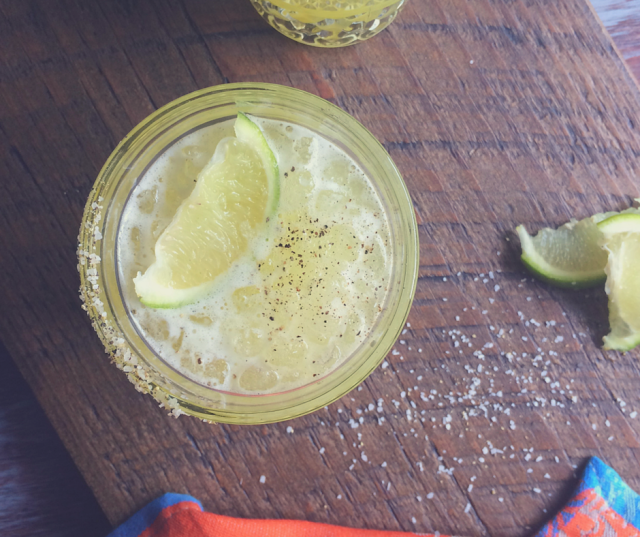 Mmmm. Mmmm. Mmmm.
Happy Friday!