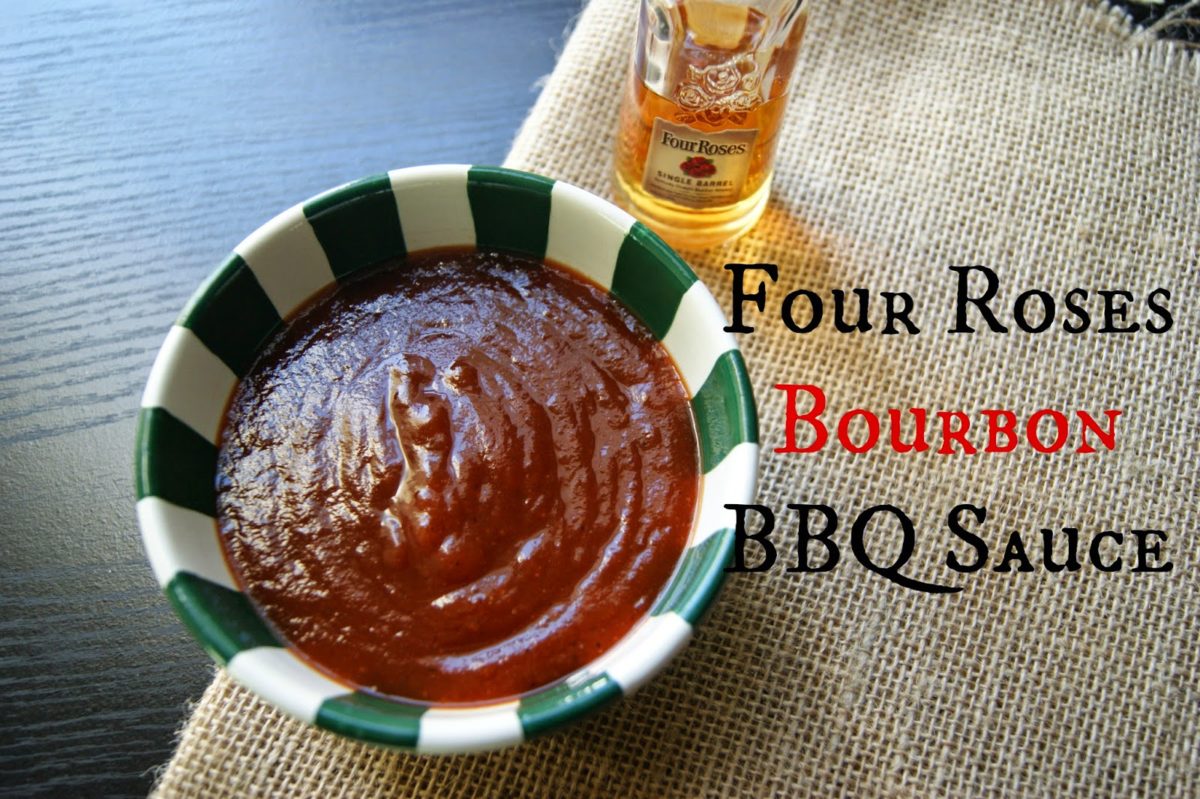 You guys.
This is so good.
I wouldn't lie to you and I'm not just saying that because I made it.  It's really delicious.  Let's chat for a second…
So, May is National Barbecue Month…who knew? In my mind, May is the perfect time to start cooking out and having people over for an outdoor party.  Why not add a little something extra to your cookouts with a bourbon BBQ sauce. So, a few weeks ago, I was approached by Four Roses Bourbon to create a barbecue sauce in honor of National Barbecue Sauce.  As someone who enjoys BBQ sauce (and bourbon), I immediately obliged; I knew it was going to fun.  After a little brainstorming, I finally came up with, what I think, is a pretty delicious and very simple barbecue sauce.  Oh my goodness, it's so easy. The great thing about this sauce is that it goes well with chicken and would probably be just as delicious with shrimp, used lightly to saute with veggies or on a burger.  It's totally up to you.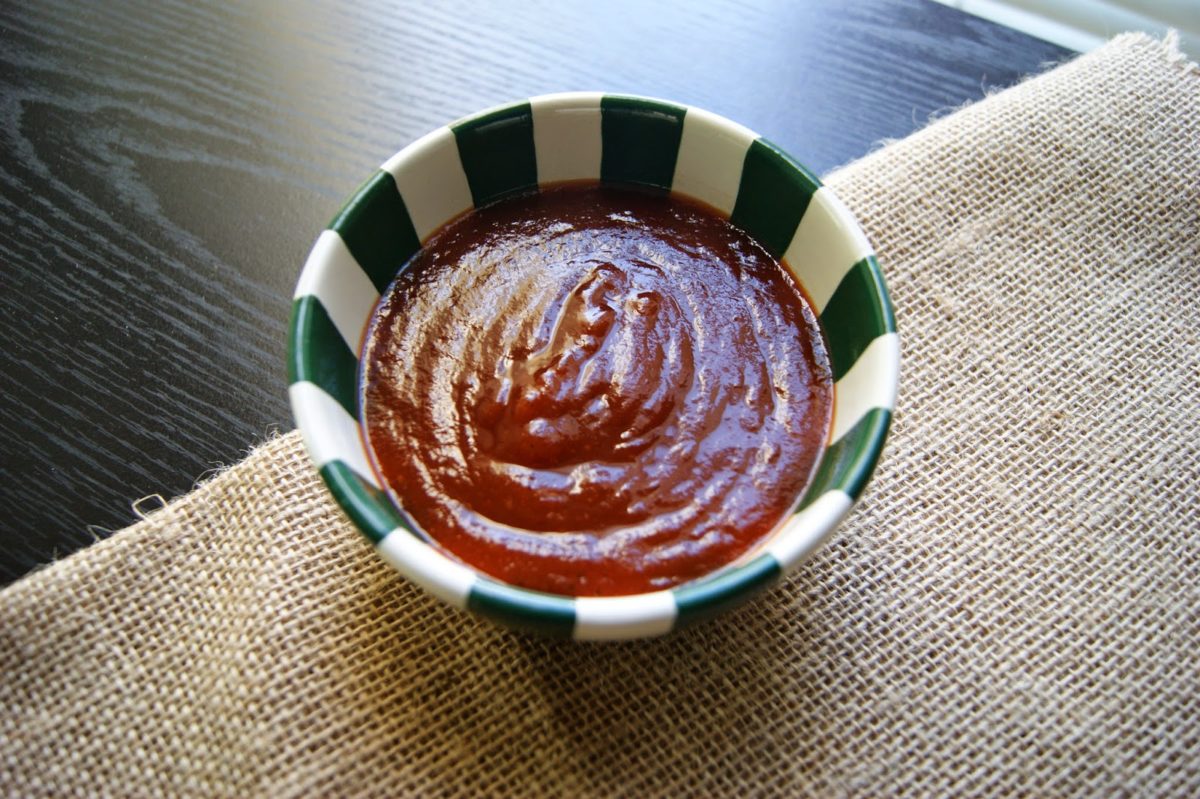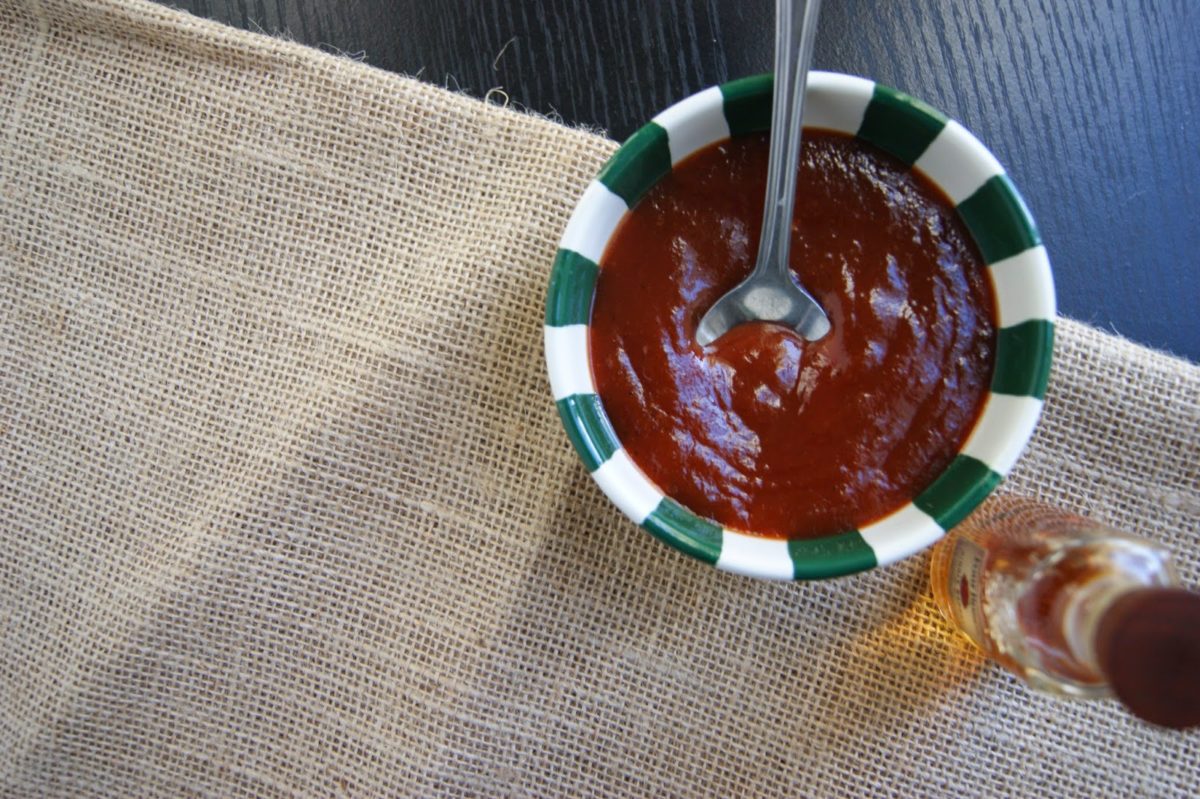 You know I love spicy foods but I wanted to be sure that the sauce wasn't too spicy in the event you'd like to recreate. You can adjust the heat higher or lower – whatever your preference is.  The flavors of the bourbon have hints of a fruity undertone, which helps bring out the pineapple (yes, pineapple) that I put in my barbecue sauce.  Trust me on this one.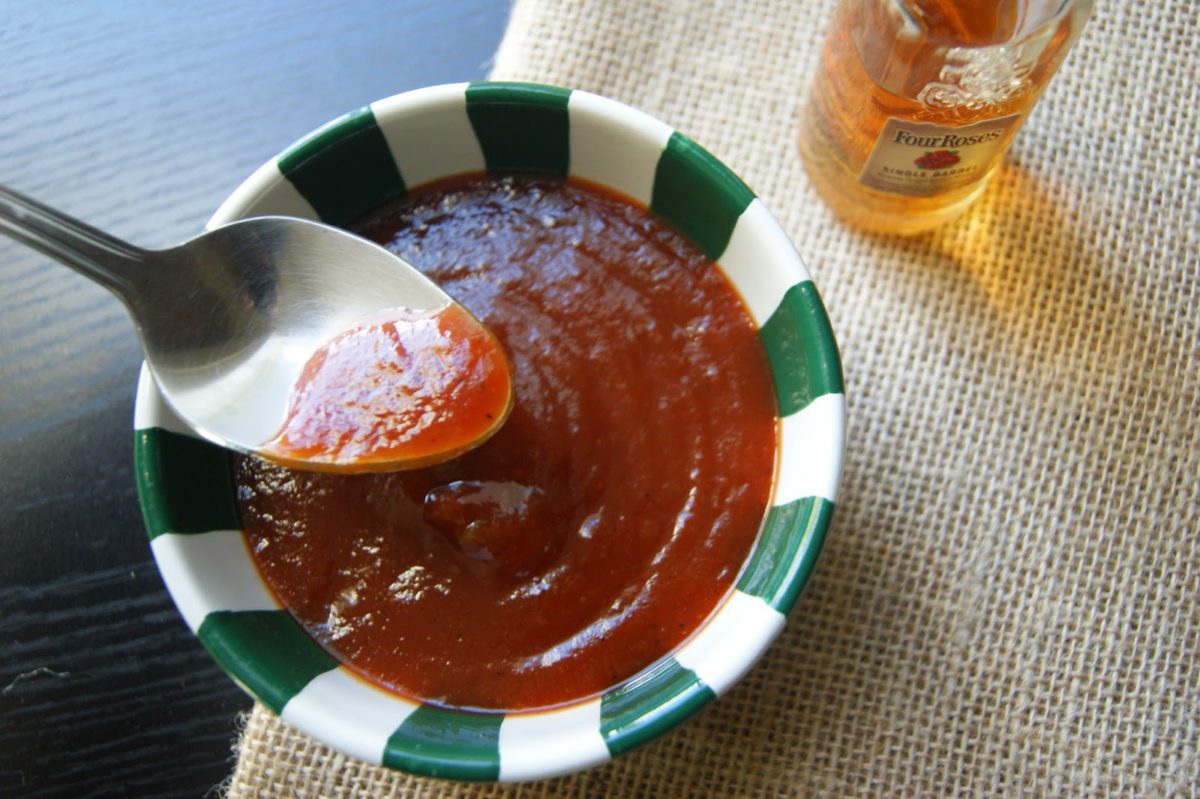 Four Roses Bourbon BBQ Sauce
2 cups ketchup
1/2 cup Four Roses Bourbnon
1/4 cup apple cider vinegar
1/2 cup brown sugar
1/2 tbsp black pepper
1/2 tbsp. onion powder
1/2 tbsp. ground mustard
1 tbsp. worcestershire sauce
1 jalapeno, finely chopped
1/4 cup pineapple juice + a few chunks of pineapple (pineapple chunks optional)
In a medium saucepan, combine all ingredients.
Bring to a boil and reduce heat to a simmer.
Simmer for 30 minutes to an hour – stirring occasionally
If using pineapple chunks, you'll want to use an immersion blender to puree the sauce until it's the desired consistency.
Allow to cool.  Enjoy. Store what you don't use in a hipster Mason jar.
Recipe notes: Be sure to taste and stir the sauce as it's simmering. If the sauce ends up being too spicy, just add few more splashes of pineapple juice.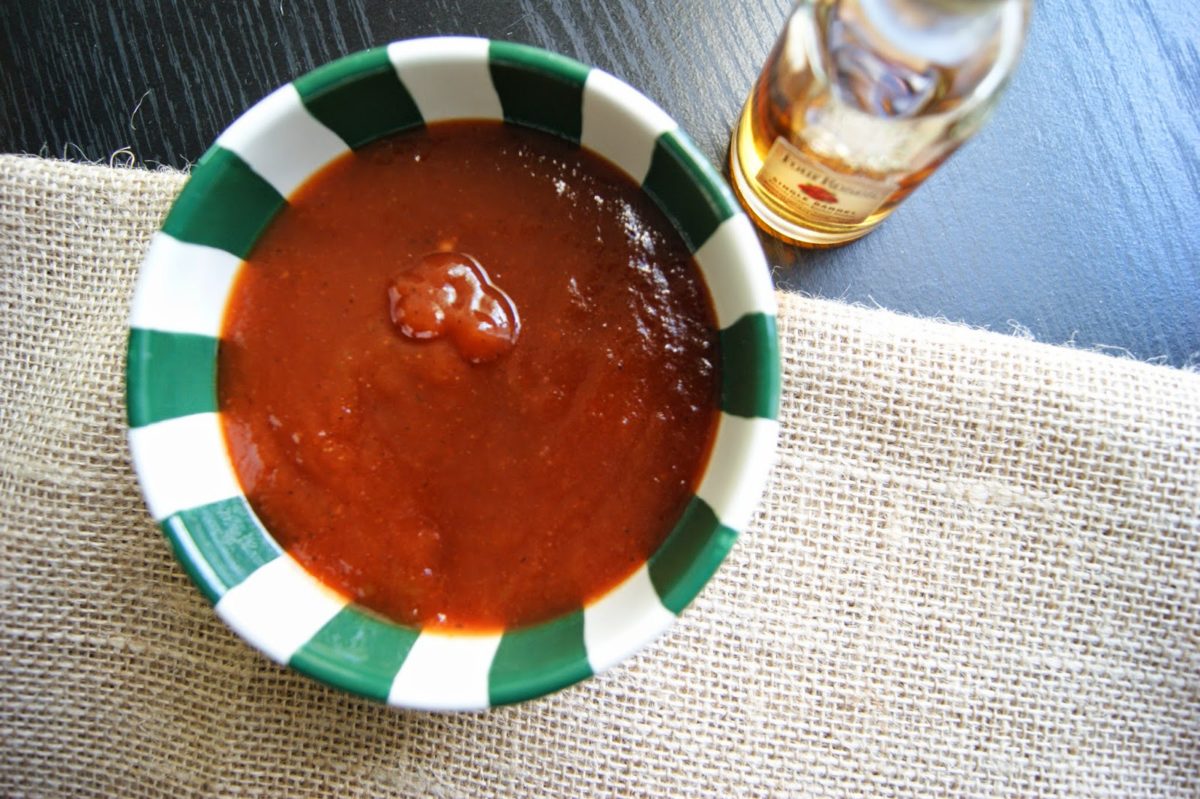 No barbecue is complete without a delicious beverage.  Since we're talking about BBQ, I thought it would be appropriate to share a cold beverage to accompany the Four Roses BBQ sauce insert the Strawberry Bourbon Brew.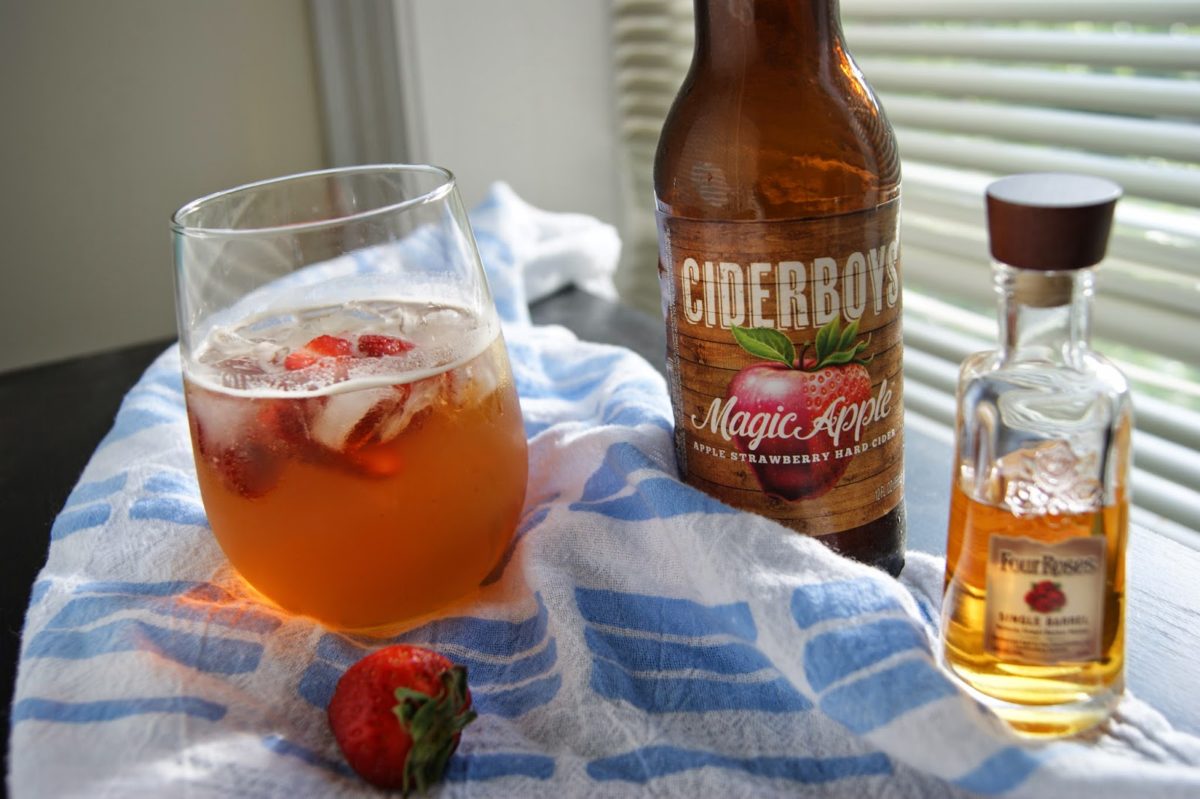 This is a super-simple drink and went perfectly with the BBQ sauce.  You'll need:
1 – 1.5 oz of Four Roses Bourbon
Ciderboys apple+strawberry hard cider
ice
strawberries for garnish
Add bourbon to a glass, then add ice.  Top with hard cider. Add strawberries for garnish.
It's a perfect 'beertail' for a barbecue.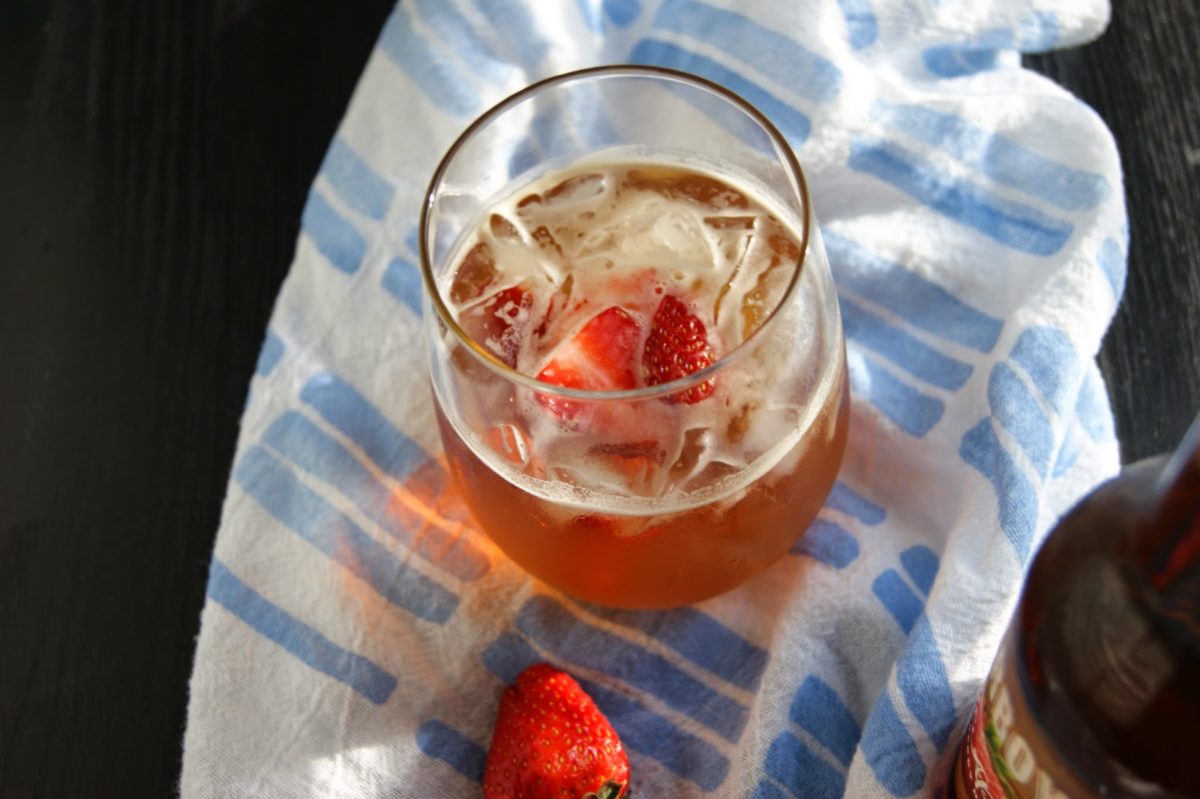 Follow along on social media using the hashtag #BourbonBBQ to see the other sauces made using Four Roses.  Have a fantastic weekend!
disclaimer: Four Roses provided me with complimentary samples of bourbon for this post. The opinions expressed here are my own and not of Four Roses.
Save