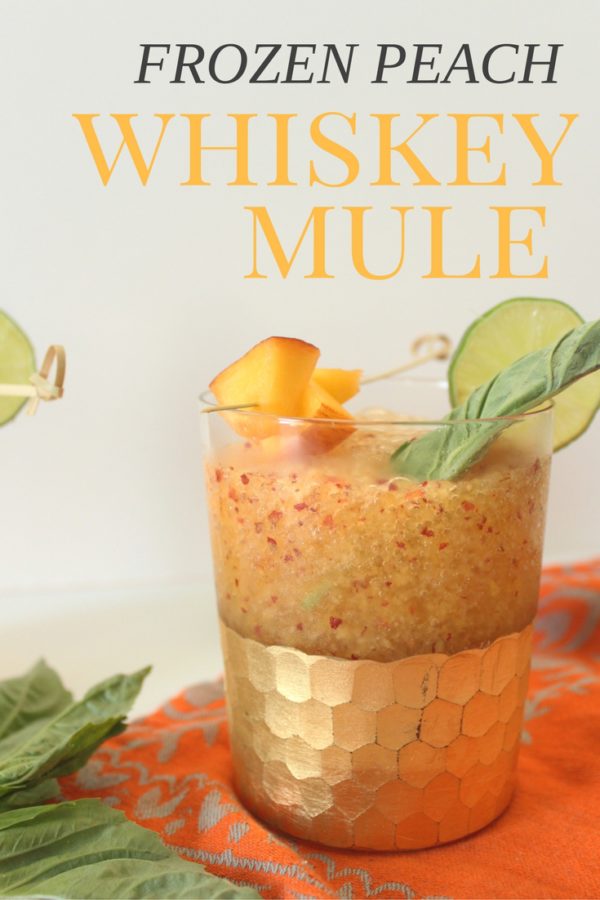 First it was frozen wine slushies and now it's a frozen remix of the classic Moscow Mule. I can't help but jump on the bandwagon of frozen drinks because it's still just so hot outside. This particular cocktail, I can't take full credit for. I owe a huge thanks to the very helpful and creative folks at The Kitchn.
First, let's talk about how much I love the Kitchn. This site is one of my go to places for tips and tricks for my food inquiries. They really do answer most of my culinary questions. Not too long ago, the folks at The Kitchn wrote a cookbook that I found really useful. I went through that book really quickly marking everything I found helpful. Check it out if you haven't already.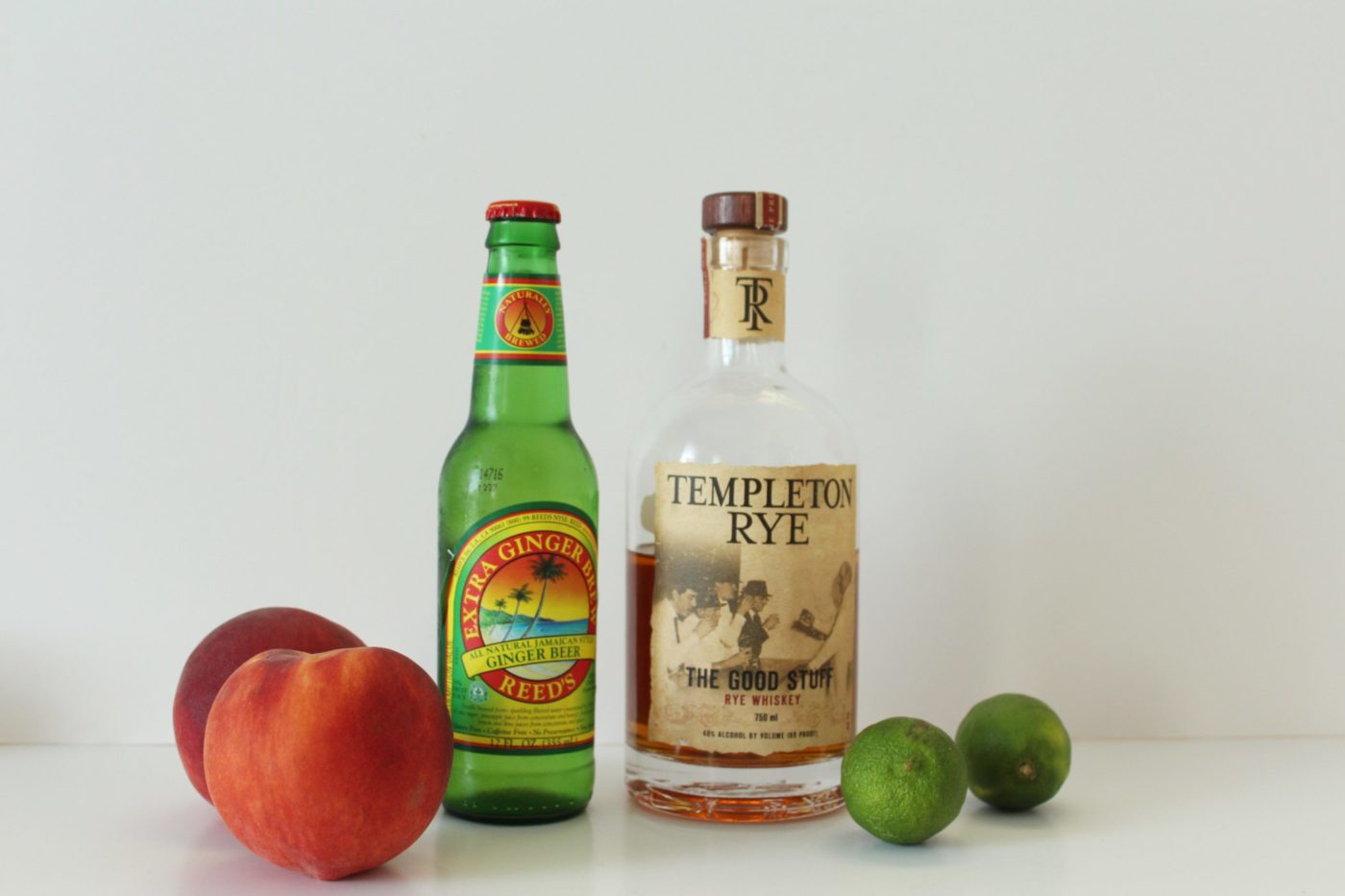 OK, back to the subject at hand. A frozen peach whiskey mule. Sounds good, right? So this is a fun, bold take on a Moscow mule, which consists of vodka, lime and ginger beer. This bolder version features, whiskey (the version on The Kitchn features bourbon), fresh peaches, lime and ginger beer. Same concept as a "regular" Moscow mule but frozen and with fresh fruit. Any fruit will do but peaches are currently in season and they are everywhere. I received a batch of peaches over the weekend and I've already used most of them to make a delicious peach cobbler.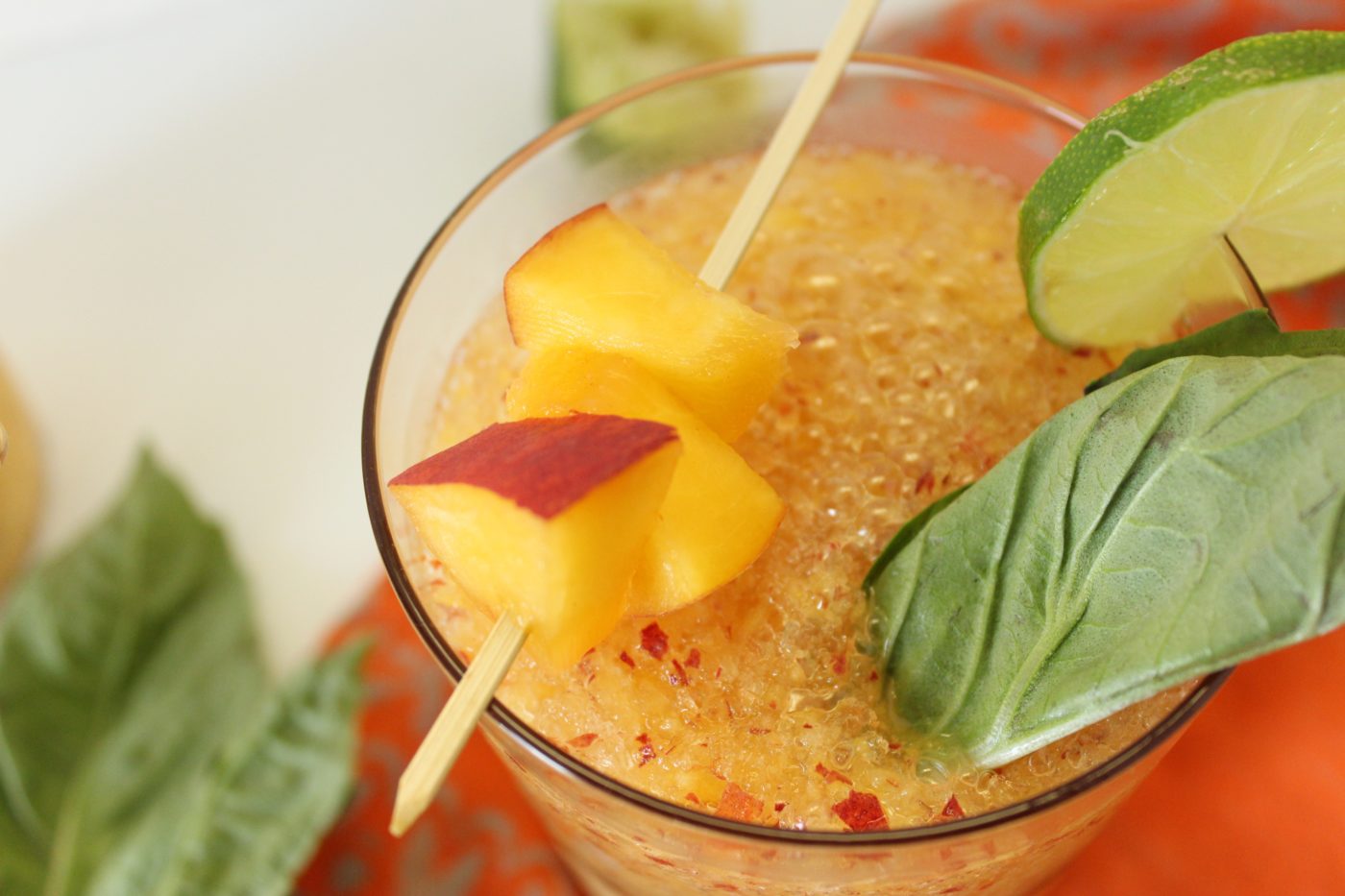 I'd imagine a frozen whiskey mule would be delicious with strawberries or raspberries too. Don't get me wrong, the peaches were fantastic but if you're looking for an alternative, any fresh berry would do too. A citrus fruit wouldn't be so bad either if you're into tangy cocktails. You may want to think about adding a simple syrup if you decide to use a citrus fruit. Ready to cool off and relax with a refreshing frozen beverage? Let's make a drink.
How to: Frozen peach whiskey mule
Frozen Peach Whiskey Mule
Ingredients
4 oz fresh peaches, chopped (see note #1)
3 oz whiskey (I used Templeton Rye)
1 oz fresh lime juice
6 oz ginger beer (I used Reed's)
1.5 cups of crushed ice
herbs for garnish
Instructions
Place all ingredients in a blender and slowly pulse until it's all blended and has a slushie-like texture.
Pour into serving glasses and garnish with your favorite herb.
Notes:
1. I left the skin on the peaches simply because I was lazy. I'd recommend peeling them.
http://eatdrinkfrolic.com/2016/08/frozen-peach-whiskey-mule.html

Shop this post
Save