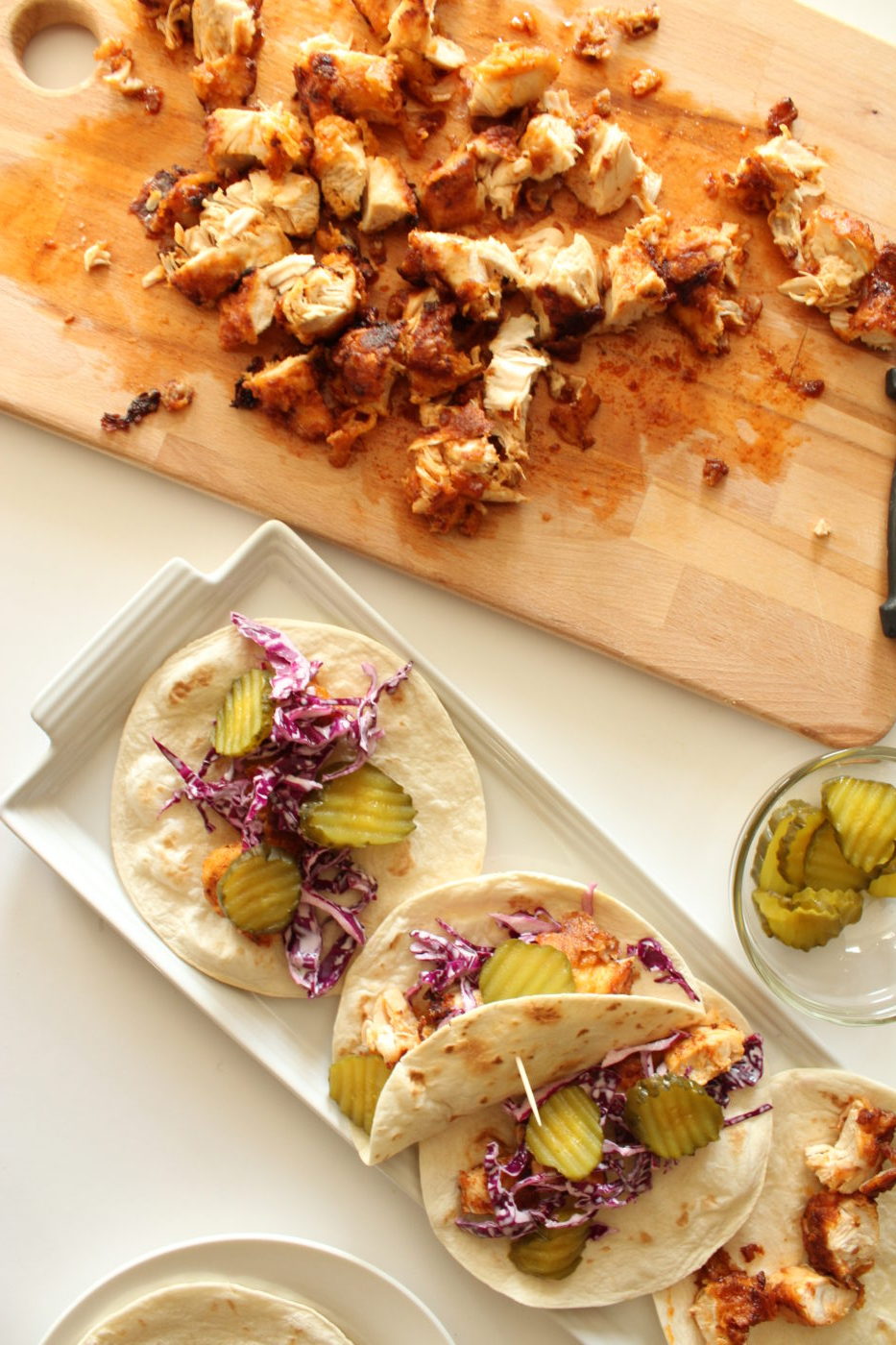 Hot chicken is all the rage right now. Everyone is trying to get on board with it – even fast food restaurants. Hot chicken is not to be confused with simple spicy chicken – no, no, no. Not the same at all. Traditionally this style of chicken is marinated in cayenne pepper and served on top of white bread with pickles chips on top. Nowadays, there are lots of variations of it but we all know that the real version started in Nashville, Tennessee.
There are lots of restaurants serving hot chicken but the originator is Prince's Hot Chicken in Nashville. I've eaten at Prince's several times and it's pretty delicious and intense – depending on which level of spiciness you choose. I even included Prince's in my Nashville weekend guide.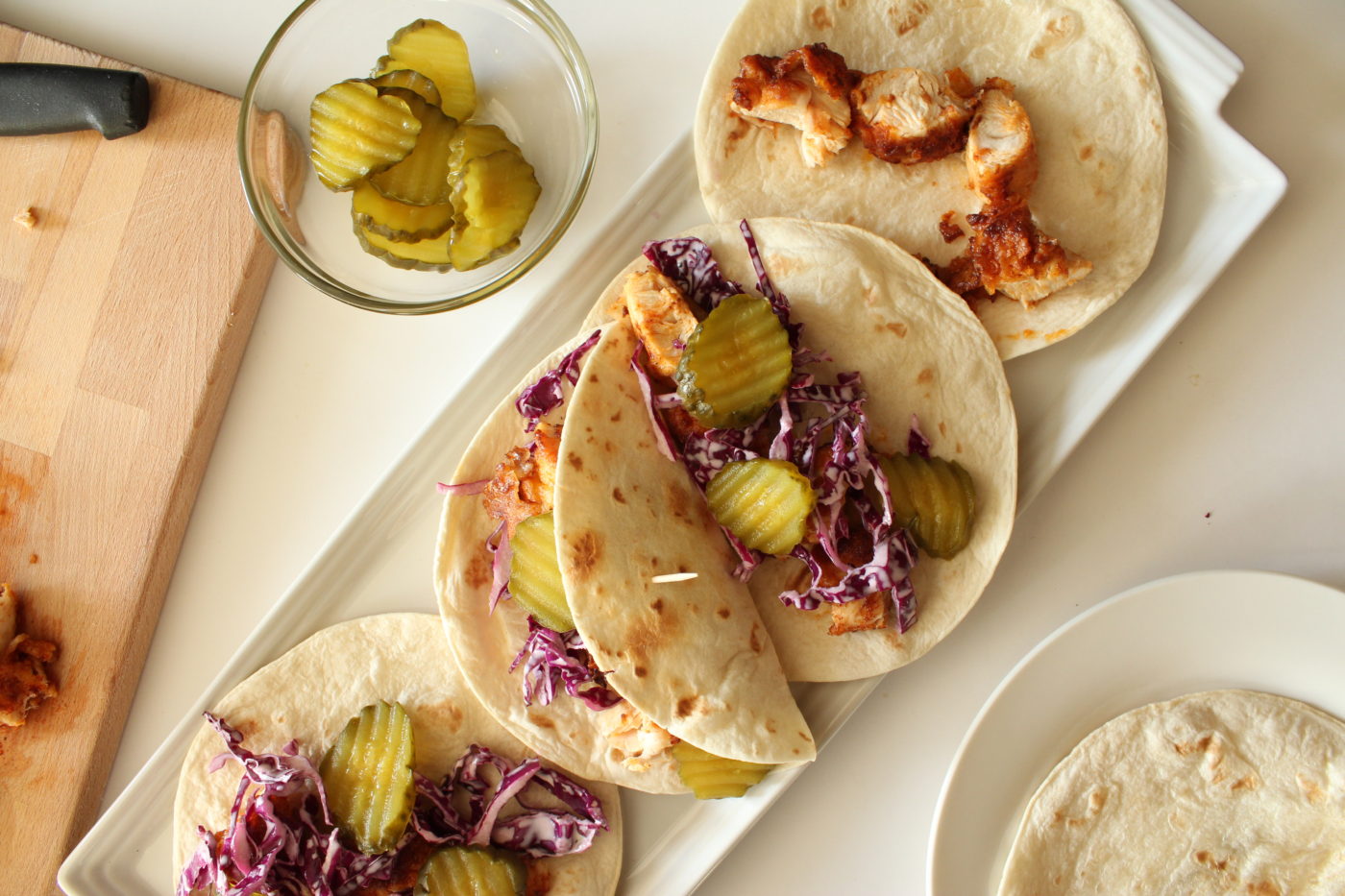 Anyway, I've always wondered what goes into making this spicy delicacy but I've never been interested in trying to do myself. The reason for my lack of interest is mainly because I never fry chicken. Ever. It seems really time-consuming and the smell – you can never get rid of the smell of fried chicken. On top of that, you end up smelling like fried chicken and I love chicken but I don't want to smell like it.
These hot chicken tacos are a relatively simplified version of the real thing. These won't take a ton of your time and even better, you'll use chicken tenders, which is much more apprachable. It's the perfect way to spice up your taco Tuesday dinners.
Nashville inspired hot chicken tacos
One of my favorite parts of eating hot chicken is the pickle. There's something about the spiciness from the chicken blended with a cold, tart pickle – heaven! That was also my favorite part of this taco. The first bite of spice and the pickle was just yummy.
I was a little apprehensive about the sauce that I made with it (you know, because it's white) but it turned out to be quite alright. Thanks to the folks at Real Simple for the inspo.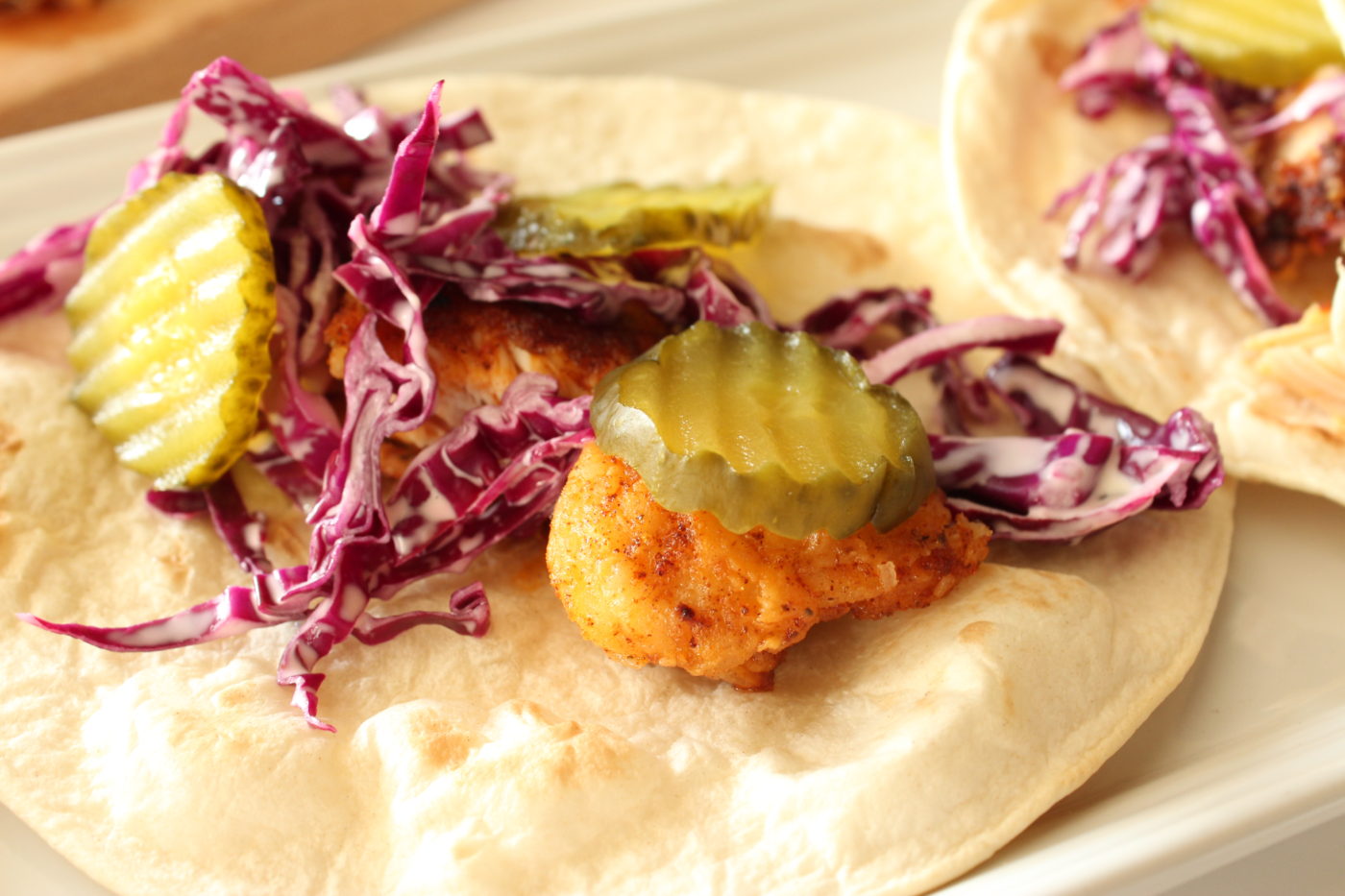 Hot Chicken Tacos from Real Simple
Ingredients
¾ cup mayonnaise
¼ cup apple cider vinegar
1 teaspoon black pepper
1¼ teaspoons kosher salt, divided
¼ head red cabbage, thinly sliced
½ cup canola oil
¾ cup all-purpose flour
1 pound chicken breast tenders
½ cup buttermilk
1 tablespoon light brown sugar
½ teaspoon paprika
1-4 teaspoons cayenne pepper
8 6-in. flour tortillas, warmed
Dill pickle chips, for serving
Instructions
In a bowl, whisk together mayonnaise, vinegar, black pepper and ½ teaspoon of the salt. Set aside ½ cup of the white sauce for serving. Toss the rest of the sauce with the cabbage.
Heat oil in a large in a skillet over medium-high.
Combine flour and remaining ¾ teaspoon salt in a shallow dish. Dip chicken in buttermilk then dredge in flour mixture. Be sure to shake off the excess.
Working in batches, add chicken to oil and fry until golden brown and crispy on both sides. Transfer to a paper towel–lined plate.
Remove skillet from heat and whisk in sugar, paprika, and cayenne. Be sure to taste and adjust the heat to your preference.
Add chicken and toss to coat; transfer to a cutting board and cut into 1-inch pieces.
Build tacos with slaw, chicken, and pickle chips. Serve drizzled with reserved white sauce.
http://eatdrinkfrolic.com/2018/01/hot-chicken-tacos.html