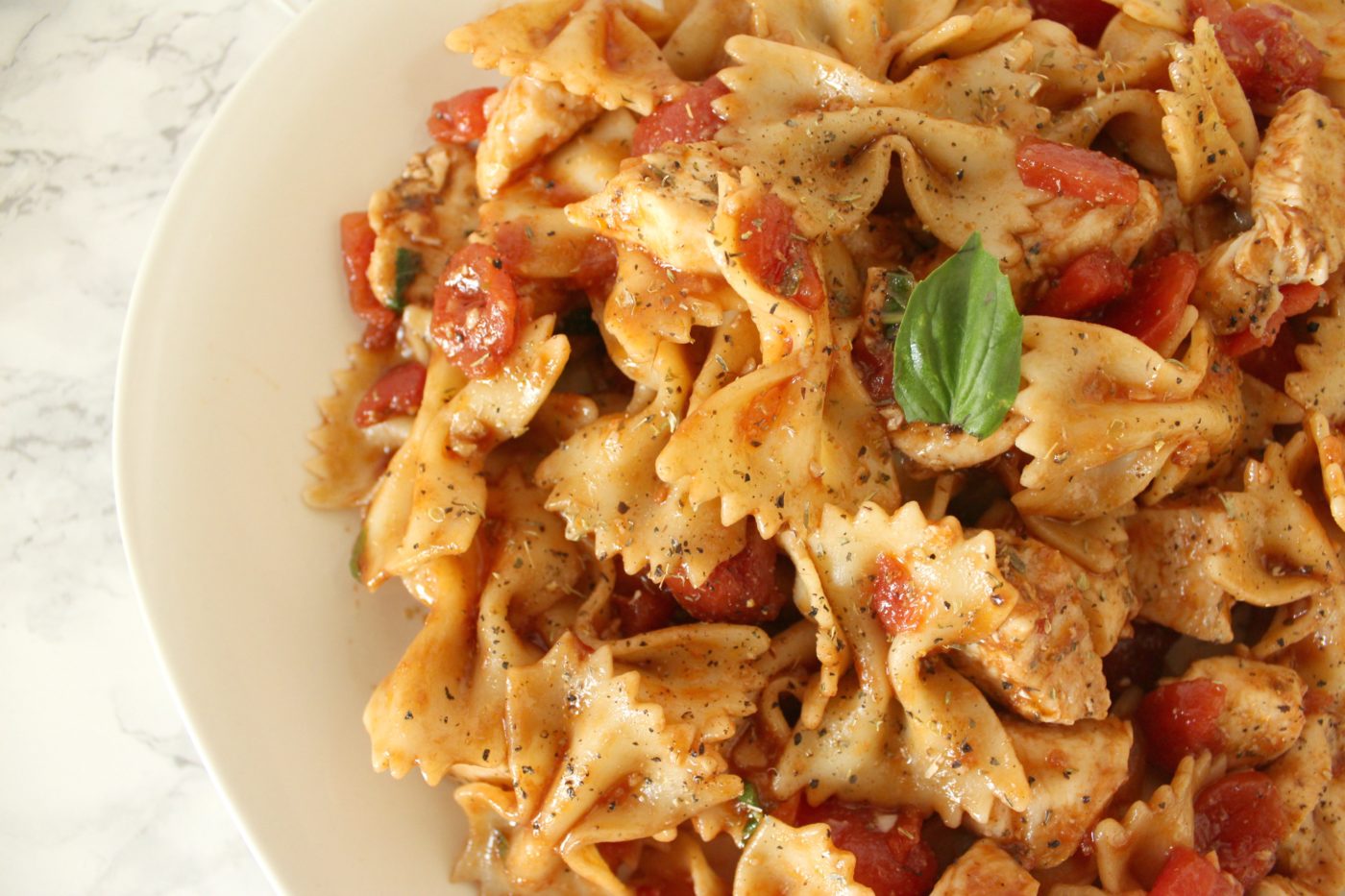 Have I ranted here before about my disdain for tomatoes? Of course I have. I'm not sure where my fear and dislike of tomatoes came from but I thought maybe it would be something that I would grow out of. You know sometimes, as children, we have a tendency to snub certain foods that as adults, we now love. That did not happen to me with tomatoes. Today's chicken bruschetta pasta combines my fear of tomatoes with my love for pasta. However, I put my fears aside because the flavors in this pasta are so good.
Traditional bruschetta has never been my favorite but I have found two restaurants around Chattanooga where I actually enjoy bruschetta…tomatoes and all. FoodWorks has a delicious bruschetta appetizer that we order almost every time we dine there. It's full of so many flavors and it's super garlicky. The second restaurant where I discovered I could stomach the bruschetta was Hummingbird Pastaria. John took me there for my birthday and though I was apprehensive at first, I'm so glad I tried it. I think I've told so many folks about their bruschetta. It was that good. Oh and there's fresh, homemade mozzarella on it.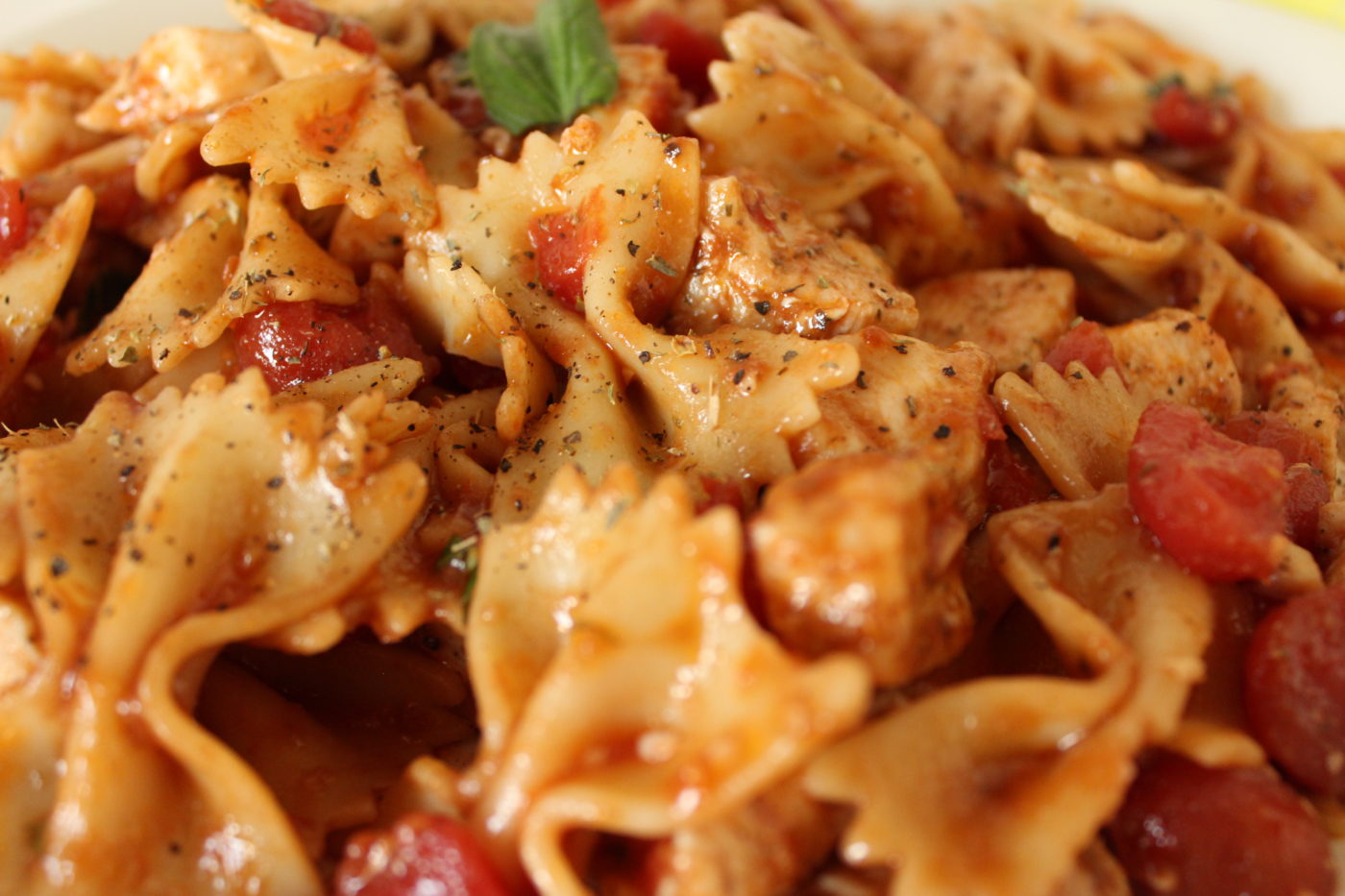 Anyway, I came across this chicken bruschetta pasta on Diethood and was intrigued. Though tomatoes aren't my favorite, I've always been into the flavor profiles of bruschetta. My dislike and fear of tomatoes went away with this recipe because it would be masked with yummy pasta.
I love that this pasta combines the flavors of bruschetta with balsamic vinegar, garlic and basil but in pasta form. Everything should be transformed into a pasta, right?
You could serve this dish with a veggie-filled salad and a homemade Italian-inspired vinaigrette. Oh just writing all of this is making me want to make this again. To be honest, I don't even know if we had any leftovers when I made this recipe. I think my favorite part of this pasta was the sweet and tangy balsamic glaze that coats the pasta. Yum!

Chicken bruschetta pasta – a simple dinner recipe
I took the lazy route and used canned tomatoes in this dish (gasp). Alternatively, you can use fresh roma tomatoes and dice them yourself.
Ingredients
1 pound bow tie pasta
1 tbsp olive oil
4 cooked boneless, skinless chicken breasts, cut into cubes
salt & fresh ground pepper, to taste
1 can (14.5 or 15oz) diced tomatoes
10 fresh basil leaves, cut into thin strips
4 tbsp olive oil, divided
4 garlic cloves, minced, divided
1/2 cup tomato sauce

Balsamic Glaze

1/2 cup balsamic vinegar
1/2 tbsp sugar
Instructions
Prepare pasta according to the package.
Combine tomatoes (along with the juices), basil, 2 tablespoons olive oil, salt, pepper and half of the minced garlic; set aside.
Heat 2 tablespoons of olive oil in a saucepan over medium-low heat.
Add remaining garlic and saute for about 20 seconds, or until soft and tender. Be careful not to burn the garlic.
Increase heat to medium high and stir in the tomato mixture.
Add tomato sauce to pan and bring to a boil.
Add prepared pasta to sauce pan and toss around until coated. Add in the chicken and set aside.

Balsamic Glaze

In a small pot, combine the vinegar and sugar then bring to a boil.
Reduce heat to a simmer and continue to cook until sauce turns to a thick syrup. Remove from heat and add to pasta.
http://eatdrinkfrolic.com/2016/11/chicken-bruschetta-pasta.html