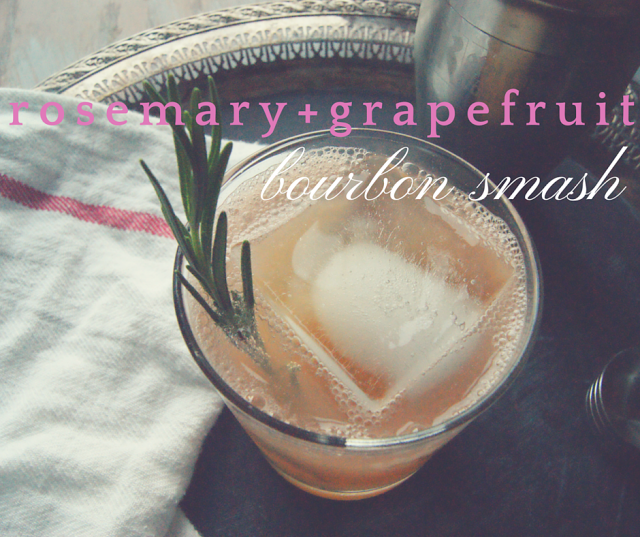 Usually in the winter, I drink a lot of bourbon. Summertime, is usually reserved for gin, champagne and other light and refreshing drinks. Bourbon is so warming that it's perfect for those cold winter nights. This summer though, I've experimented with more cool and refreshing bourbon cocktails and I'm loving it. I have a lot of friends who don't love bourbon (or whiskey) but many friends that do love it. If you're not too sure if bourbon is really your thing, it's OK. I'd probably recommend that you don't experiment with bourbon/whiskey with a Manhattan or an Old Fashioned; I think for non-bourbon believers, you sort of have to build you way up to those potent classic cocktails.
This rosemary bourbon smash is the perfect introductory cocktail if you're trying to get into bourbon and if you need something refreshing on a hot summer day. I've made different variations of bourbon smashes before; this fig and sage one is probably one of my favorites. This one is great because it's the gift that keeps on giving. You'll have leftover rosemary simple syrup that you can add to teas or more cocktails!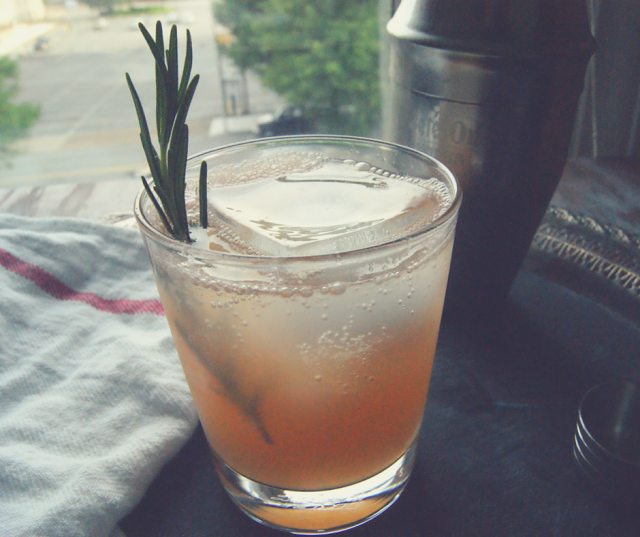 You'll need:
1 – 1.5 oz. bourbon
2 oz. fresh grapefruit juice
1/2 oz rosemary simple syrup
Club soda
Rosemary for garnish
*makes 1 cocktail*
To make the simple syrup, combine equal parts sugar, water and a couple of rosemary sprigs; place over heat. Stir until sugar has dissolved. Allow the rosemary to steep for a couple of minutes. Let it cool and transfer to a jar.
Combine bourbon, juice and simple syrup in a glass over ice; stir with a cocktail spoon. Top with club soda and garnish with a rosemary sprig.
I used fresh grapefruit juice but store bought will work just as well. Enjoy and happy Friday!