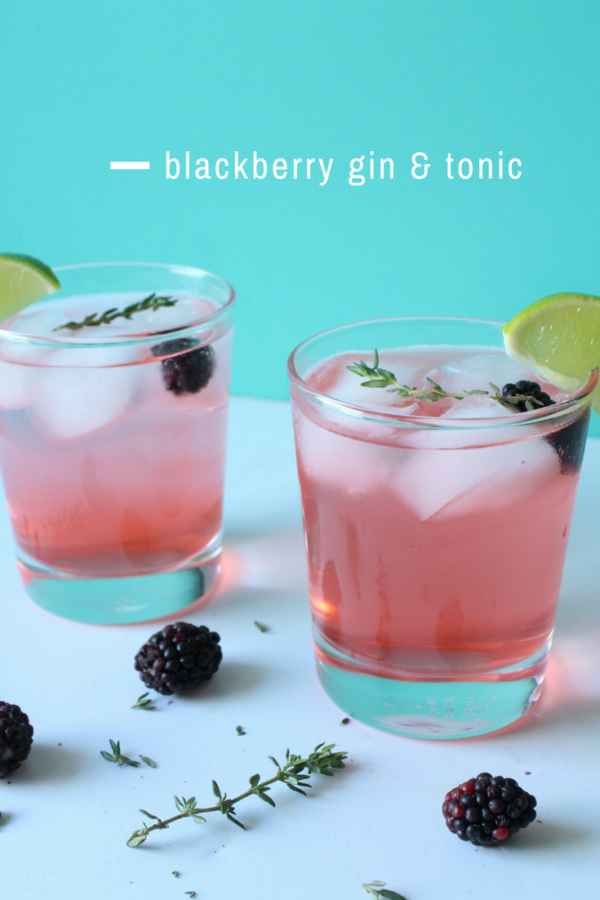 When John and I got a juicer as a wedding gift, I was juicing all the things. I wouldn't let anything be wasted in our refrigerator. On Sunday's, I would clean out the fridge and breakout the juicer. That routine lasted for a month or so then it quickly faded away. I try to dust off the juicer every now and then but let's be honest, I'm failing. I am however, making a pretty decent use out of aging fruit that sit in the fridge, which is how I developed the idea for a blackberry gin and tonic.
Well, actually there are a couple of thoughts that got me to this drink. The first was from a dish I made for my column. The dish is baked apricots with a blackberry sage syrup served on top. It was quite delightful. At first taste, I immediately started to think of a reason to host a dinner party so I can serve it as a dessert. It's just so ridiculously easy. The second thought for this drink came from blackberries I had sitting in my fridge after making the baked apricots. I wanted to do something with them before they were completely useless so I decided to make a blackberry simple syrup. That was a great decision, if I do say so myself.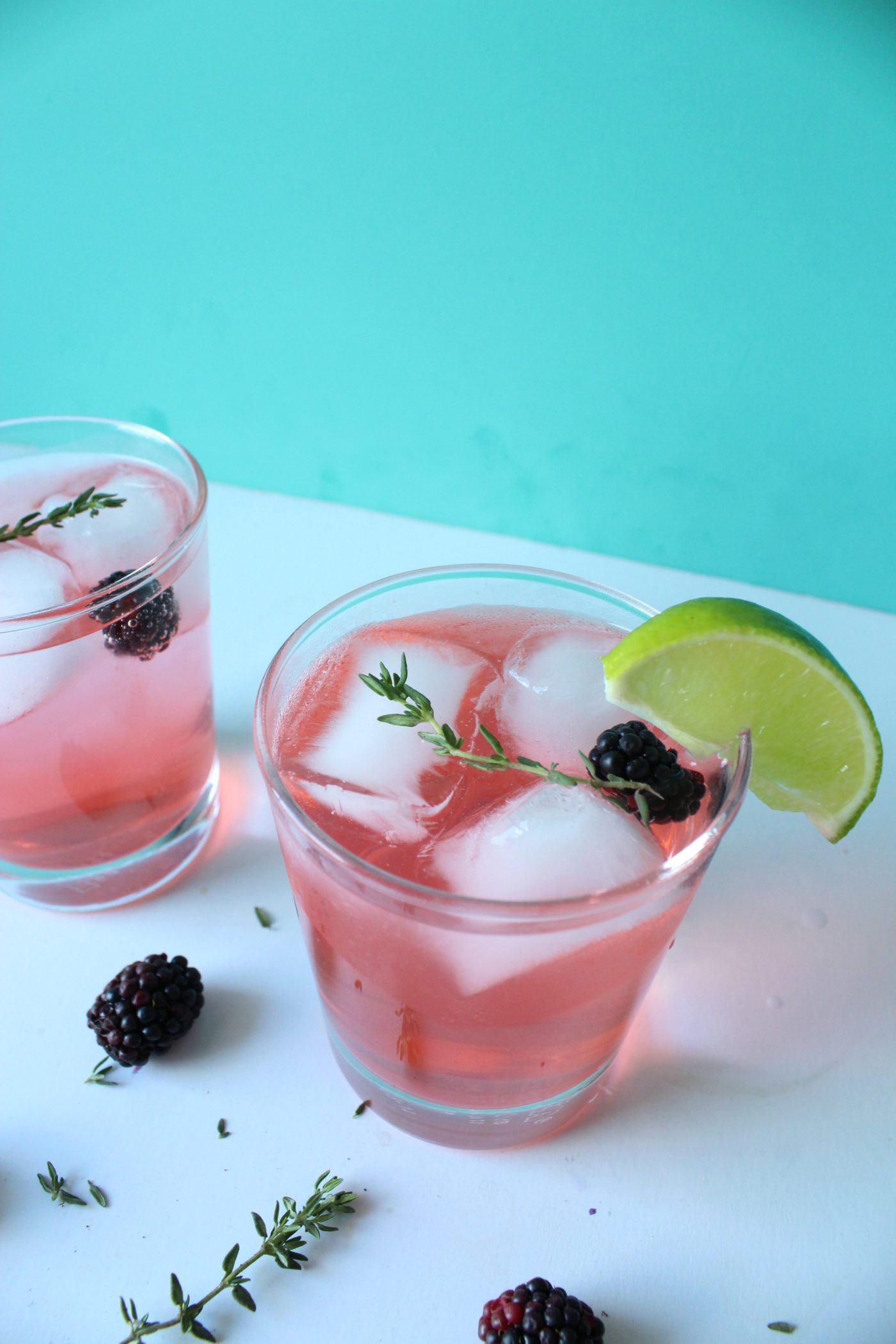 I've ranted here many, many times about how easy it is to make simple syrup. No, really, it's so easy to make you should never buy simple syrup again. I digress.
Usually when I make flavored simple syrups, I use a lot of herbs and spices that can just steep in the sugar (or honey, in this case) and water mixture. This time around, I took a different approach and loved it. All it took was mashing some blackberries then combining it with the honey and water (over heat) until the honey dissolves. Boom. It's that easy.
Some may argue that a blackberry gin and tonic isn't a "real" gin and tonic and to that, I say OK. It may not be a traditional gin and tonic but I love putting different flavor twists on a lot of my favorite classic cocktails.
Fruit cocktails: blackberry gin and tonic
I also garnished my gin and tonic with thyme. This is totally not necessary but it makes it looks pretty.
Ingredients
Blackberry simple syrup

5 blackberries
Honey
Water

Gin and tonic

2oz gin
Splash of blackberry simple syrup
40z tonic water
Juice from a lime wedge
Instructions
Simple syrup

In a small saucepan, muddle blackberries then add equal parts honey and water. Over medium heat, stir until the honey dissolves. Remove from heat and let cool to room temperature.

Gin and Tonic

In a glass with ice, add gin, syrup and top with tonic water. Add lime juice and stir.
http://eatdrinkfrolic.com/2017/08/blackberry-gin-tonic-2.html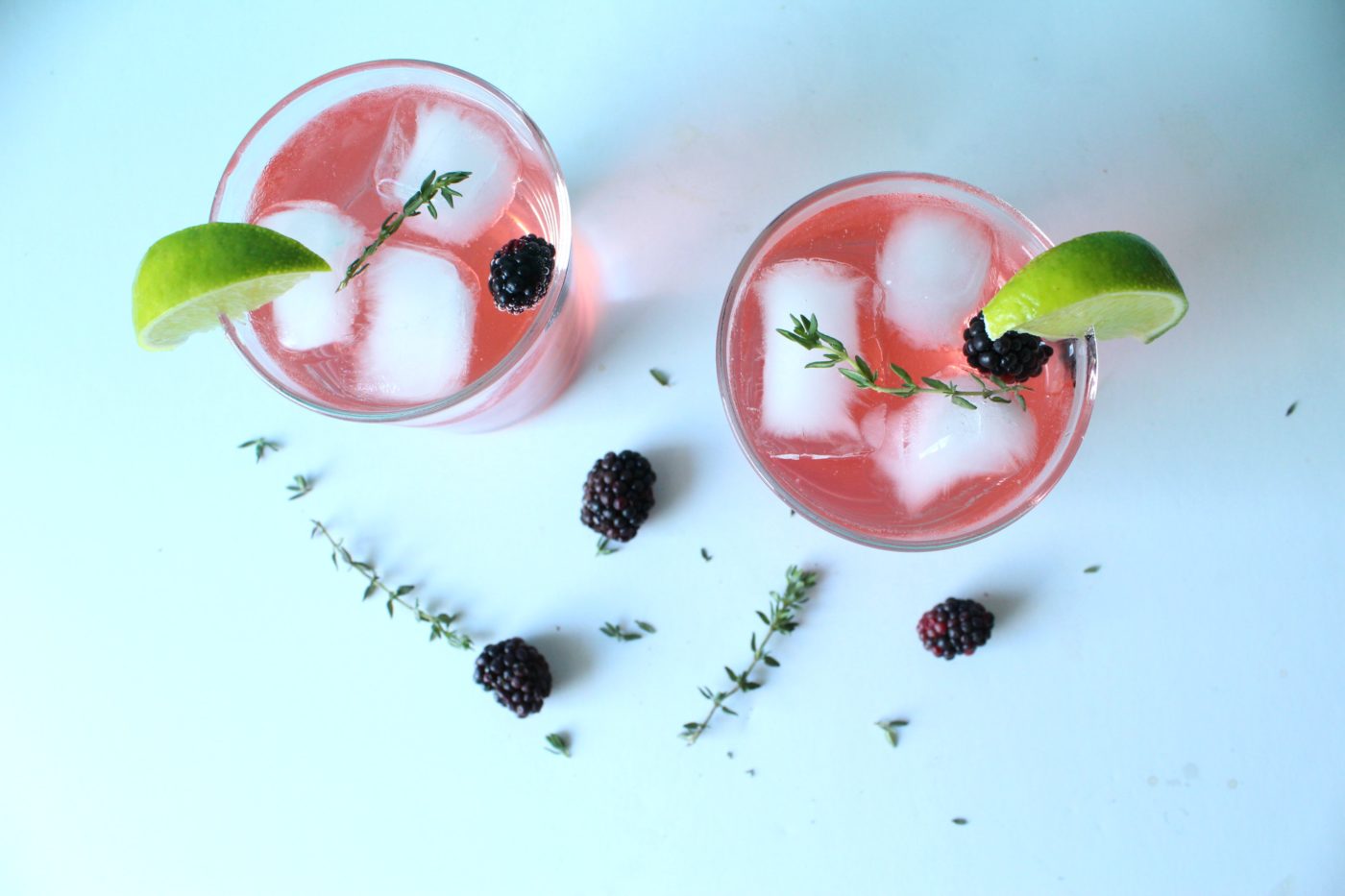 Save