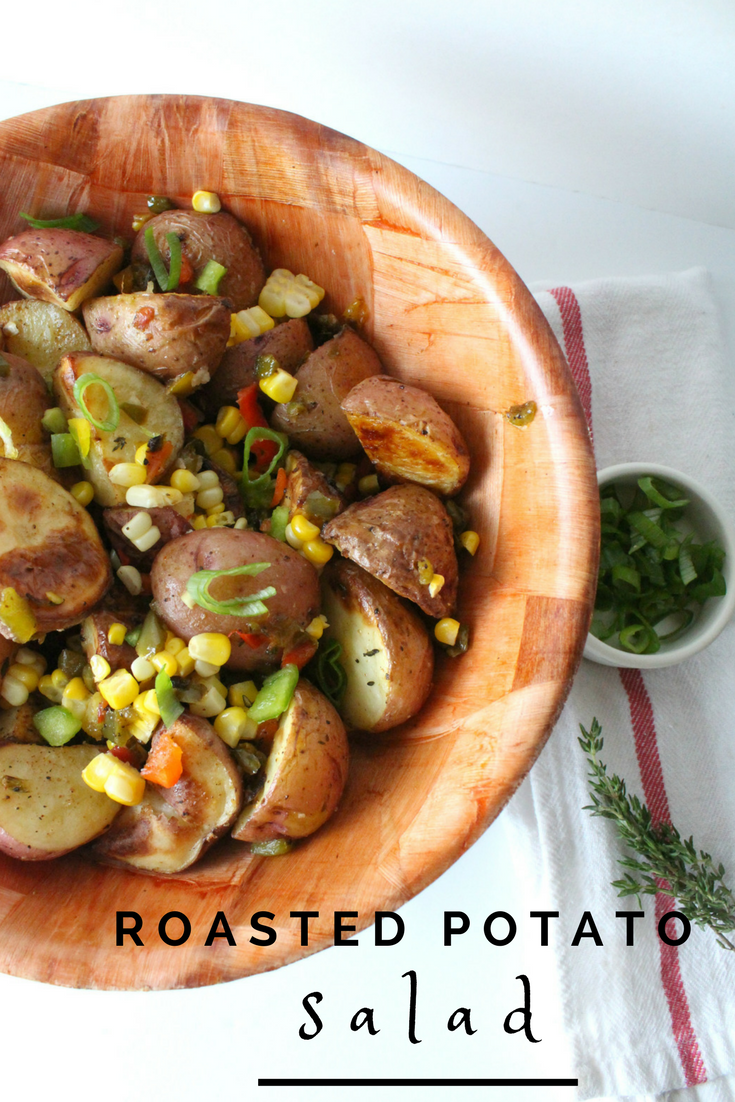 I remember having family gatherings when I was little and my mom would always be responsible for bringing the potato salad. She would be feverishly boiling potatoes and carefully dicing them into perfect cubes. She'd then mix all of the ingredients together, making sure all of the flavors are combined. If I'm being honest, potato salad creeped me out when I was younger and sometimes even today. No matter how creeped out I was, I always ate my mom's potato salad. This recipe isn't for the traditional potato salad we're probably all used to. This is a light and flavorful roasted potato salad that's just as memorable.
It's my understanding that not all potato salads are created equal. In our household potato salad was yellow meaning it was mustard based. I see some potato salads that have absolutely no color. Those types of potato salads are usually mayonnaise based – not my favorite.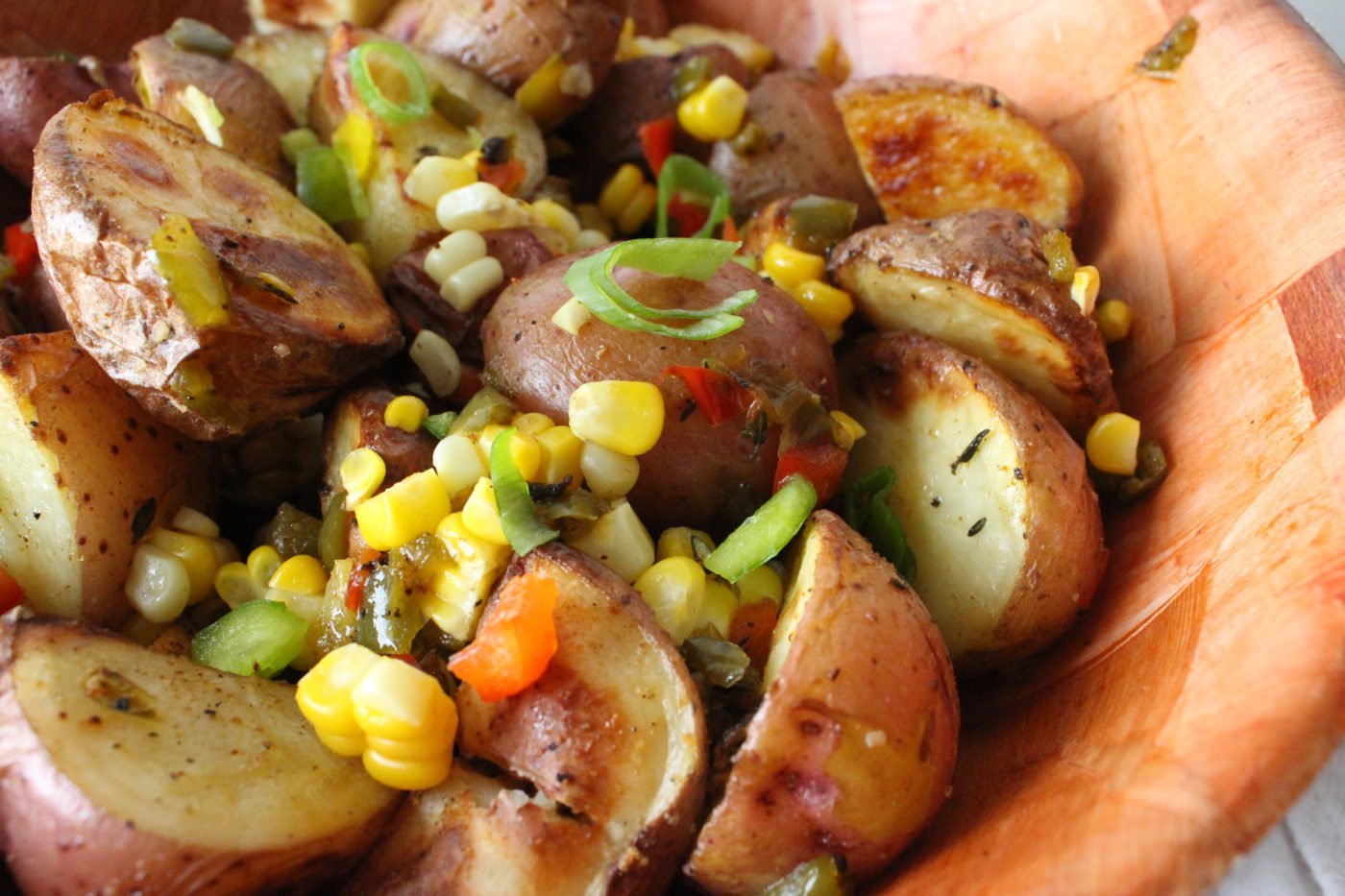 My mother-in-law makes a delicious potato salad that I usually over-indulge in every time she makes it. But let's be honest, traditional potato salad as we know it isn't the most calorie friendly, which makes this roasted potato salad the perfect substitution. I almost feel weird calling it "salad". At first glance, it's really roasted potatoes and veggies but it has some of the same elements like a traditional potato salad. So I'm making an executive decision by still calling it potato salad.
This roasted potato salad is versatile enough to accompany any dinner but it would also be perfect as a side dish at a BBQ. The colors from the veggies are so beautiful and would be beautiful on a tablescape. The ingredients in this dish are pretty simple and you can easily add to it. Onions would be a great addition and add an extra level of flavor. I added thyme but rosemary would work just as well. Rosemary roasted potatoes are my jam.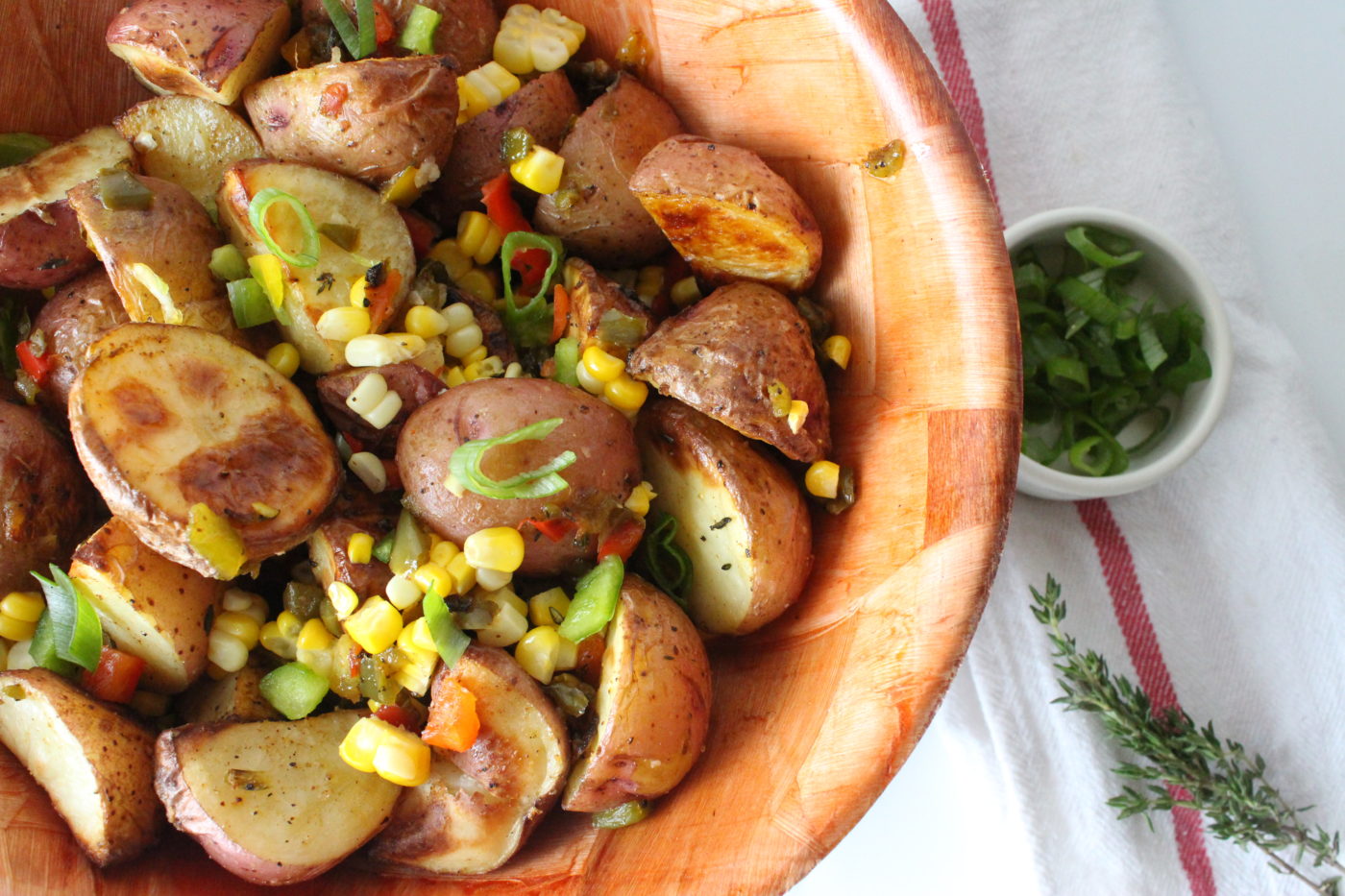 Did I mention this roasted potato salad has no mayo? THAT'S THE BEST PART! The next time I make this, I may add a little red pepper flakes to give it a little spice. Please promise me that you'll try this as a side dish soon. You won't regret it.
Simple side dish: roasted potato salad
Note: When the potatoes are done, taste the dish to make sure it is seasoned to taste. I made this with a tablespoon of salt initially but reduced it to a 1/2 tablespoon in this recipe.
Ingredients
2 lbs petite red potatoes, halved
1-2 corn on the cobs, husk on
1 red bell pepper, diced
1 orange bell pepper, diced
1 green bell pepper, diced
1/2 teaspoon cumin
1/4 teaspoon chili powder
1/2 tablespoon coarse salt
1 teaspoon black pepper
1 teaspoon fresh thyme
Green onion, thinly sliced to garnish
3 tablespoons olive oil
Instructions
Heat oven to 400 degrees.
Toss potatoes, bell peppers, cumin, chili powder, salt, pepper, thyme, and olive oil until coated.
Pour potatoes, into a single layer, on a baking sheet - leaving an empty space for the corn. Then place the corn (husk still on), in the empty space.
Roast for 30 minutes. Remove the corn on the cob and set aside. Put the pan back in the oven and cook for another 20-25 minutes, or until potatoes are tender.
While vegetables continue to cook, remove the husk from the corn and slice off the kernels.
When the potatoes are done, stir in the corn kernels and green onions to garnish.
http://eatdrinkfrolic.com/2017/07/roasted-potato-salad.html