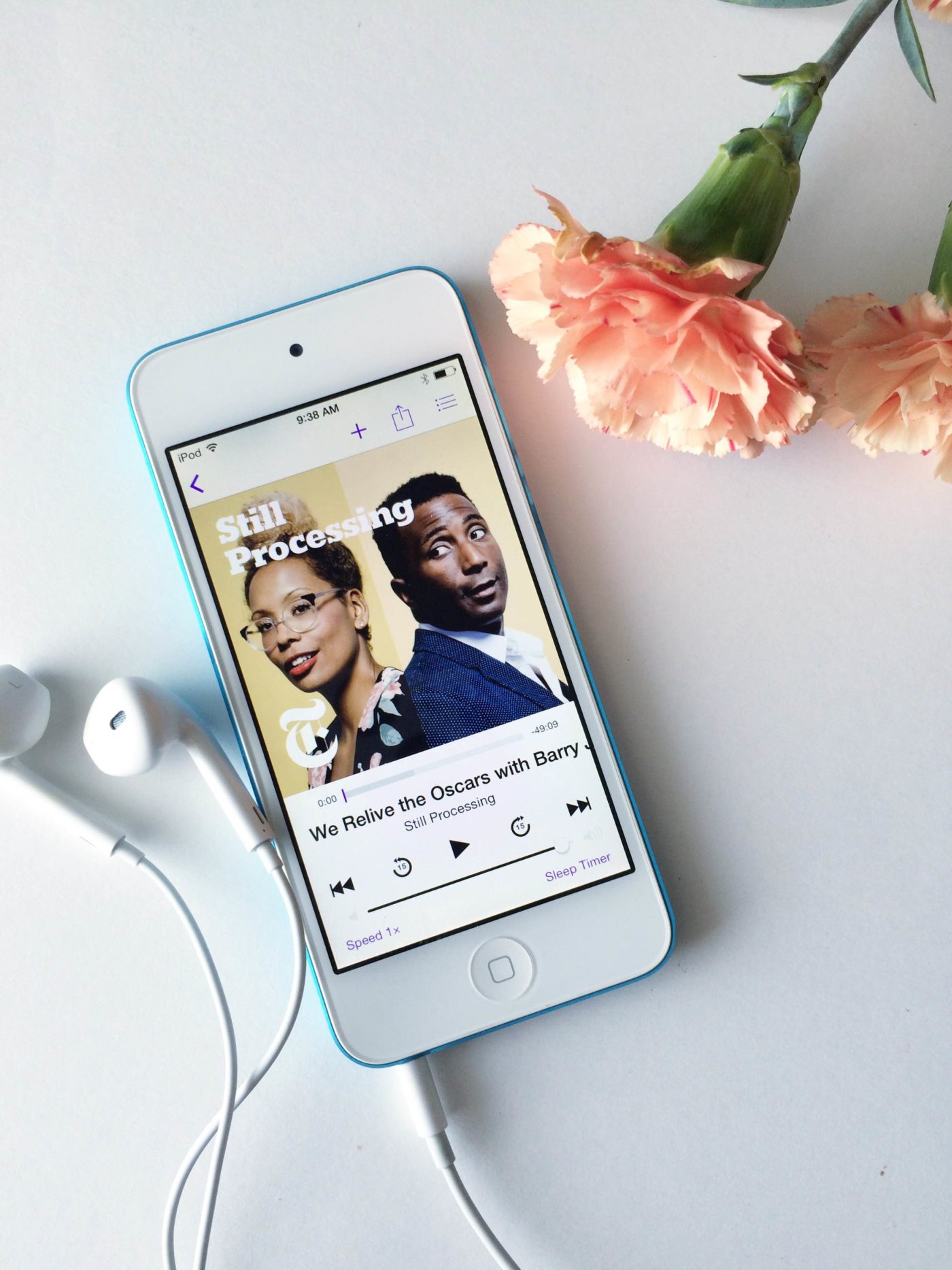 Did you know that John and I have a podcast? Yeah, so we launched it around our wedding anniversary and it's been fun. Even though we've enjoyed having another outlet to be creative and express ourselves, we have to figure out a way to blend our work differences. I like to have a schedule and be very prepared for things and John just sort of goes with the flow. Anyway, this isn't a post about how couples can work better together – even though that would probably make a really good podcast episode. I've been listening to a lot of podcasts lately and I thought I'd share my list of favorite podcasts for entertainment and information.
A while back, I shared three of my favorite female podcasters and that list still stands (sort of) but today's list isn't only about the ladies. Every now and then, I find something new to listen to or a friend recommends something and I become obsessed. I really like listening to podcasts as I'm cooking or cleaning the kitchen – it soothes me.
I love podcasts that are thought-provoking, makes me laugh and ones that keep me up to date with the latest social issues or pop culture news. Right now, I think I have a decent blend of podcasts for entertainment plus ones for feeding me information. Alright, ready for a peek into what I'm listening to?
My favorite podcasts for entertainment (and loads of info)
Still Processing –  Still Processing is a New York Times produced podcast about culture. I know that seems broad but they really discuss a wide variety of topics. They've discussed everything from politics to "Moonlight". Give it a listen. Episode to try: Episode 26 – an interview with Jordan Peele.
2 Dope Queens – 2DQ was on my female podcaster list and it bears repeating. Talk about podcasts for entertainment – these women are funny and the personal stories they share make me laugh out loud. I love that they feature a variety of comedians, which will leave you in tears from laughing. Episode to try: Episode 26 titled 'Tig Nataro's Skin Regimen'.
How I Built This – Recommended by a friend, I absolutely love listening to How I Built This. This is an NPR podcast that features interviews of different founders on how they built their companies. They've interviewed companies ranging from Warby Park and Airbnb to Chuck E. Cheese's and Honest Tea. Episode to try: Episode 3 with Cathy Hughes.
Criminal – This was based on another recommendation from a friend and I love it. I immediately became obsessed with Criminal. Criminal is in fact, a podcast about crime. It interviews folks who have committed a crime, been the victim of a crime or people who are somewhere in the middle. Episode to try: Episode 3 titled 'The Buck Stops Here'.
Death, Sex and Money – This is another podcast that I just stumbled upon and really enjoy. Most of their episodes involve candid conversations that you may not bring up in normal everyday conversations. The host, Anna Sale, has a really soothing voice, which is just lovely. Episode to try: interview with Diane Guerrero on debt and deportation (there are so many good episodes).
Another Round – Listening to Another Round is like having a conversation with two of my girlfriends. It's a Buzzfeed produced podcast filled with laughter, interviews and lots of fun stuff in between. Episode to try: Episode 87 titled the 'Original Bad and Boujee'.
Bonus shows
S-Town – I kept hearing rumblings about S-Town so I finally decided to give it a try. Whoah. No episode recommendation, just listen the season starting from episode one.
The Read – I used to listen to The Read, then I forgot. So now I'm back listening and it fulfills my entertainment quota. They talk about everything related to pop culture and hip-hop. The things that I'm usually thinking, they say out loud.
Save