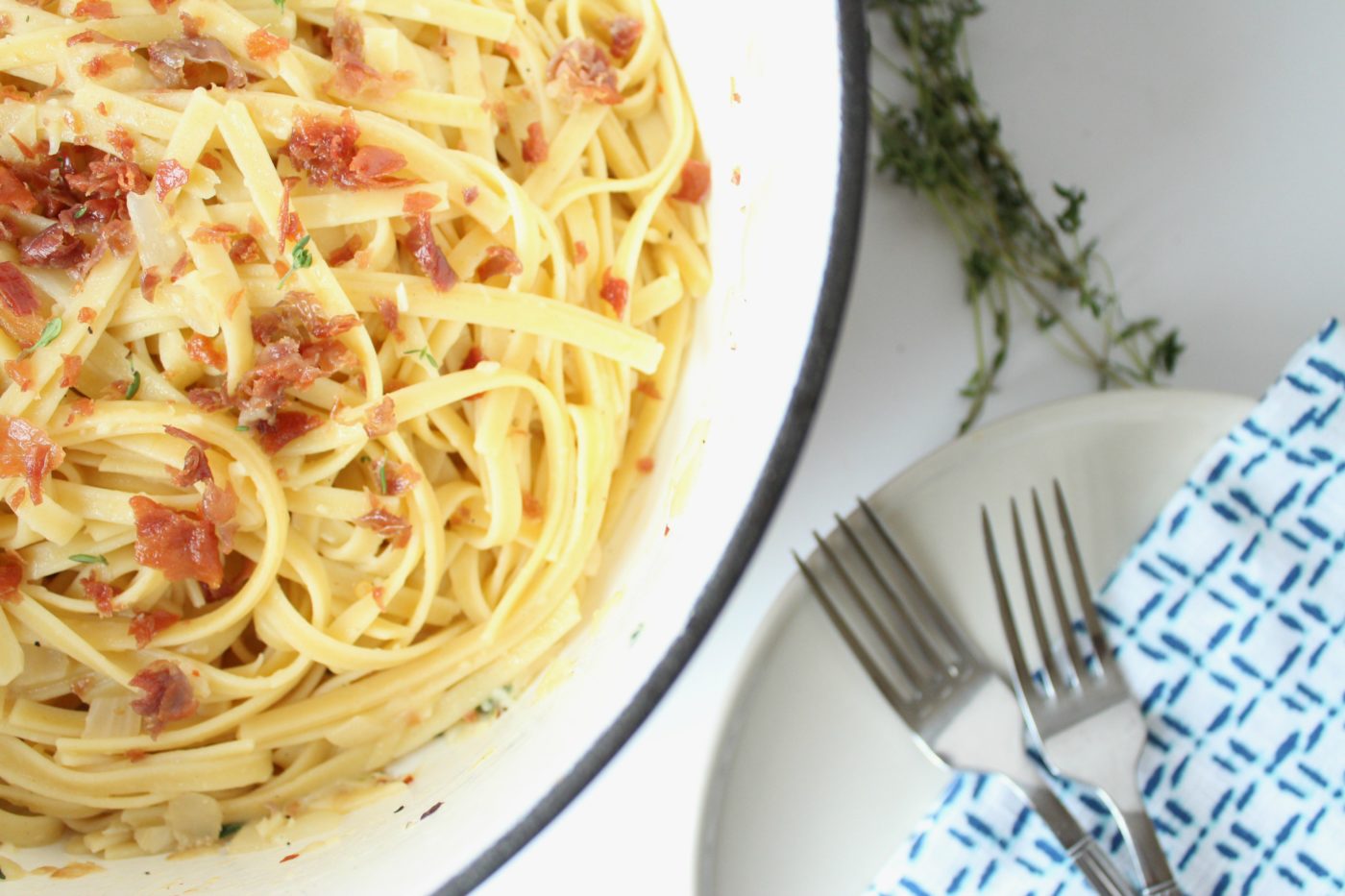 Every now and then, I love a big bowl of pasta. I feel like I should preface this by saying I've never actually made homemade pasta noodles. Is it on my bucket list? Yes, sure it is but who knows when I'll get to it. Not too long ago I shared a shortbread cookie recipe and finally acknowledged the reason why I rarely bake; it's because I hate making a mess in the kitchen. Inevitably when making pasta, there's bound to be a mess and I'm not here for it. So since the title of this post is "how to make the perfect pasta", you should know that perfect means pre-made in this scenario.
Regardless of my pasta situation, today's post will give you a recipe that you can whip up for a yummy Sunday night dinner while giving tips on how to create a bowl of pasta in no time.
In 2016, Bon Appetit shared five tips for making the perfect pasta. Naturally, I inhaled that knowledge and applied it to my own dinner. Let's just say, these tips were just what I needed to make a delicious bowl of pasta.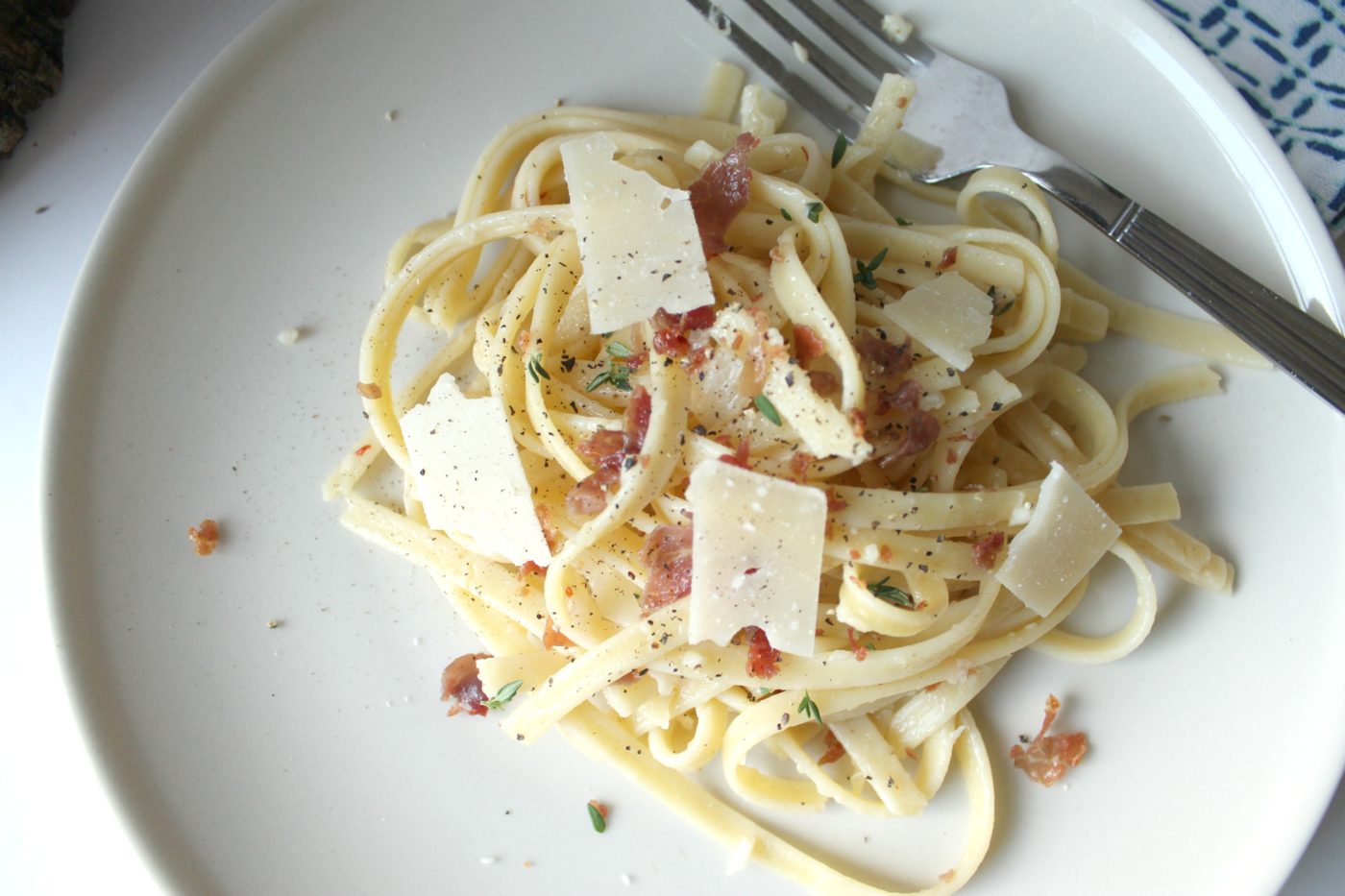 I'll share a few of those tips today but I really hope you'll take today's recipe and try your own version. I can't stress enough that it's not as difficult as you may think. How many times have we opened our pantries or refrigerators and thought that there's nothing to eat? It's sort of like every morning when I look in my closet and I sigh and declare that I have nothing to wear. Most of the time, I can actually put together some type of outfit and most of the time, you probably have something in your pantry (like pasta) to cook. Am I right?
Assuming that you keep pasta at home like I do, it'll be very easy for you prepare a simple yet delicious pasta meal at the drop of the dime. Here's a few tips on how.

How to make the perfect pasta
The first step to making sure your pasta is the bomb (ugh, can't believe I just wrote that) is to start with a Dutch oven, according to Bon Appetit. Cooking and tossing your pasta in a pot with high sides means that your ingredients won't fly everywhere when it's time to mix it up. Also, Dutch ovens are amazing.
Next you need to build your flavors. Well, what does that mean? Start with some olive oil and add aromatics and veggies like garlic and mushrooms (if you like mushrooms). This is where all of you begin to build the flavor foundation.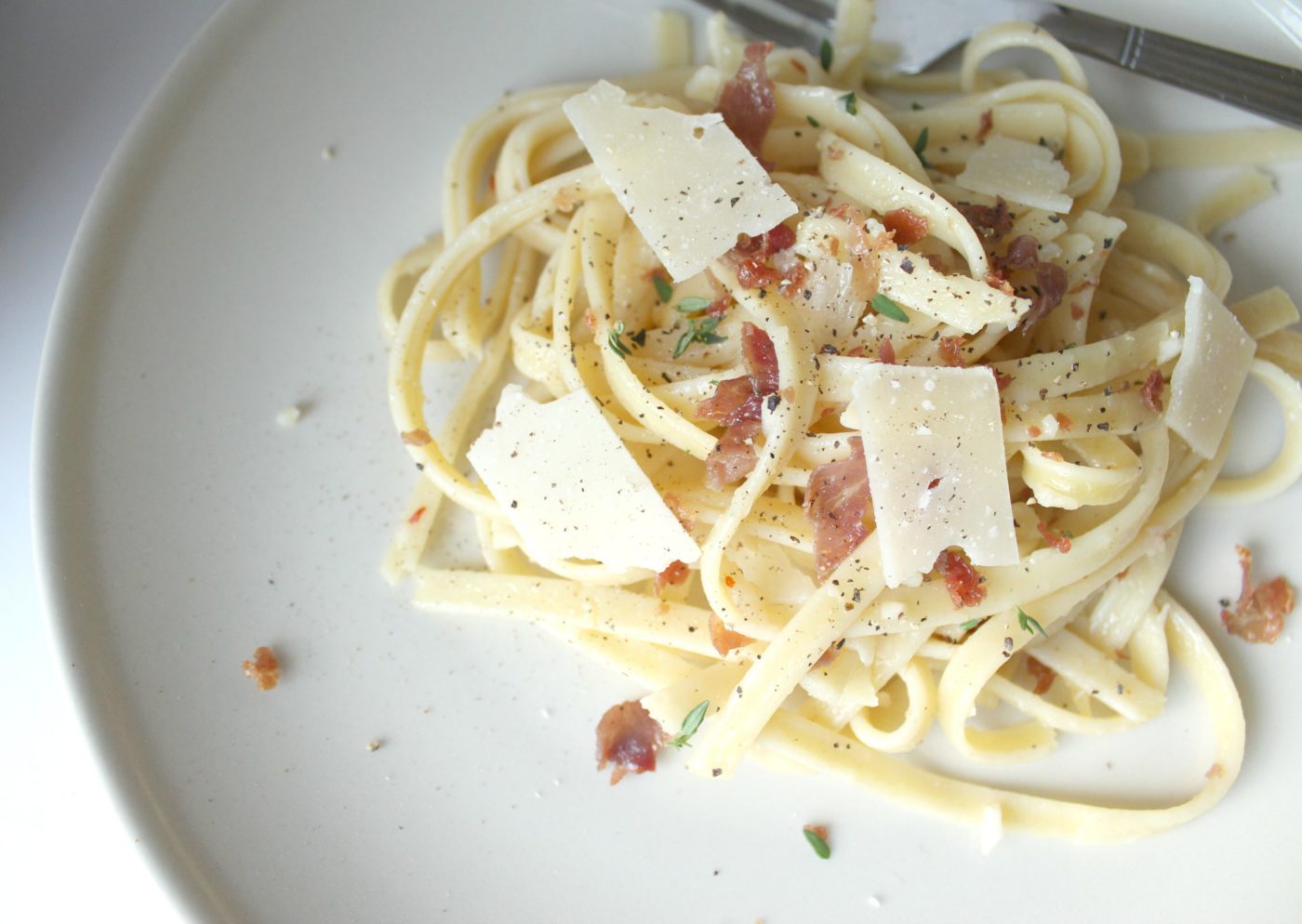 The next important step is dropping the pasta. Once you've cooked your pasta (al dente, of course), you'll add it to the aromatics and veggies you have sauteing in the Dutch oven.
Head to Bon Appetit's website for the rest of their pasta making tips and get my recipe below to see how I implemented their suggestions.
Ingredients
Prosciutto
Noodles (pappardelle, fettuccine, etc.)
Olive oil
Onion, diced
Garlic, minced
Fresh thyme
Salt
Pepper
Pasta water
Hard cheese, grated (Parmesan, Pecorino, etc.)
Butter
Instructions
Warm a small skillet then add the prosciutto and cook it until it begins to crisp (like bacon). Set it aside on a plate with paper towels.
Cook the noodles according to package instructions; drain the pasta making sure to save some of the pasta water.
In the pasta pot, pour in a few tablespoons of olive oil then add in the onions, garlic and thyme; season with salt and pepper. Saute until fragrant.
Add the cooked pasta back in along with some of the pasta water and toss.
Add in lots of cheese and toss a little more. You may need to add in a splash more of pasta water to help melt the cheese.
Remove from the heat and add in a tablespoon of butter and toss until the butter has melted.
Crumble the prosciutto and sprinkle it on top of the pasta.
http://eatdrinkfrolic.com/2017/01/master-perfect-pasta-recipe.html
Shop the perfect pasta