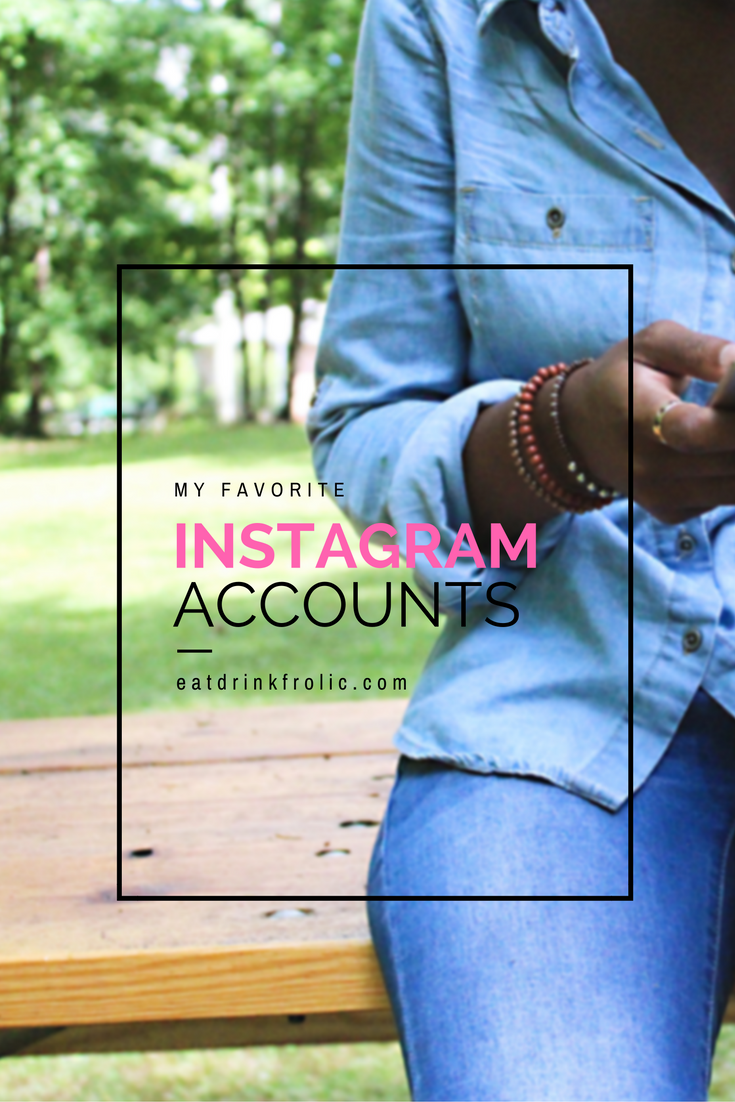 Often times, I feel like I'm on my phone way too much. However, part of this brand I've created and a lot of my professional projects rely on me remaining connected with other folks. Some of that connection is in person through workshops and events while the other part is connecting using social media. Though I think it's good to sometimes take a step back and take a break from being on our phones too much, I do find a lot of inspiration on Instagram. Instagram is hands-down my favorite social media platform (despite the weird algorithm). If you're looking for inspiration, I'm sharing an updated list of my six favorite Instagram accounts to follow.
I know a lot of folks find Instagram labor intensive or cumbersome with the algorithm it recently rolled out. Truth is, if you're active on Instagram, the algorithm won't even make a difference but it's super annoying. I love Instagram for visually connecting with folks. Some of the Instagram accounts that I absolutely adore are folks who I know, while others are accounts that I've always admired from afar. Let's be honest, these are people who are friends in my head.
I love to use Instagram as a way to get inspired for events, recipes and traveling. I think of Instagram as a visual portfolio and I hope that others can see mine as an inspiration too. OK, here we go. Six of my favorite Instagram accounts. Oh! If you're curious, here's last year's list of favorite Instagram accounts to follow: The Wing, This is Revelry, Wildflower Tea & Apothecary, Women & Whiskies, Joy the Baker, and Brown Kids.
Doing it for the 'Gram

To be honest, I'm not really sure how I found Baking Bandits. I think earlier this summer, John and I were planning a trip to Birmingham, AL (didn't happen) and maybe in doing research for the trip, I found them. Either way, I'm glad I did. The pastries they share make me want to lick the screen. Seriously so good. Follow them on Instagram.
I found Mash & Spread via the Black Food Bloggers group I belong to. Her photos are so beautiful. What I love most about her Instagram account is the consistency of it all. Even though her photos are all different, they all have the same style. Follow her on Instagram.
Can you see a pattern here this year? All of my favorite Instagram accounts to follow are mostly food related. The Food Gays are working on a cookbook next year and their food photos make me really hungry. It also makes me want to step up my photography game. Follow them on Instagram.

Y'all. Everything about Easy Bistro is Instagram-worthy. The decor is beautiful, the plating is perfect and the food is even better. Easy Bistro is a local restaurant, here in Chattanooga and I love following them for plating inspiration. Whether you live here or not, you should follow them for some all around goodness. Follow them on Instagram.
Black Food Bloggers

I belong to a Facebook group called Black Food Bloggers. The group has been awesome to be a part of. There's lots of digital networking that happens, sponsorship opportunities and just overall encouragement and discussion – I love it. We have an Instagram account, which showcases it's members. Follow them on Instagram for food inspiration.
Booze Clues


Booze Clues it The Tasting Table's guide to boozy cocktails. By using the hashtag #ttcocktails, they feature beautiful and creative beverages. If you're looking for a bit of inspiration for cocktail recipe development, I'd highly suggest following Booze Clues on Instagram.
Who do you follow on Instagram that inspires you?
Save
Save
Save