Do you know the difference between a slushie and a granita? I don't. Granita sounds a little more sophisticated than slushie does but in this particular instance, I wanted to get right to the point. No fancy names needed. This is a lemonade slushie. Even Beyonce would want some of this.
This is my third frozen cocktail that I've shared in the last couple of weeks. I hope you haven't grown tired of them. All I can think about is consuming frozen [adult] beverages because it's just so hot outside. I mean, you simply can't handle anything else. There are days when it's 100+ degrees outside. Frozen adult beverages are like multitasking. You can get a little tipsy while staying cool. It's a win-win.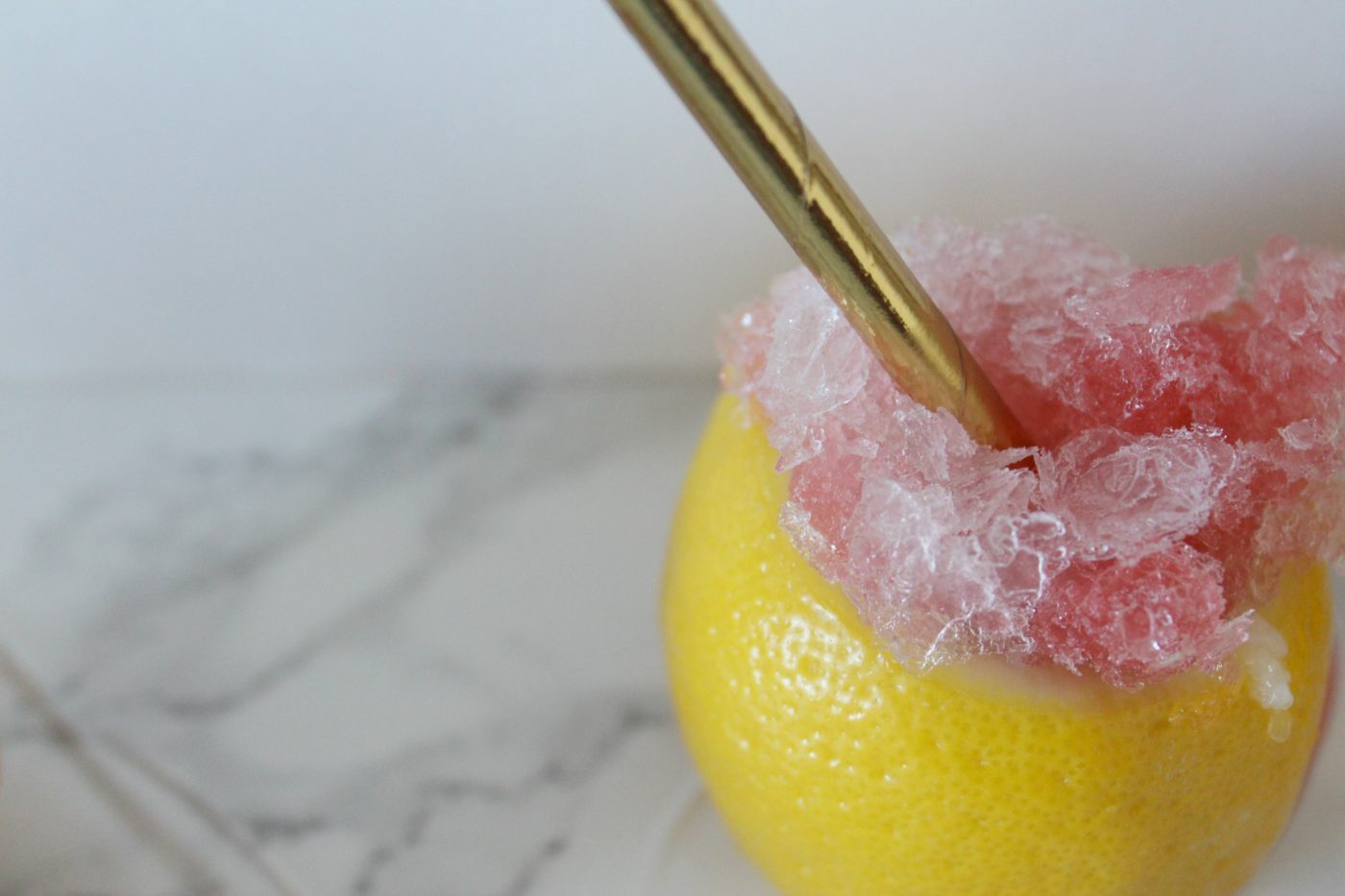 So this boozy granita/slushie was inspired by the folks at Pure Wow but I stepped it up a notch by adding a bit of Pimm's blackberry and elderflower liqueur. It's adds an additional layer of flavor and adds a little color to the slushie. This is definitely a drink you can enjoy while lounging by the pool. It could even be something you serve as a dessert. You can serve a non-alcoholic version for dinner guests under 21.
Actually, I'm thinking of enjoying one of these right now. As I write this, there was a knock on our door from maintenance alerting us of a leak. The air conditioner had to be turned off for a bit but it's all good now. John was immediately concerned for me because he wasn't sure when we'd have AC again. I tend to get really hot at night and he could already foresee a problem. I laughed it off even though I knew he was right. Luckily for us, the problem was temporarily remedied and the house is cool.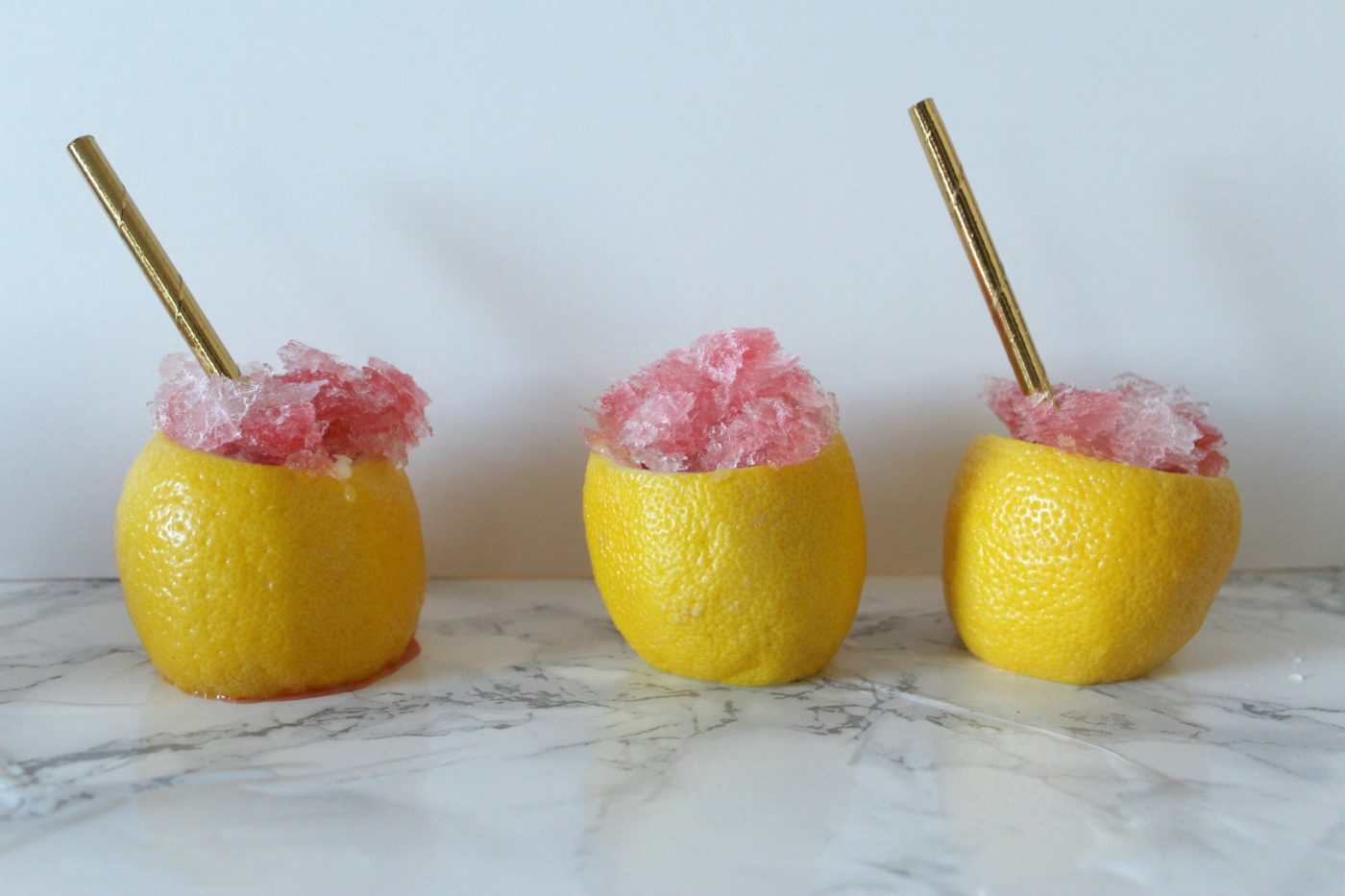 Back to the lemonade slushie. The best thing about it is the lemon serving "cups". Obviously you can serve these in regular cups or glasses but how cute would it be to surprise your guests with hallowed out lemons with a delicious vodka slushie inside?
To make the lemon cups: simply cut the top and bottom of a lemon so that it has a flat surface and can stand up on its own. Take a knife (preferably a paring knife) and carefully cut around the top of the lemon to loose it from the pith. Using a spoon to scoop out the inside. You can use that for something else later. Be careful not to pierce the bottom of the lemon. If you do, the slushie will leak out (like one of my lemons did).
Ingredients
3 cups of pre-made lemonade
1/2 cup vodka
1/4 cup Pimm's Blackberry + Elderflower
Instructions
Combine all ingredients in a bowl or baking dish (something you can put in the freezer).
Allow the mixture to freeze for a few hours or overnight.
Once it's frozen, scrape it up with a fork - this will create small bits of frozen goodness
Serve in your prepared lemon "cups" or in a regular glass.
http://eatdrinkfrolic.com/2016/08/adult-lemonade-slushies.html