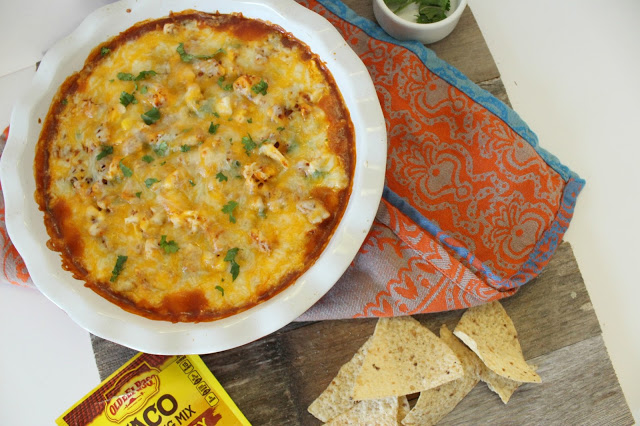 Sometimes you come across recipes so easy that it makes you do a double-take. That's how I feel about this chicken enchilada dip. I wish I could take full responsibility for this post but unfortunately, it's not mine. Thanks to the blog Creme de la Crumb, I was able to whip up this amazingly delicious dip in no time.
On the evening that I made the dip, I remember John tasting a little then putting it away because we had plans. Later, we sat in bed after midnight and demolished it. So delicious. I remember blowing John's mind when I told him exactly how simple and easy this dip was. On another note, here's my problem with most dips: they seem to always contain a TON of cream cheese and other white, yucky foods that I don't particularly care about on the ingredient list. That doesn't mean I haven't cooked with cream cheese before, I have, but in the back of my mind, all I can think about is the cream cheese that's inside of the dip. It's sort of like a mental thing for me. Whatever.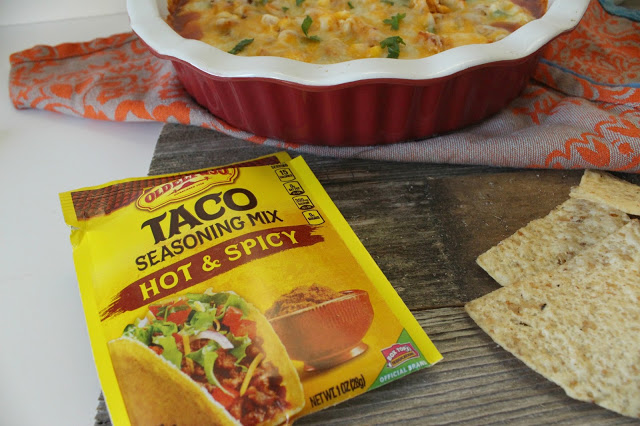 Anyway, I say all of that to say that this dip has no cream cheese in it and that makes me very happy. If you're having folks over soon and want to make some snacks, please add this to your list. You won't regret it and your guests will definitely ask you for the recipe.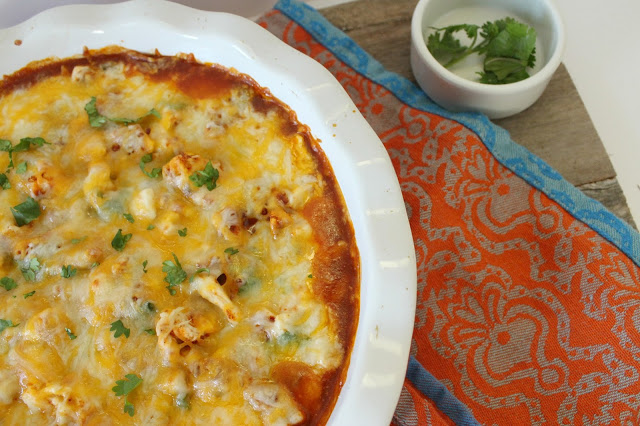 Chicken enchilada dip – adapted from Creme de la Crumb
1 small can red enchilada sauce
1 chicken breast, cooked and shredded (I used a rotisserie chicken from Publix)
1 small can black beans, drained and rinsed
1 cup frozen yellow corn, thawed
2 tablespoons Old El Paso hot & spicy taco seasoning*
1½ cups shredded cheese (cheddar, Monterrey jack, whatever you like)
cilantro, roughly chopped
tortilla chips for serving
*regular taco seasoning can be used if you're afraid of the spice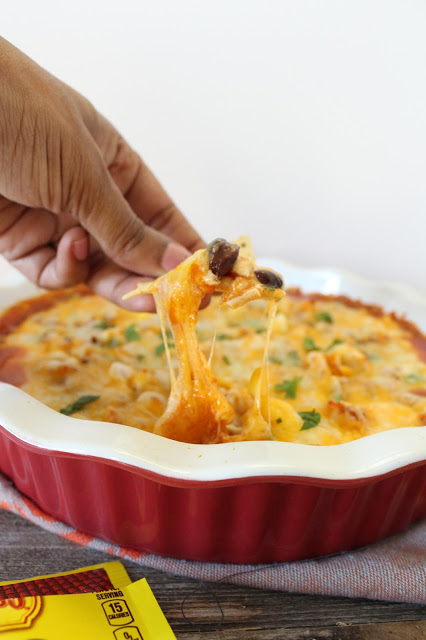 D I R E C T I O N S
Heat oven to 400 degrees.
In a pie pan (or any type of shallow baking dish), pour in the enchilada sauce.
Add the beans, corn and chicken. Sprinkle taco seasoning on top and top with cilantro.
Add the shredded cheese and bake for 15 minutes or until cheese is bubbly.
Serve with tortilla chips and yum!