In a couple of weeks, John and I are jetting off to Costa Rica and I cannot wait. I'm excited to go on this little adventure/honeymoon/vacation with him but also to explore a country neither one of us have been to before. After we got married, we knew we would take a "mini moon" and we chose Charleston to do that. We'd always planned to take another honeymoon…a longer one but we'd been planning for Paris. I'd been researching and planning for Paris for months until we came across a flight price we couldn't resist for Costa Rica. We made the "tough" decision to switch our 2nd honeymoon from Paris to Costa Rica. Paris will still happen – not sure when it will happen but we're hoping for our first anniversary.
Anyway, there are quite a few things we're looking forward to in Costa Rica!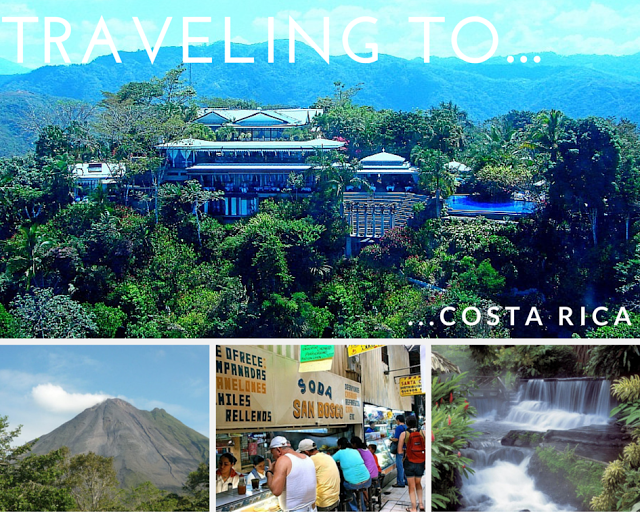 Our hotel
The hotel we've booked sits high in the jungles of Costa Rica and looks beautiful! They have their own private beach and an awesome amphitheater where we can watch a Costa Rican sunset. There's a gorgeous infinity pool…in case we're taking a break from the beaches. The hotel is located in a surf town called Jaco about 2 hours from San Jose. Maybe I'll take some surfing lessons.

Volcanoes
Costa Rica is home to lots of inactive volcanoes and quite a few active ones. I'm so intrigued by this. You read and learn so much about volcanoes in school it's rare that you ever get to see one…especially an active one!
Sodas
No, not the carbonated beverage. In Costa Rica, sodas are known as local, authentic restaurants. I cannot wait to try some authentic Costa Rican cuisine like a local at a soda!

Hot Springs
Because of the volcanoes in Costa Rica and their geothermal activity (nerd alert), Costa Rica has many, many hot springs! Hot springs are soothing, comfortable and so cool to me. Hopefully we'll get a chance to frolic to one of the many hot springs and see what it's all about.
Have you been to Costa Rica? Any suggestions?